Researched by: Rachel John, Aarthi Ramnath & Prerna Barooah
Sweden strikes rare earth mineral bonanza
The Swedish state mining company says that it has uncovered what may be the largest known deposits of rare earth minerals in Europe. The area near an iron mine contains more than 1 million metric tons of these precious materials. Why this is huge: Rare earth minerals are necessary in the production of everything from electric cars to smartphones and renewable energy systems. Until now, China was the largest supplier of these minerals—producing more than 80% of the global output. And it has sometimes used its dominance as a political tool—threatening the US to cut off supplies amid the recent trade war. At least for the EU and its allies, Sweden offers the hope of being freed from Beijing's whims. That said, it will take at least 10-15 years before Sweden can begin mining the deposit and shipping to market. (Deutsche Welle)
Ukraine gets a big military boost… maybe
According to the Financial Times, Britain and Poland have confirmed they are planning to send modern heavy tanks to Ukraine. But the New York Times claims they are merely "considering" the move. Kyiv has been asking for 300 tanks to be able to liberate its territory from Russian occupation. But both the US and the EU have resisted since it could "be seen as a major escalation by Moscow and potentially drag NATO into the conflict." So if the FT is right then it indicates a big shift—which will put more pressure on countries like Germany who are the most reluctant to get involved.
In related news: Unhappy with Western economic sanctions, Russia's closest ally Belarus has legalised pirated content from "unfriendly" countries—including the US, EU and UK. It effectively offers a free pass to anyone who steals computer software, movies, music or TV programs without the consent of the copyright holders. (Quartz)
Goldman Sachs layoffs hit India
The investment bank has begun axing 3,200 jobs around the world as it braces for possible recession. This is their biggest layoff since the 2008 financial crisis. The cuts hit the India office yesterday when 700-800 employees were fired with immediate effect. That's about 9% of its Indian workforce. (Indian Express)
A shameful definition of 'tribal'
The Office of Registrar-General of India (RGI) has to approve the inclusion of any community in the official Scheduled Tribe lists. And it uses the criteria laid out by a government committee in 1965. These include: "indications of primitive traits, distinctive culture, geographical isolation, shyness of contact with the community at large, backwardness." The office also relies on census publications that go back to 1891. These facts came to light thanks to an RTI application filed by The Hindu—which has the rest of the dismal details on how Scheduled Tribes are defined in India.
Dear NRI, say hello to UPI
Until now, you needed an Indian phone number to pay via the Unified Payments Interface service. That service is now being extended to international numbers for NRIs in ten countries—including Singapore, United States, Saudi Arabia, United Arab Emirates and United Kingdom. NRIs, however, will need to have either an NRE or NRO account at an Indian bank. How it works: "NRIs will just need to link their NRE and NRO accounts linked to their international SIM to UPI and use it like any other Indian UPI user for merchant payment as well as peer-to-peer payments." (Mint)
More dismal news for Google India
The context: Android powers 97% of smartphones in India. The Competition Commission of India (CCI) recently fined parent company Alphabet $161 million for abusing the near-monopoly of its Android operating system in India. It imposed two fines: Rs 1,337.76 crore plus Rs 936.44 crore.
What happened now: The company had appealed for interim relief from the National Company Law Appellate Tribunal. Over the past week, NCLAT has rejected both the appeals against the fines—and ordered Google to deposit 10% of both fines within four weeks. FYI: this is pocket change for Alphabet—which took two months to challenge the penalties. Google is more worried about the remedies ordered by the CCI—which are far more sweeping than a landmark European Commission 2018 ruling. It has filed a Supreme Court appeal to block the CCI directives. (Economic Times)
James Webb discovers its first exoplanet
The super-telescope has confirmed the existence of an exoplanet 41 light years away. FYI: an exoplanet is any planet outside our solar system—that orbits a star other than the sun. Named LHS 475 b, it is almost the same size as Earth—but is a few hundred degrees warmer and takes two days to orbit its star. So, not exactly habitable. Below is NASA's illustration of the planet. (CNN)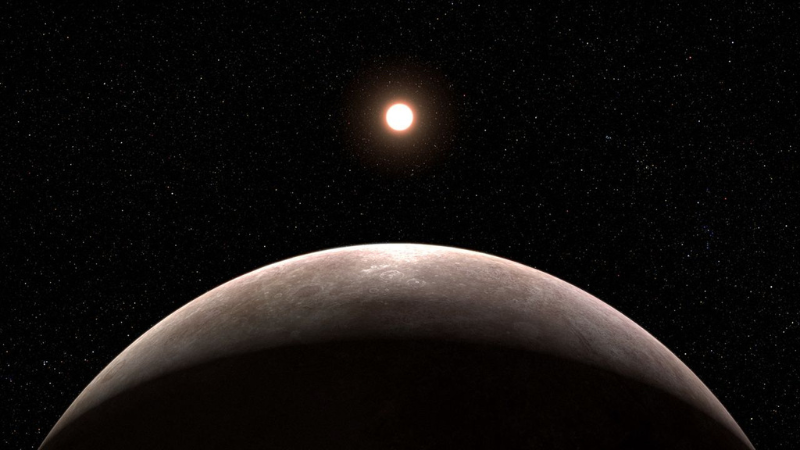 Far more beautiful: This James Webb image of NGC 346. What's that: "About 2 billion to 3 billion years after the big bang that created the universe, galaxies were filled with fireworks of star formation." This is one such region in a nearby galaxy about 200,000 light years away. (CNN)
Prince Harry pens a blockbuster
His memoir 'Spare' sold more than 1.4 million copies in the US, the UK and Canada on its first day—in English and across all formats. According to its publisher Penguin Random House, this is the "largest first-day sales total for any nonfiction book ever published." 'Spare' broke the record set by Barack Obama's 2020 memoir 'A Promised Land' which sold 887,000 copies on the first day. We were amused by this tongue-in-cheek display of 'Spare' at a bookstore lol. (The Wall Street Journal, paywall, People)
Three things to see
One: The Chester Zoo in the UK welcomed the birth of one of the rarest chimpanzees in the world—the critically endangered Western chimpanzee. There are only 18,000 left across Africa—and it is the first subspecies of chimps to be declared as endangered. According to the caretakers, "The 'baby boy' is in good health and has bonded well with its mother and the rest of the troop." The zoo put out this awesome vid below. (BBC News)
Two: Mindy Kaling is doing her bit to represent the desi brigade. She is the voice of the brainy Velma in, well, the new series 'Velma'—now imagined as an Indian-American. Always typecast as the nerds, sigh! Sadly, this spinoff of 'Scooby Doo' is missing the shaggy dog who made it famous. It is dropping soon on HBO Max—but will likely not be available in India for a while. But you can still check out the desi Velma in the trailer below. (Vulture)
Three: Everything Princess Di is super-hot these days. Sotheby's is auctioning a deep purple gown that she wore for her last formal photoshoot for Vanity Fair in 1997. It is expected to fetch $80,000 to $120,000. We included this just so you can see this gorgeous photo of her in the gown—taken by the brilliant Mario Testino. The others are just as lovely, and available to browse on his website. And you can see the gown in all its purple glory over at Sotheby's. (Smithsonian Magazine)