A list of intriguing things
One: The highly anticipated 'Barbie' movie is transforming everything from fashion to home decor—even before its release! Yup, people are vomiting pink all over their homes these days because: "Hot pink fits right into maximalism, which experienced a resurgence in recent years as a response to the cool minimalist aesthetic that dominated Instagram feeds for so long." So your Barbiecore bathroom could look something like this: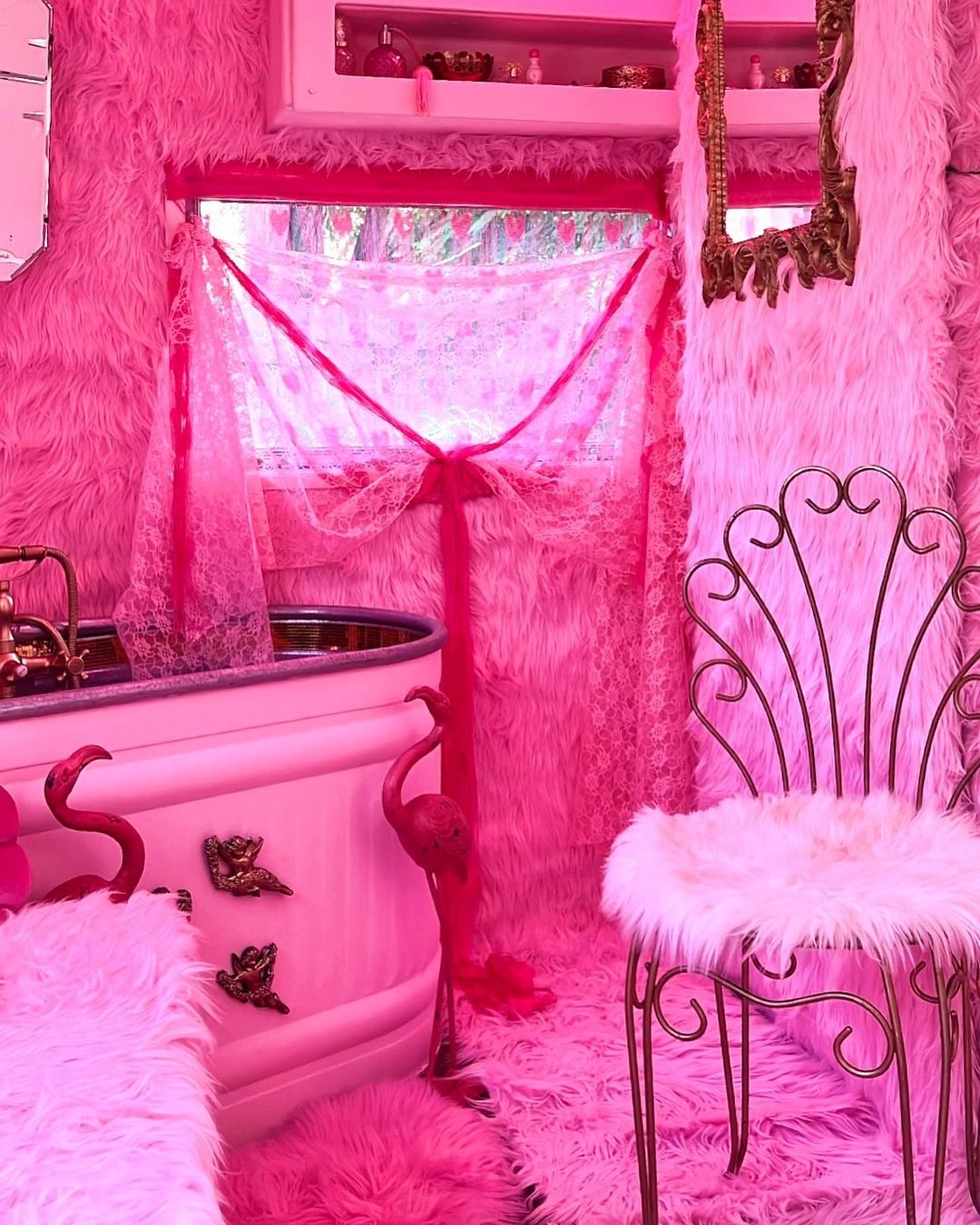 Or if you prefer to temporarily experience the joys of living in an all-pink world, you can always rent a night at Airbnb's Barbie's Malibu DreamHouse (see lead image). CNBC has lots more deets. For more on the Barbiecore design trend, check out pics over at Architectural Digest.
Two: Moving on to Squishmallows—the on-trend toys that prove once again we adults never, ever wanna grow up. A Squishmallow is a "soft, squeezable plush toy designed as animals or inanimate objects with big bellies and sweet faces." But they're not like an ordinary teddy bear:
Each Squishmallow has a name, a "squish date" for when they were born and a detailed backstory. There's Winston, an aspiring chef owl; Leonard, a vegetarian lion who loves to nap; Tatiana, a dragon who has dance-offs with friends and goes to the library; and Lalinda, a polka-dot giraffe pop star.
They first became big during the pandemic—when kids really needed something to squish to ease their stress. But now they're the hottest toy for grown-ups. Think of them as the new Hello Kitty. Our fave is Hammie—who runs an 'ice hotel' (Washington Post)
Three: Wanna eat #bairenfan or #WhitePeopleMeal? That's the hot social trend in China right now: people have been sharing images of "incredibly bland foods, such as raw carrots wrapped in cheese, two-ingredient sandwiches and dressing-free salads". So no pizza or burgers—just unappetizing pics of dishes that require little to no cooking time. Like so:
Yes, they're mocking white folks—but also earnestly embracing the no-fuss American lunch—which is designed to drive you right back to your desk and be productive. CNN has more on what it says about Chinese culture—especially that of a younger generation.