Researched by: Rachel John, Nirmal Bhansali, Aarthi Ramnath & Smriti Arora
Two Supreme Court stories making headlines
One: Yesterday, the Court began hearing petitions seeking to legalise same-sex unions. And it laid the ground for the case. For starters, the Court made clear it will not wade into personal laws for different religions—and will only focus on the Special Marriage Act—which governs civil marriages. On whether the law differentiates between a man and woman (the basis of a heterosexual union), the Chief Justice Chandrachud told the government lawyers:
There is no absolute concept of a man or an absolute concept of a woman at all… A man or a woman is not a definition of what their genitals are, it is far more complex. Even when the Special Marriage Act says 'man' and 'woman', the very notion of a man and a woman is not an absolute on what genitals you have.
The Hindu and The Telegraph have all the details.
Two: A separate bench is considering a petition filed by Bilkis Bano—challenging the early release of 11 men convicted of gang-raping her and killing seven family members during the 2002 Gujarat violence. The justices issued a contempt warning to the Gujarat government—for failing to submit the documents that formed the basis of its decision, saying:
Today, it is this lady. Tomorrow, it can be you or me…. What happens to my brothers and sisters is definitely a matter of grave concern. There must be objective standards. If you don't give us reasons, we will draw our own conclusions.
The Telegraph has more on the strong language used by the justices.
The not-so-big Blinkit strike
The context: Ten-minute delivery startups have mushroomed around the world in a matter of months. Each aiming to disrupt the $2 trillion-a-year global grocery market. Blinkit—formerly known as Grofers—rebranded itself in December to signal its big pivot to superfast delivery. It was acquired by Zomato in 2022.
What happened next: Hundreds of Blinkit delivery workers are on strike for over a week—across the NCR. The main reason: Blinkit has changed the way they are paid. Instead of a flat fee of Rs 25 per delivery, they will be paid a minimum of Rs 15—a fee that increases based on distance. And that has brought down earnings significantly according to delivery workers: "For about 12 hours of work per day, we could earn around Rs 1,200 — but under the new structure, that came down to Rs 600-Rs 700."
What happened now: On Monday, Blinkit played tough and announced that it is shutting down a number of its 'dark' stores—which are mini warehouses spread across a city. Why this mattered:
[U]nlike food-delivery platforms, where gig-workers are free to deliver across localities, riders working with quick-commerce platforms are tied to specific dark stores that they have signed on with. A part of the message sent to delivery executives states that the registration of the delivery executive with the platform was being terminated because of the dark store being shut down.
Unsurprisingly, the strike has now petered out. And the app is back to promising 10-minute delivery of those tamatars you need asap! What one delivery gig worker said: "We had no choice. Blinkit hasn't listened to us, and we are being forced to work at the new, lower rates. We cannot afford to stay on strike for much longer; we need to pay rent and eat." A good related read: Our Big Story on the business model of speedy delivery startups. (BQ Prime)
A worrying link between Covid and diabetes
A new study suggests that up to one in 20 new diabetes cases could be related to Covid infection. Previous research had shown that the infection may damage insulin-producing cells in the pancreas. This large-scale study, however, establishes a more direct link. At greatest risk: those who were hospitalised for the illness. Why this matters:
Given the large number of people infected with Covid-19, these excess diabetes cases could translate into very large population level burden of diabetes which could strain already stretched healthcare systems.
The Guardian has more.
Get ready for AI-driven Chrome
Google has pulled together an internal project called Magi—aimed at developing a brand new AI-powered search engine—which can compete with OpenAI's ChatGPT (explained here). The reason: Samsung indicated it is getting ready to switch from Chrome to Microsoft's Bing—which is powered by… ChatGPT, of course:
[T[he idea that Samsung, which makes hundreds of millions of smartphones with Google's Android software every year, would even consider switching search engines shocked Google's employees.
But plans for a new search engine are still in the early stages. And there is no timetable for the rollout. (New York Times, paywall, The Verge)
Meanwhile, over at Twitter: The company announced that it will no longer take down tweets that violate its content policies—but limit their visibility:
We also believe it is our responsibility to keep users on our platform safe from content violating our rules. These beliefs are the foundation of freedom of speech, not freedom of reach—our enforcement philosophy which means, where appropriate, restricting the reach of tweets that violate our policies by making the content less discoverable.
Rather than "shadow banning" accounts, the platform will add visibility labels—letting everyone know that a tweet's reach has been limited. (The Telegraph)
The shocking winner of the Sony Photography Awards
This is the most prestigious global competition in the field. The 2023 contest attracted 415,000 entries from over 200 countries. This year, the winner of the creative open category was this gorgeous image titled 'Pseudomnesia: The Electrician'—by German artist Boris Eldagsen. No, scratch that. The real artist is a machine.
To be clear: Eldagsen told organisers that his work was co-created using AI tools—and that was fine by them: "The creative category of the open competition welcomes various experimental approaches to image-making." But now Eldagsen insists the image is wholly an AI creation—and refuses to accept the award:
In a statement shared on his website, Eldagsen admitted he had been a "cheeky monkey", thanking the judges for "selecting my image and making this a historic moment", while questioning if any of them "knew or suspected that it was AI-generated… AI images and photography should not compete with each other in an award like this," he continued. "They are different entities. AI is not photography. Therefore I will not accept the award."
Sigh! AI has become the easiest way to get attention these days. And for all of Eldagsen's antics, his photo was not one of those selected in our curation of the stunning Sony Photography Award entries. We highly recommend you check them out here. (BBC News)
India's looming oil worry
India imports almost 80% of its oil—of which almost 50% is from Russia. We have been buying oil at a discounted rate from Moscow—despite pressure from the US and its European allies. All of which worked just fine as long as the price per barrel remained under $60 per barrel—as required by sanctions imposed by the West.
But the powerful global cartel OPEC+ recently slashed production—which sent oil prices soaring to $84 a barrel. As a result, it is likely that India may breach the $60 threshold—which will spark a diplomatic crisis with the US. This is made more difficult by the fact that we have become increasingly dependent on cheap Russian oil—cutting back our imports from Middle East countries. What happens next depends on how willing the US is to turn a blind eye. (The Telegraph)
A Chinese 'police station' in New York
US federal agents arrested two Chinese men for running a "secret police station" in Chinatown in Manhattan. These are "service stations" that work with Chinese police to pressure fugitives to return to China. This confirms a 2022 Spanish investigation that claimed that Beijing has set up several such stations around the world. Washington grandly describes this as "transnational repression", but this is what happened to the suspects:
The two men appeared in court Monday, with Lu being released on a $250,000 bond and Chen on a $400,000 bond. They are not permitted to travel within half a mile of the Chinese consulate nor mission or communicate with co-conspirators. Neither has entered a plea.
Just saying. (CNN)
Four things to see
One: We personally do not know why the opening of an Apple store is such a momentous occasion. But you should know that CEO Tim Cook was there to open the doors on its first-ever dukaan in Mumbai. Over 300 people lined up for the opening ceremony—with some of them queuing up the night before:
Many visitors wore T-shirts in the style favoured by co-founder Steve Jobs, had their hair cut in the shape of an Apple logo and one fan even brought a version of the first Apple computer launched in 1984.
Happily, there were no stampedes or riots. See the long lines below. (Reuters)
Also: Can anything happen in India without a Bollywood star in the mix? We think not. Here is Madhuri feeding Cook vada pav, no less.
Two: Elon Musk's main source of entertainment is getting into phaddas with news outlets. First, he annoyed NPR by slapping on a label on its Twitter account that described it as "state affiliated" media. After the public radio giant refused to tweet anymore, Musk turned his attention to… the Canadians! Starting Sunday, Twitter labelled it as "government-funded media." But when CBC protested it only received 70% of its funding from the government. Musk changed the label to this:
Ok, that made us laugh. (The Guardian)
Three: Sticking with the Musk entertainment channel, his other company SpaceX offered an unexpected twist on the Northern Lights—turning it into a blue spiral. And here's why:
Sometimes rockets have fuel that needs to be jettisoned…"When they do that at high altitudes, that fuel turns into ice. And if it happens to be in the sunlight, when you're in the darkness on the ground, you can see it as a sort of big cloud, and sometimes it's swirly.
Earthly explanations do little justice to heavenly sights:) (Associated Press)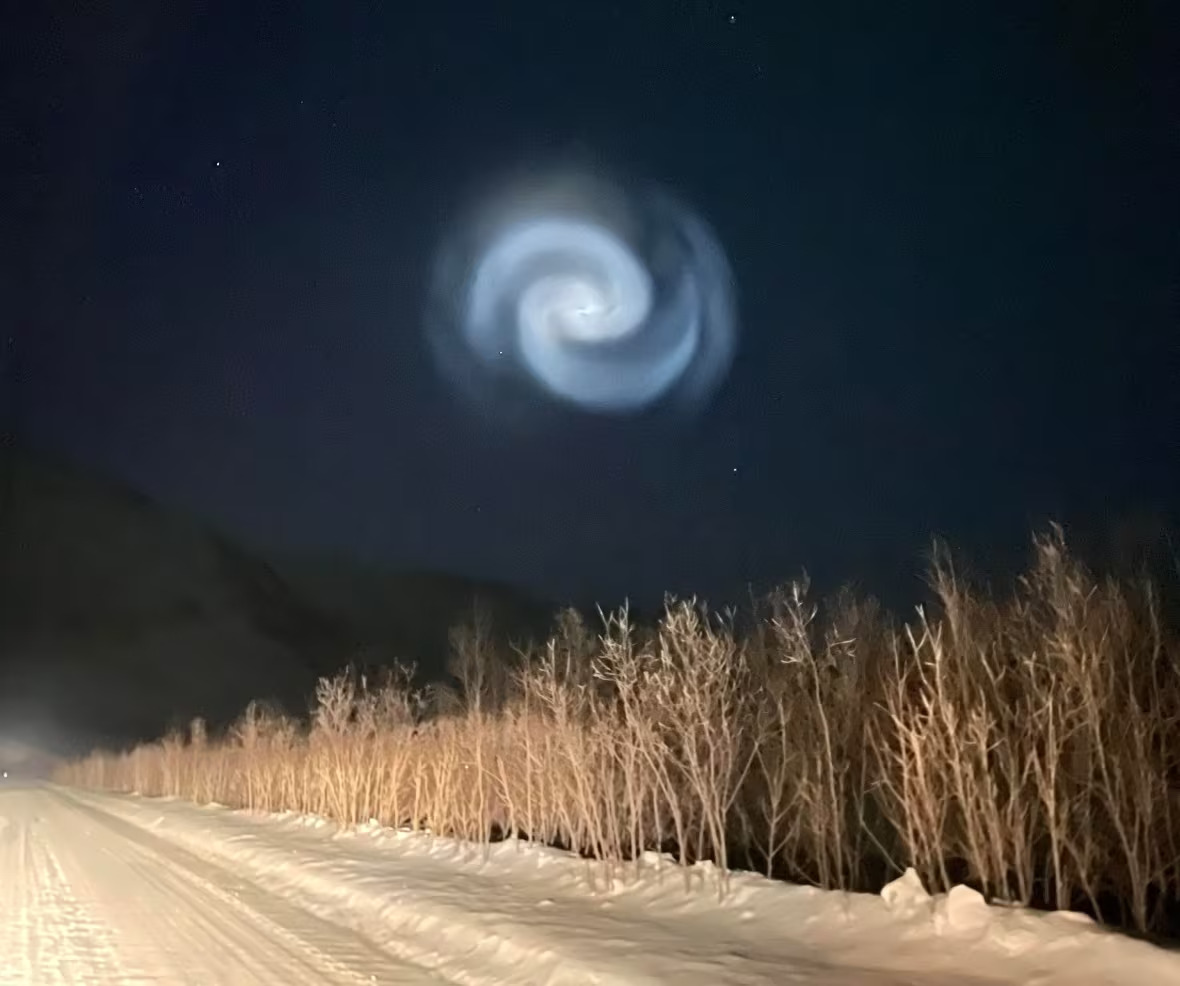 Four: File this under things that make us smile: Virat and Mahi hanging after the CSK vs RCB match in Bangalore on Monday. Aww, look at super-enthu Chiku: