The TLDR
A high-priced deep sea voyage to check out the wreck of the Titanic has ended in disaster. The submersible carrying five people—including billionaire tourists—has gone missing in the depths of the Atlantic. Details about the poor safety protocols offer little cause for hope.
---
Wait, this was a trip to see the Titanic?
Yes, Titanic tourism is the latest expensive pastime of very rich people—like taking trips to space on Jeff Bezos' Blue Origin (explained here). And it is just as hazardous as it requires going down to the very depths of the ocean.
Say hello to Oceangate Expeditions: The company—founded in 2009—is focused on making it easier for a layperson—well, a very rich layperson—to explore the deep sea. It takes tourists (misleadingly named 'mission specialists') to well-known shipwrecks and underwater canyons. Its CEO and founder is Stockton Rush—an aerospace engineer. He was aboard the missing submersible.
Wtf is a submersible: Submarines are massive and can launch themselves from a port. A submersible, however, is much smaller—the size of a minivan, say. And it has to be launched by a mothership—much like a boat. And it has limited mobility: "It doesn't have a lot of propulsion so it can't sail great distances but it has just enough propulsion to sail and operate in and around the wreck and then come back to the surface."
Point to note: OceanGate operates three submersibles as of now. And it has undertaken over 14 deep sea expeditions to date.
Say hello to the Titan: That's the name of the 22-foot submersible that has gone missing. It weighs around 10,432 kilograms—or 11.5 tons—and can travel at the speed of 3 knots, or 5.5 kilometres per hour. It is designed to go as deep as 4,000 metres—or 2.4 miles—under the surface—which is about enough to reach the Titanic shipwreck. The Titan can carry five people—including the captain.
It looks like this: when parked on a ramp:
And this illustration with specs gives you a clear sense of what it's like to be inside:
About those Titanic tours: OceanGate has been ferrying tourists to the wreck once a year since 2021. So this was the third such trip. The ticket price: $250,000. You can watch OceanGate's 20-minute video that gives you a sense of what they would see. The shorter one-plus minute clip is below:
How did it go missing?
What happened: On Sunday afternoon, the Titan was launched from its mothership Polar Prince. It lost contact with the ship roughly an hour and 45 minutes into its descent. Authorities were alerted when there was no sign of the submarine at its estimated resurface time—6:10pm. You can see where it went missing in the graphic below: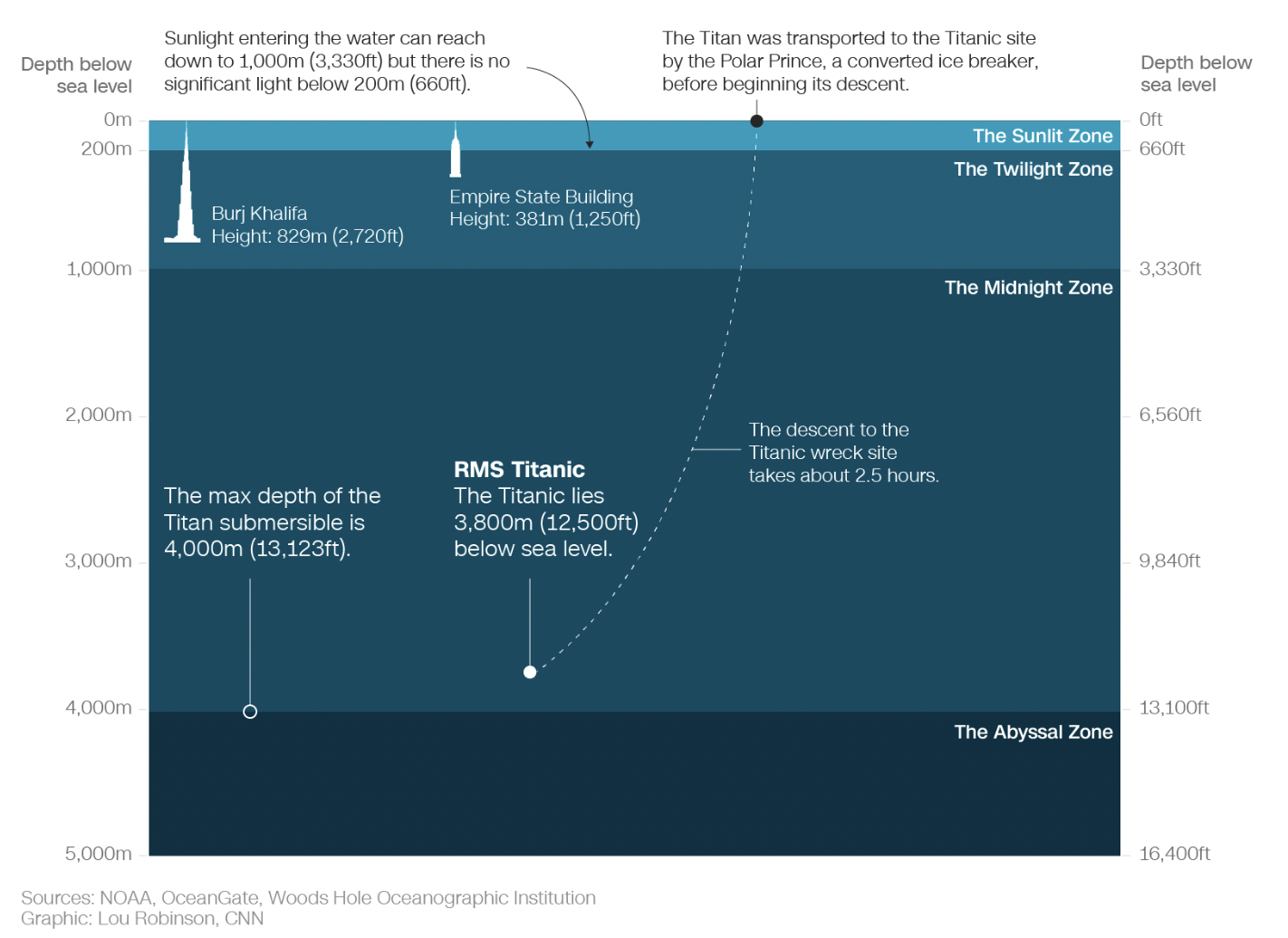 Who is missing: The five people on board are:
The founder 61-year-old Stockton Rush—who was

presumably

the 'pilot' of the submersible.

British billionaire Hamish Harding—known for his love of extreme adventure trips—and holds many Guinness world records. He went to space with Jeff Bezos on his Blue Origin rocket in 2022. FYI: he was also involved in India's cheetah project.

Paul-Henri Nargeolet is a French maritime expert who has been on over 35 dives to the Titanic site. The reason: he is director of underwater research at the US company that owns the salvage rights to the wreck.

Shahzada Dawood belongs to one of Pakistan's wealthiest families—and is a British resident. Accompanying him is his 19-year-old son Suleman.
The time factor: The vessel has a reserve supply of oxygen for about 96 hours. As of Tuesday night (US time), it had 30 hours left.
The near impossible odds: There is a frantic search and rescue operation to find the Titan—over an area the size of Connecticut. The search zone covers around 900 miles east of Cape Cod, Massachusetts—and is 13,000 feet deep. So it's a needle-in-a-haystack situation. Also: Navy vehicles that can rescue people only go down 2,000 feet—and are used to bail out submarine crew. It uses a robotic vehicle known as CURV21 to salvage objects from the sea floor—but it can only lift
4,000 pounds: the weight of the Titan: 20,000 pounds.
Point to note: Former Navy veterans are very sceptical that outside help will reach them in time: "You are a long way from anything that can give you help. You're incredibly reliant on the integrity of the vessel. And you're dependent on the resources you've built into the craft." But the Titan crew is also bolted in—and cannot open the hatch from the inside. There is no escape hatch unlike Navy submersibles.
Dubious safety record: There are a number of reasons to worry about the fate of the Titan passengers. For starters, there's the waiver that all passengers have to sign—which says the submersible is "experimental" and has "not been approved by any regulatory body."
Reporter David Pogue who went on a dive in 2022 said the vehicle experienced numerous problems. One of the trips failed in less than an hour. More worryingly:
There's no GPS underwater, so the surface ship is supposed to guide the sub to the shipwreck by sending text messages. During the 2022 dive CBS reported in, communications broke down and the sub lost contact for 2.5 hours—and it never found the Titanic wreck, Pogue said.
During the same trip, founder Rush boasted the entire vehicle was controlled by a video game controller—and a single red/green button.
No oversight: What's really worrying is that OceanGate's vehicles did not have to get any kind of certification from a US maritime authority—because its vehicles operate in international waters. Though many private submersibles still choose to do so. But OceanGate claimed that its submersibles were so innovative that it was impossible to assess them:
Titan's novel construction features also make it incapable of being certified, according to the company. OceanGate explains the craft's unlicensed (what the industry calls unclassed or uncertified) status on its website as reflecting the vessel's cutting-edge technologies, rather than a sign of shortcuts or inadequacies that could jeopardise safety.
All of which experts see as a red flag. Also not a good sign: The company was sued by its own submersible pilot who "complained specifically that the sub was not capable of descending to such extreme depths before he was fired."
The bottomline: Titan has only one possible way to rescue itself. It can shed its load—which allows it to simply float to the surface. But if doesn't reemerge soon, then it's likely all hope is lost:
If it has gone down to the seabed and can't get back up under its own power, options are very limited. While the submersible might still be intact, if it is beyond the continental shelf, there are very few vessels that can get that deep, and certainly not divers.
Reading list
CNN and Associated Press offer a detailed overview of the disaster—and rescue efforts. As for the odds of rescue, Quartz has the numbers. New York Times has more on the safety concerns—while CBS News has the view of its reporter David Pogue—who went on dive on Titan. New York Times and The Hindu have more on the missing.