Champaca's Book of the Month: BR Ambedkar
Editor's note: We feature the brilliant recommendations of our partner, the Champaca Bookstore, in the Read section twice a month. FYI: Champaca is an independent women-run and founded bookstore and children's library in Bangalore.
'Beefs, Brahmins and Broken Men'
When did the term untouchables enter everyday parlance? When did the distinctions between untouchables and Brahmins begin? Did the Hindus ever consume beef, and if they did, why did they stop?
'Beef, Brahmins, and Broken Men' is an annotated selection from Ambedkar's 1948 book, 'The Untouchables: Who Were They and Why They Became Untouchables'. As we witness incidents of violence in the name of stopping cow slaughter, Beef, Brahmins and Broken Men provide the historical context and origin story of the untouchables.
This annotated work of BR Ambedkar's exhaustive analysis of various religious texts and Brahminical literature seeks to tell us the story of three communities—the untouchables, the meat-eating Hindus and the vegetarian Hindus and the emergence of Buddhism as a counter to the excesses of Vedic Hinduism and eventually the factors that led to the appropriation and decimation of Buddhism in the country.
'Beefs, Brahmins and Broken Men' is our November pick for the fourth edition of 'Champaca Book Subscription'—where we are reading and curating boxes around the annual theme of 'Reading India'. Join us and be part of a community of book lovers!
A fine collection from our shelves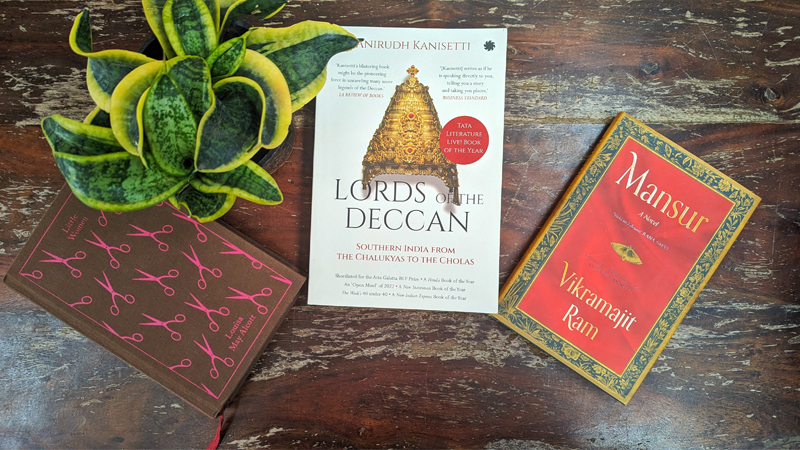 Are you reading with us in the Champaca Reading Challenge? We've put together a list of prompts designed to help us, and you read widely and more diversely. This month we are reading books set before 1900. These are stories ranging from historical fiction to the actual history of places. History has a place in all our hearts - pick up a book that talks about the era before the 1900s. We love picking prompts that encourage multiple possibilities. Read on for our recommendations.
'Mansur' by Vikramajit Ram. Set in 1627, this historical novel beautifully captures the essence of art and culture of the Mughal era. The story begins with Master artist Mansur, who paints under the patronage of Jahangir, preparing for a journey to Kashmir. The story focuses on Mansur, his piece of art, and his impending travel.
On reaching the summer retreat in Kashmir, Mansur must present a book to the author, the empress Nur Jahan, who commissioned the book for her husband. Through its simple plot, 'Mansur' manages to capture the various secrets, politics and rivalries among the court members, and the grace and intricate details of Mughal art.
'Little Women' by Louisa May Alcott. A classic that was first published in two volumes in 1868 and 1869, 'Little Women' follows the lives of the four March sisters, namely, Meg, Jo, Amy, and Beth. These 'little women' endure hardships and enjoy adventures in post Civil War New England. Although impoverished, they are rich in spirit and strong morals. Through their experiences, the sisters learn to appreciate the importance of family, the benefits of working hard to improve oneself and the happiness of being selfless and dutiful.
This book has charmed generations, as readers have rooted for Laurie in his pursuit of Jo's hand, cried over Beth's death, and dreamt of travelling through Europe with Aunt March and Amy. We adore this book for being a tale of fearlessness, resilience, and sisterhood.
'Lords Of The Deccan' by Anirudh Kanisetti. 'Lords of the Deccan' takes us back in time to witness the birth of the Chalukyas, a dynasty that shaped southern India for centuries. It explores how the empires of mediaeval India were made, and how our peninsula transformed over half a millennium. We are taken into the minds of the rulers of the Chalukya, Pallava, Chola and Rashtrakuta dynasties, and shown how royals got involved in religious struggles, and how rituals were used to elevate kings over their subjects.
Through painstaking research, we are shown what the early mediaeval Deccan looked like—from the sixth century CE to the twelfth century CE. We at Champaca have always been fascinated by history, and this book talks about all of the fascinating tidbits that we love.
Life at Champaca
How has the weather been treating you? It has been unusually hot and though we enjoy the intermittent rain, we look forward to cooler weather! In October, we have lined up a set of exciting events - from book launches to storytelling, including a musical performance! Check them out here! If you're in Bangalore, we invite you to come to our lush, leafy store, attend the events and browse through our shelves with some cold ginger ale or a hot cup of coffee, as per the whims and fancies of the ever-changing Bangalore weather!
And as always, you can find us, our book recommendations, and keep up with our upcoming events, on our website, Instagram, and Twitter!