A list of curious facts
One: Edvard Munch's 'The Scream' is one of the most recognisable pieces of art in the world—second only to the Mona Lisa. But most of us don't know its backstory. It all began when Munch took a walk with his friends along an Oslo fjord:
I was out walking with two friends – the sun was setting – suddenly the sky turned blood red - I paused, feeling exhausted, and leaned on the fence. There was blood and tongues of fire above the blue-black fjord and the city – my friends walked on, and I stood there trembling with angst–and I sensed an endless scream passing through nature.
But his first attempt to capture that emotion was called 'Despair'—and looked very different:
But within a year, he produced a pastel version that was more visceral but still pretty tame:
But within months, he painted exact same work again—this time in the blood red colours we all recognise so well: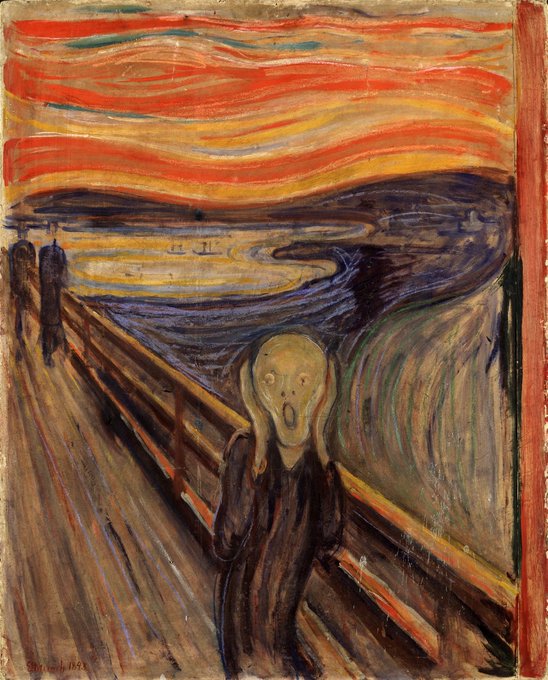 Over the course of 17 years, Munch would create four versions of his masterpiece—all of which goes to show that even genius requires the hard grind of practice. You can see the many versions of The Scream here—and read more about the genesis of the work over at The Art Newspaper.
Two: Many young people in Japan are taking the philosophy of minimalism to a new level. They are opting for no-bath apartments—which don't have a shower or bathtub, just a toilet. They use public bathhouses or sento instead—as a way to connect with others:
The appeal of a property without a bath is that you can see the entire town as a single house, which allows your life to extend into the town and lets you to get in touch with the local community.
Think of co-bathing as the new co-working:) FYI: no-bath apartments are actually a retro trend dating back to the time when there was no individual gas service to heat water in apartments. Ofc, this only works when you have bathhouses that look like this:
Three: The Australian lyrebird comes in two varieties: Albert's lyrebird and the aptly-named Superb lyrebird—which sports a superb eye-catching tail, like so:
But what makes these birds truly world-famous is their uncanny ability to mimic just about any sound. As this clip from a David Attenborough doc reveals, they really ought to called 'liar birds':
This superpower has now inspired the name of an AI company. Lyrebird's voice imitation algorithm can both mimic the speech of a real person and shift its emotional cadence if needed. As you can hear in this clip—which imitates Donald Trump—mother nature is kicking tech bro ass:)