Researched by: Rachel John, Aarthi Ramnath & Priyanka Gulati
The great earthquake: The latest update
The death toll has now crossed 7,800 as rescue teams struggle to find survivors in harsh winter conditions. And it is expected to rise steeply in the days to come. The UN has warned that many of the victims are likely to be children. The number of injured: 20,426. It's more difficult to get the full picture of what's happening in Syria—but eye witness reports from the ground are dire: "It's a terrifying scene in every sense. In my whole life I haven't seen anything like this, despite everything that has happened to us."
Turkish President Tayyip Erdogan has declared a state of emergency in 10 provinces. But citizens are complaining about the slow and inadequate response:
"There is not even a single person here. We are under the snow, without a home, without anything," said Murat Alinak, whose home in Malatya had collapsed and whose relatives are missing. "What shall I do, where can I go?"
More than 70 countries have offered rescue teams and other aid—including India. (Reuters)
Assam cracks down on child marriage
The context: On January 23, Assam Chief Minister Himanta Biswa Sarma flagged the "alarming" rise of underage pregnancies in the state—which is at 11.7% compared to the national average of 6.8%. On February 3, the police began a state-wide operation to arrest men who've married underage girls.
What's happening now: The police have registered over 4,000 cases so far—and arrested a total of 2,441 men—most of them in Muslim-dominated districts. And the majority are also uneducated and poor. The women have become collateral damage—since their husbands are often the sole breadwinners. While activists have accused Sarma of using social issues to target Muslims, experts say other communities have also suffered:
He [Sarma] misjudged it. He thought that it was a community-specific thing and that the crackdown will boost his image and lead to further polarisation. But the arrests show that [child marriage] is more about class than community.
FYI: Activists say that while child marriage is a serious problem, it can only be solved by empowering girls through education. A child that stays in school is far less likely to be married off. Scroll has more on the Muslim angle, while The Quint looks at how the crackdown is hurting women.
The end of the Adani bloodbath
After eight days, the sell-off in Adani stocks has finally halted. In fact, six of its ten listed companies gained on Tuesday. This is mainly because the company quickly announced plans to significantly reduce its debt—to reassure investors. Even so, the Adani Group has lost $100 billion in market value over the past week. Also this:
The group saw the market value of its 10 listed entities almost halve to Rs 9.93 trillion on Tuesday from Rs 19.20 trillion on 24 January, when short-seller Hindenburg Research released the research report.
Barring any new development, experts say the stock price will remain stable. If this is all Greek to you, we recommend you check out our excellent jargon-free explainer, starting with part one. (Mint)
Two medical studies of note
Diabetes and singletons: A new study found that people who lived with a life partner are more able to control their blood sugar levels—and lower the risk of type 2 diabetes. Apparently, it doesn't matter whether the relationship is happy or not (?!). Also this: "For those that transitioned out of a marriage or cohabiting partnership, their average blood sugar levels were worse after controlling for a number of factors." Now, as with many such studies, it only establishes a correlation not a cause-effect relationship. But taken along with previous research, it suggests a strong link between social isolation and health. (Healthline)
Alcohol and dementia: Medical research yo-yos wildly on the subject of alcohol consumption. Here's a new study of four million South Koreans to stir the pot. It found that consuming one or two drinks a day lowered the risk of developing dementia. But having more than two drinks had the opposite effect. Now, dementia isn't the only health risk to worry about—since even moderate drinking can increase the risk of heart disease, strokes etc. Even the study's authors aren't suggesting we drink every day to decrease our risk of dementia. And previous studies have suggested a negative relationship between alcohol and neurological health. Example: a 2022 study found that just one pint of beer or glass of wine a day can shrink the overall volume of the brain. (CNN)
Tinder gets a bit safer
The dating app has launched an incognito mode that displays your profile only to users you've swiped right on. But it will be exclusive for those who sign up for its paid service, Tinder+ Gold. But there are other handy new features for all users. For example:
One of these features is the ability to block people's profiles without matching with them first. Previously, you could only block other Tinder users by either inputting the person's contact details preemptively or reporting them first, by which point you've probably already had an unpleasant experience.
What this means: you don't have to keep rejecting the same profiles over and again. Point to note: this feature will initially be available only to Android users. Mashable has more on these and other new additions.
The damage of deep sea mining
The debates over the health of oceans usually focuses on plastic pollution—which can plainly be seen on the surface. But a leaked video reveals the horrific damage that is occurring at the deepest stretches of the ocean—hidden from the public eye.
Deep sea mining refers to efforts to extract rare metals from the ocean floor—for use in electric vehicle batteries and a host of other technologies such as green energy production. But the video—taken by scientists working with a Canadian company–—shows that there are very little controls on such mining. It shows the underwater extraction vehicle dumping toxic sediment on the floor. The company has dismissed the incident as a "minor event"
Point to note: Two years ago, major battery users including Google, Samsung, Volvo and BMW joined a World Wildlife Fund (WWF) to call for a moratorium on seabed mining. And at least 700 scientists—along with France, Germany and Chile—have done the same. See the controversial video below. (The Guardian)
Jupiter has more moons!
Astronomers have discovered 12 new moons orbiting the planet—taking its total to a whopping 92. It has toppled Saturn—which has 83 moons—from the #1 spot. Something to remember: these newest moons are tiny, ranging in size from 1 to 3 kilometres. So not quite as impressive as their larger sibling Europa—which may be hiding an ocean underneath its crust. (Associated Press)
Something unusual to see
Rahul Gandhi made the front page of almost every newspaper by launching a full-on attack on PM Modi in the Lok Sabha. He named the elephant in the room—pulling out photos of Modi and Gautam Adani hanging out on the latter's private jet.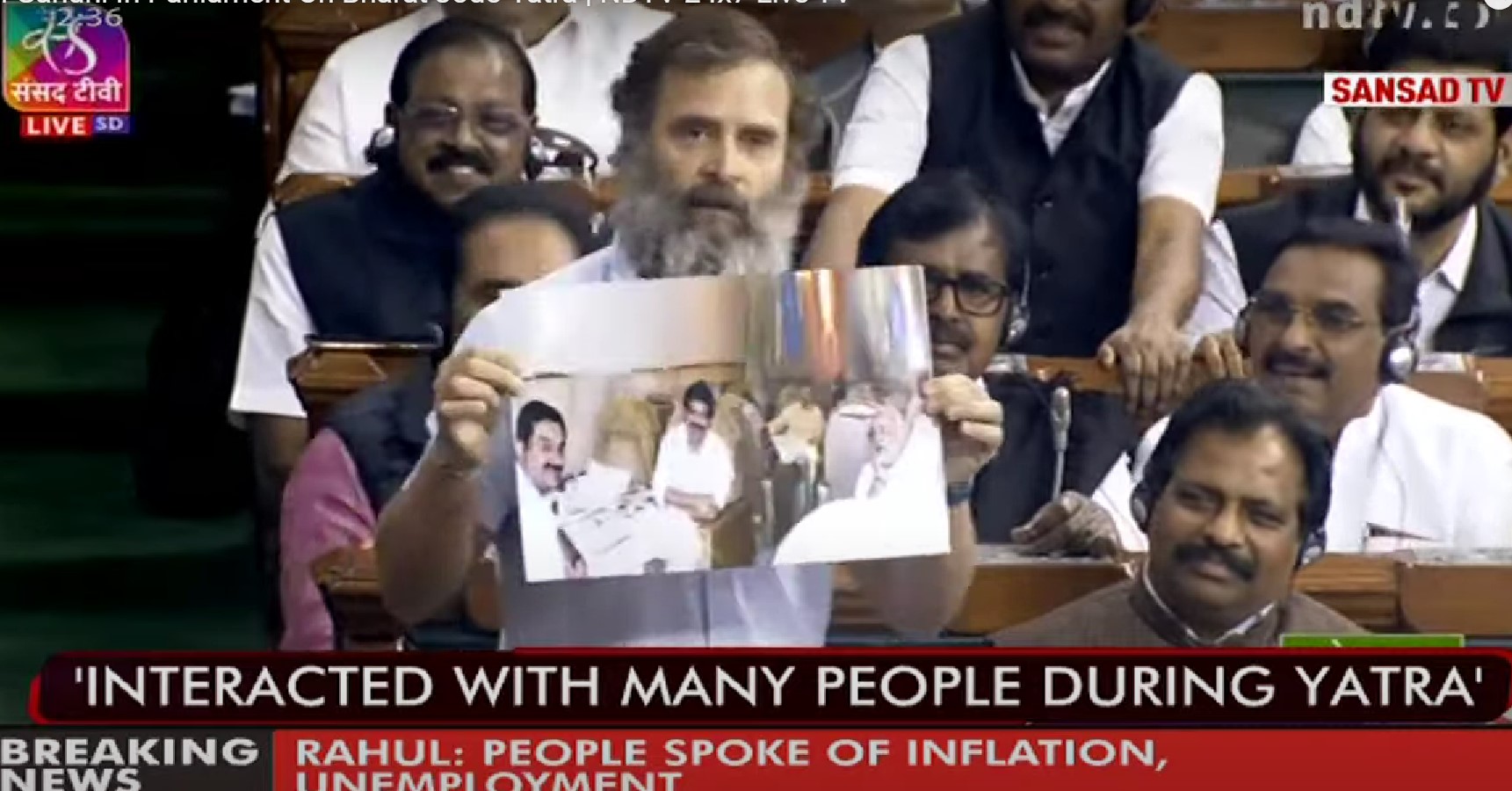 And he also played 'connect the dots' to show how Adani has profited from Modi's patronage—linking it to India's foreign policy (clip below). Zinger of the day: "There should be a case study by business schools such as Harvard on the relationship between business and politics... The PM should get a gold medal in this." (The Hindu)