A handy guide to artisanal brews
Editor's note: Coffee connoisseur Sadhavi Ashwani is the co-founder of Baba's Beans—an Indian brand that provides a holistic coffee drinking experience—offering the story behind the cup, the crop and the small farmer. Apart from coffee, she is also immensely passionate about music, reading and the mountains. Currently she's cultivating a desire to create music—starting out with the ukulele. We are resurfacing her favourite coffee related recommendations and adding the splainer team's favourite picks as well.
Below she offers a great guide to nailing your cuppa every single time. Over to Sadhavi...
A list of coffee-related recs
A coffee to taste: My favourites are the coffees from Jampui Hills—unique citrusy coffees from the Mizo Hills range in northern Tripura. This coffee has sweet, earthy and citrusy tones by virtue of growing on soil that once grew oranges. Get your hands on the fresh harvest of this year and some delectable recipes with Jampui Hills coffee at Baba's Beans Coffee Bars: Aloft Hotel Aerocity, New Delhi & Fairfield By Marriott, Dehradun. They are also available on their website.
A killer cold coffee hack: Here is a personal favourite cold coffee recipe that I start my day with. It was an experiment that turned out to be just what I needed.
I use our traditional south Indian filter coffee house blend that I brew in the bottom half of a moka pot. But I neither put it on the stove nor do I use the traditional filter coffee maker. Instead, I load the filter of the moka pot with filter coffee and tap down the coffee bed evenly. Then pour hot water over the coffee bed in a circular motion till it reaches the brim of the filter and let it percolate down into the bottom container. Essentially it's a hybrid of moka pot and pour over coffee. The decoction that you extract will have the strong kick of traditional filter coffee but will have the body of an espresso. Add ice (or not), milk and sugar to taste and start your day right with a splendid brew that is a must try.
A must-have: A french press. If you want to start brewing coffee at home or are hoping to understand the nuances of different coffees—befriend a french press and brew on. It is the best way to start understanding what you can do with just water and coffee. From brewing a strong concentrated decoction to a mild smooth brew, this beautiful equipment functions like a performing artist. You can brew a gratifying at-home cappuccino and can also use it as cold brewing equipment. Don't know where to start? Check out the Baba's Beans brewing guide.
Bonus hack: You can also use the french press to froth your milk like so:
A homemade affogato: If you are the proud owner of a french press, the next time you crave dessert at home, brew yourself an affogato. Affogato is an Italian word that translates to 'drowned' in English—fittingly since the best way to have a scoop of vanilla ice cream is to drown it in an espresso. Except, I recommend replacing the espresso with a strong french press brew made with our Araku Valley single origin coffee.
All you have to do is change your coffee to water ratio: instead of the standard brewing proportions of 1:10 i.e. 250 ml of water for 25 gm of ground coffee, brew on a 1:5 ratio i.e. 40-45 gm for 250 ml of water for 4 minutes. Get your scoop of vanilla and pour your decoction over the ice cream and dig in. You may also choose to top it up with seasonal fresh fruits or crushed waffle cones.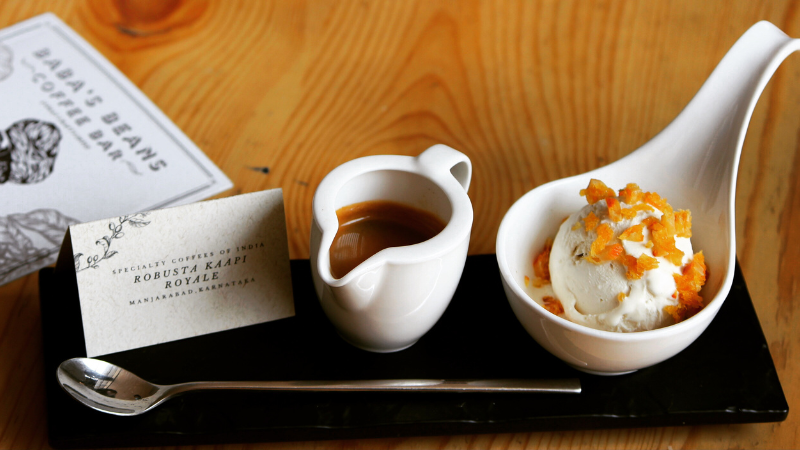 From the splainer team…
Hot and cold brew recommendations: Arunima swears by the easy-peasy hot and cold brew bags from Sleepy Owl Coffee. Sleepy Owl is an Indian roasted coffee brand that makes high-quality Chikmagalur-sourced instant coffee accessible. She recommends the Original and Dark Roast hot bags from them—for that real caffeine kick. For cold brew—she prefers Mocha and Hazelnut for a refreshing and sweetened beverage.
How to use the bags: You don't need any fancy paraphernalia for these brew bags. No french press, no coffee machine, no filter needed! For the hot brew—just dip the bag in a cup of hot water for about 3-5 minutes and dip it in and out a few times. If you're going for a black cup, relish as is with a choice of sweetener. For a mug of warm, balanced morning caffeine add a dash of hot milk.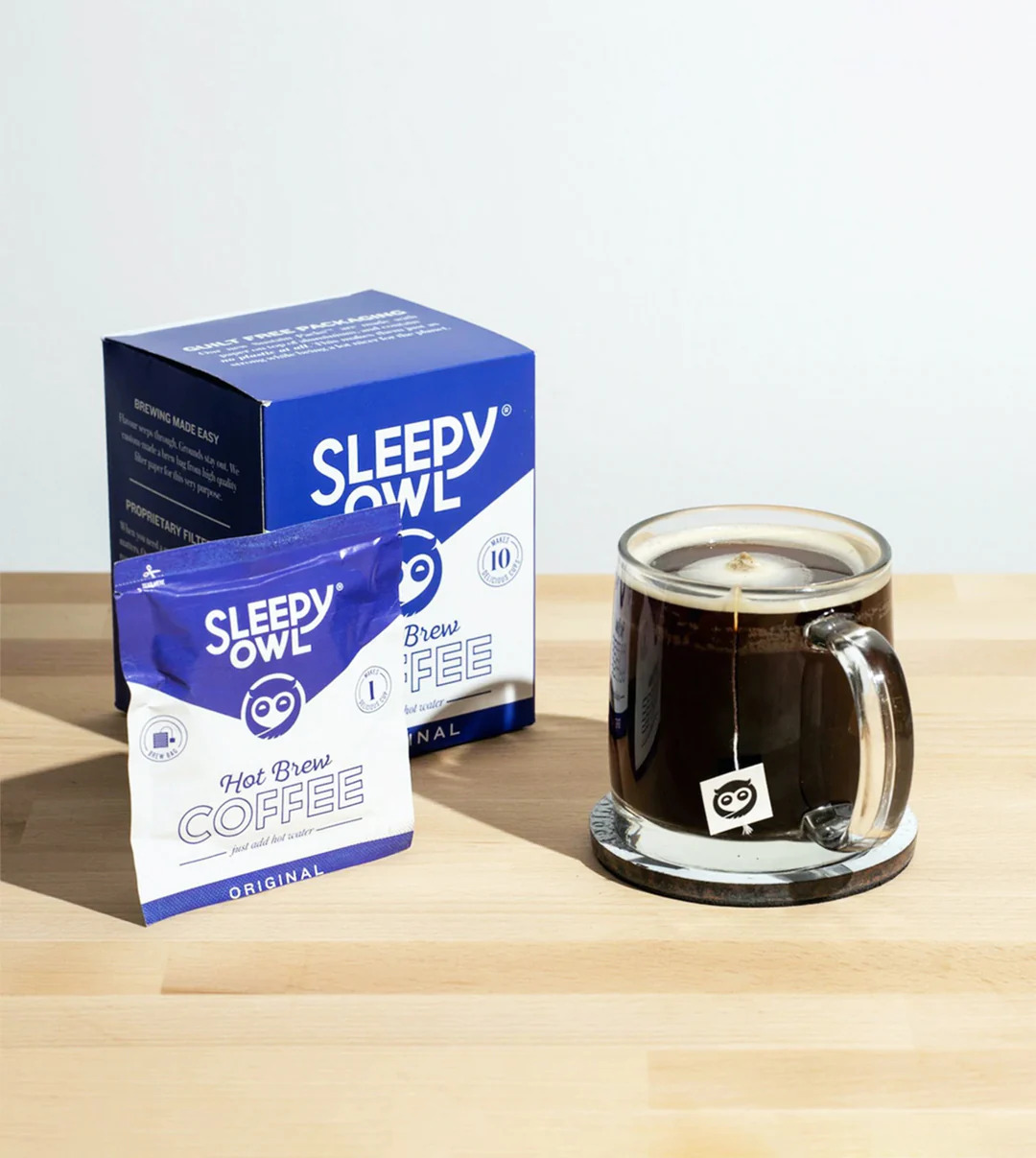 For the cold brew—this one's an overnight deal for the best result. Take a flask or bottle measuring around 500 ml. Add a bag of cold brew to it. Pour room temperature water over it. Let it sit for at least 12-16 hours. Pro tip: Best to engage in this activity at night for a fresh drink for the morning. This makes about 3 tall, luscious glasses.
Mocha and Hazelnut taste great for a brunch beverage with creamy milk poured over and iced. Don't forget to add your pick of sweetener. It's potent, smooth and yummy!
If you're feeling sustainable: The coffee bags you kept aside after brewing? With earthy, roasted goodness? Yeah, you can repurpose the ground coffee for skincare! Store in a jar with baby oil to make a soft, exfoliating body scrub for an indulgent bath ritual.
An additional instant coffee hack: If you love strong coffee—but find flavoured coffees too mild—and you're torn apart with your craving for a good vanilla or caramel: worry no further! Arunima shares her hack for the best of both worlds. Mix equal parts of your regular instant coffee (Nescafe Gold, Davidoff) with the flavoured one—from Hazelnut to Mocha, your pick! Make your coffee the regular way that you do and—voila a punchy cup with the subtle sensation of candied aroma!
A list of matcha-related recommendations: Aarthi likes to prepare matcha for herself on the weekends as the process of brewing it calms her down. Her two favourite brands are Tree Trunk and David's Tea. Tree Trunk is a Goan-based company with interesting tea blends which can be bought as small sample pouches. She recommends Mint Matcha and Berry Matcha from them. David's Tea is a North American brand that is available only in the US and Canada. Her go to are the traditional Matcha Matsu and Peach Matcha.
Some matcha hacks: She likes to brew matcha in the traditional way and then add it to ice with a splash of cow milk or vegan milk like oats or almond milk. Her favourite pairings with matcha are vanilla, honey and oat milk for regular iced lattes. If you're feeling fancier, you can add fresh mangoes or boba pearls to this drink. If you want to avoid milk altogether, she recommends adding matcha to fresh watermelon juice for a summery drink.
A must have: Matcha is a costly investment but she recently got her hands on the ceremonial set from Teanagoo which you can buy from Amazon here. In case you are looking for more budget friendly options, frother and bamboo whisks are available at Tea Trunk as well. Alternatively, you can also use your good ol' steel whisk which I find works just as well.
Some tips for brewing: Good to know: the colour of a good grade matcha is bright green. Make sure the water is neither boiling hot nor too cold while brewing as it affects the taste of the matcha. It is recommended to use a sieve to avoid clunking. Do not let the matcha + water sit for a long time as the tea will settle at the bottom.