The TLDR
Aditya Dicky Singh was one of India's best wildlife photographers—and an ardent conservationist. He was a middle class Indian who dedicated his life to a good cause—without making a fuss or seeking attention. Aditya Dicky Singh was a good man.
---
Researched by: Rachel John & Anannya Parekh
Editor's note: Singh's death isn't the stuff of front-page news. But his life offers an example of the great good that ordinary Indians have done–driven entirely by passion and commitment. Hence, this brief tribute to his work. The lead image is one of the many exquisite photos he took of the wildlife in Ranthambore.
Ok, I really don't know much about him…
Basic deets: Singh grew up in Delhi in the 1980s. Like many dutiful Indian boys at the time, he did a degree in civil engineering and took his UPSC exams—landing a Central Secretariat Service on his second attempt. By the end of the two-year training period, Singh realised that he was not cut out to be a babu. What he really wanted was to return to Ranthambore—where he first fell madly in love with tigers as a gawky teenager.
The early years: Singh wanted to be a wildlife photographer but there was no money in it—or even a career path toward becoming one in those days:
At the time, this was a hobby for me, an expensive one, nonetheless. When you do about 300 trips to the park, you're talking about spending Rs 30 lakh each year. A senior from my hostel days, who is in the hospitality business, told me that the only way I could afford it was by getting into tourism.
So he and his wife opened a resort on property leased from the government near Ranthambore. Geography turned out to be his great good fortune. Singh soon became an assistant on big-ticket documentaries by the BBC and National Geographic. It would lay the seeds for his life journey.
The birth of a conservationist: In 1999, while working on a documentary, he stumbled upon illegal stone mining and rampant woodcutting in a valley adjoining the Ranthambore sanctuary. Singh decided to stop it the only way he could—by buying the land. He says: "At first, we weren't quite sure what we wanted to do with it. But for the next five years, all profits were pumped into buying adjacent pieces of land in the area."
The birth of a forest: Over time, the couple bought 35 to 40 acres which they returned to the wild—restoring a forest that would become a refuge for the local wildlife. Singh told Mongabay:
I just bought this and did nothing to it except removing the invasive species. We allowed the land to recover and now after 20 years it has become a lush green patch of forest which is frequently visited by all kind of animals, including tigers, leopards and wild boars, throughout the year.
It doesn't sound like much until you see the startling oasis in green in the aerial view below:
Compassionate conservation: Singh has always been a great advocate of conservation that respects the needs of humans—in this case, local villagers. He bought the farmland from farmers who were selling out of fear of tigers. And his bit of forest offered peace of mind to those who stayed behind:
He has also created several water holes in the landholding to ensure that the wild animals get water even during summers. As a result, the pressure of predators like tigers from the RTR venturing into fields of farmers has gone down. "It is simply because the animals understand that in this patch of the forest they get prey, water and safe shelter without any disturbance," chuckled Singh.
Thanks to his efforts to engage the villagers, the local panchayat passed a 'kulhari bandh' rule—which banned wood cutting for commercial use. And he joined with the villagers to also shut down a local stone mine. Singh said:
If you observe the wild areas of India, you'll find that the population is poor here because the villagers didn't destroy the forests to monetise it. At the end of the day, the forest is the local person's resource as well, so you cannot deny them access to it.
Something to remember: Singh isn't the only person to embrace the concept of private forests—which gained traction in the mid 1990s. These include ambitious projects such as the 65-acre forest in the Sahyadri foothills called Vanvadi—financed by a group of nature lovers. More recently, startups like Afforestt use the so-called Miyawaki method—which involves "planting around 300 native trees in a 1,000 sq ft area to make a dense, self-sustaining grove." And the practice remains controversial among many conservationists. Singh himself would not advocate private forests as a lasting solution to wildlife conservation.
But what about his photos?
Singh is specifically known for his photos of the big cats—and is often described as one of the best photographers of tigers in the world. He received the prestigious Carl Zeiss Award for Conservation in 2012—and scored the Sanctuary Wildlife Photographer of the Year award in 2011 for this image:
About those tigers: Singh's photos are better seen than described. He has put together a tremendous collection of images of Ranthambore, tigers and even Africa over at Ranthambore.net. Our favourite tiger photos include this one—which is the banner image on his website: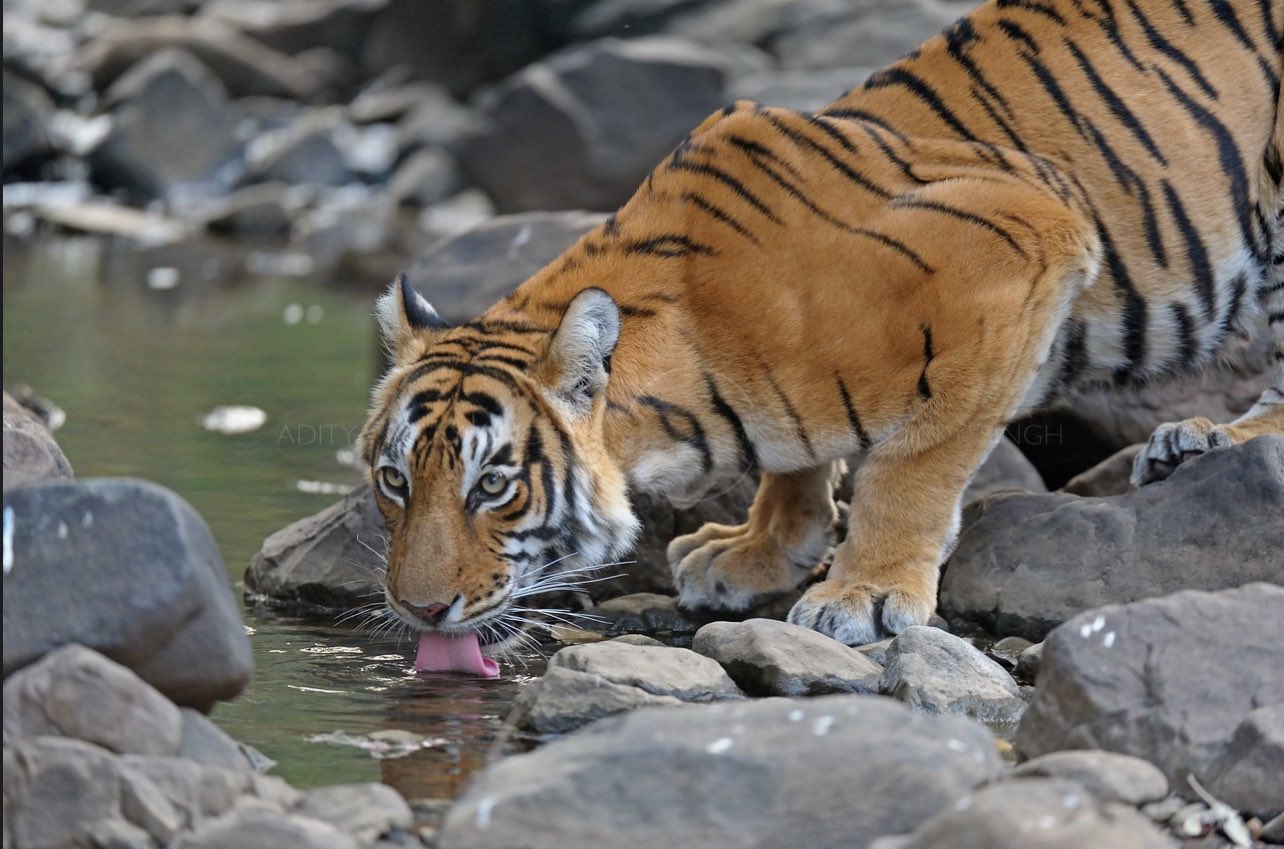 And this one of two adolescent tigers running at full pelt:
Also: This magnificent mama tiger with her baby:
Finally, this is one of our favourite photos of Singh—taken from his website:
Point to remember: Conservation photographers play a vital role in advocating for animals—especially endangered species. For example: Brent Stirton whose photos of the pangolin helped bring global attention to the most trafficked mammal in the world. Or Ami Vitale's iconic photograph of the last male Northern White Rhino dying in Sudan:
Some parting thoughts…
Singh has long warned that we may be the last generation to see tigers in the wild. But his views on the future of conservation were both brutally honest—and also hopeful. Here are two moments from his conversation with the splainer community in 2021—which is a must-watch.
One: This is how Singh looks at what we call 'animal-human conflict':
Two: But Singh also reminds us why India and Indians are exceptional in our relationship with nature: