Researched by: Nirmal Bhansali & Aarthi Ramnath
A special splainer X Ladies Who Lead event

This Friday, get ready for a delightful evening of talking fashion, sustainability and style with two women who have crafted two unique brands. Please fill out this form to RSVP.
Neetu Gupta: The Verandah meticulously curates a one-of-a-kind collection of apparel from across the country. She prides herself in discovering talented designers using innovative techniques—who make beautiful clothes for all of us. Here's one reason it's our editor's favourite apparel store in Bangalore: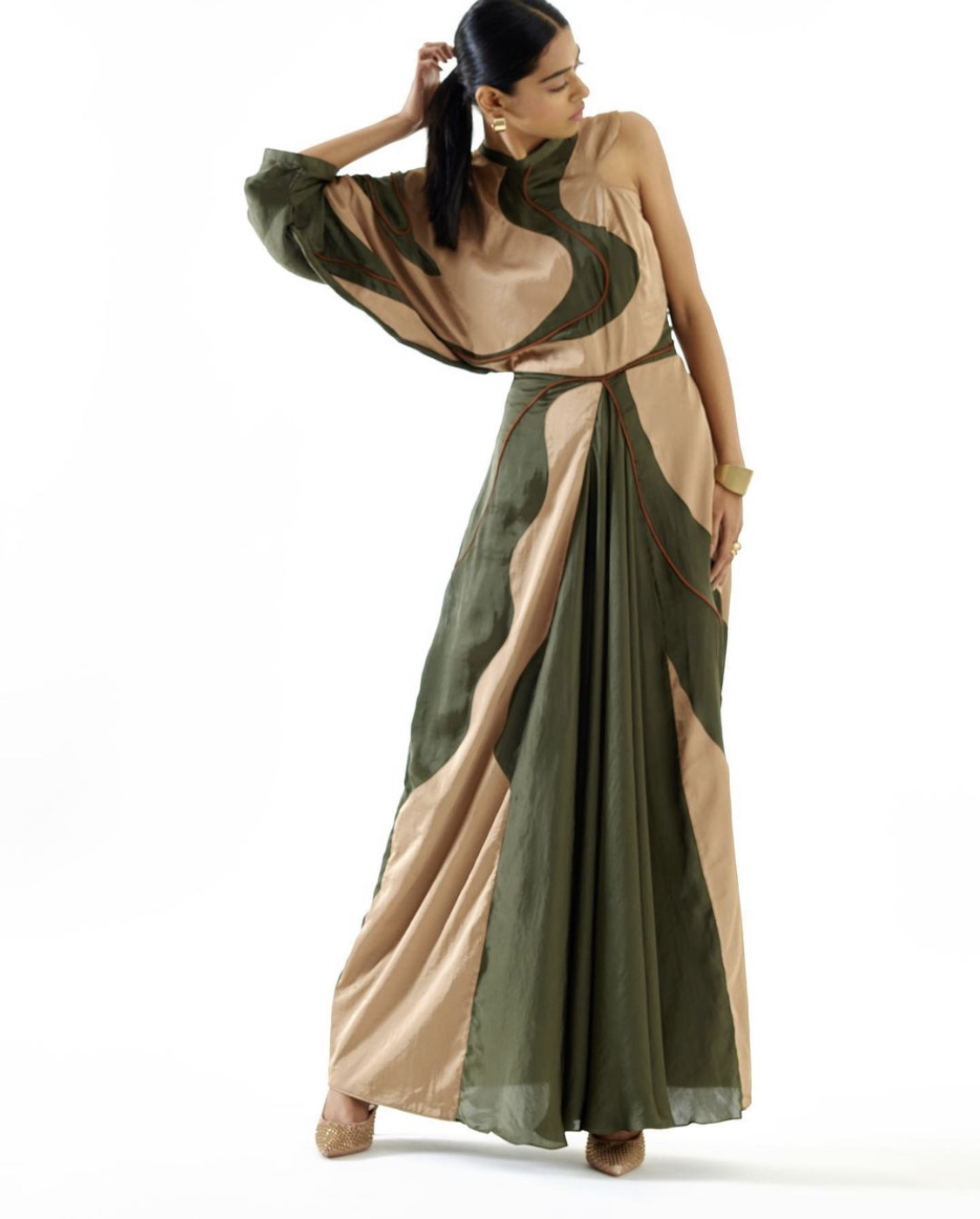 What we also love: Neetu often showcases her clothes on real women with real bodies:)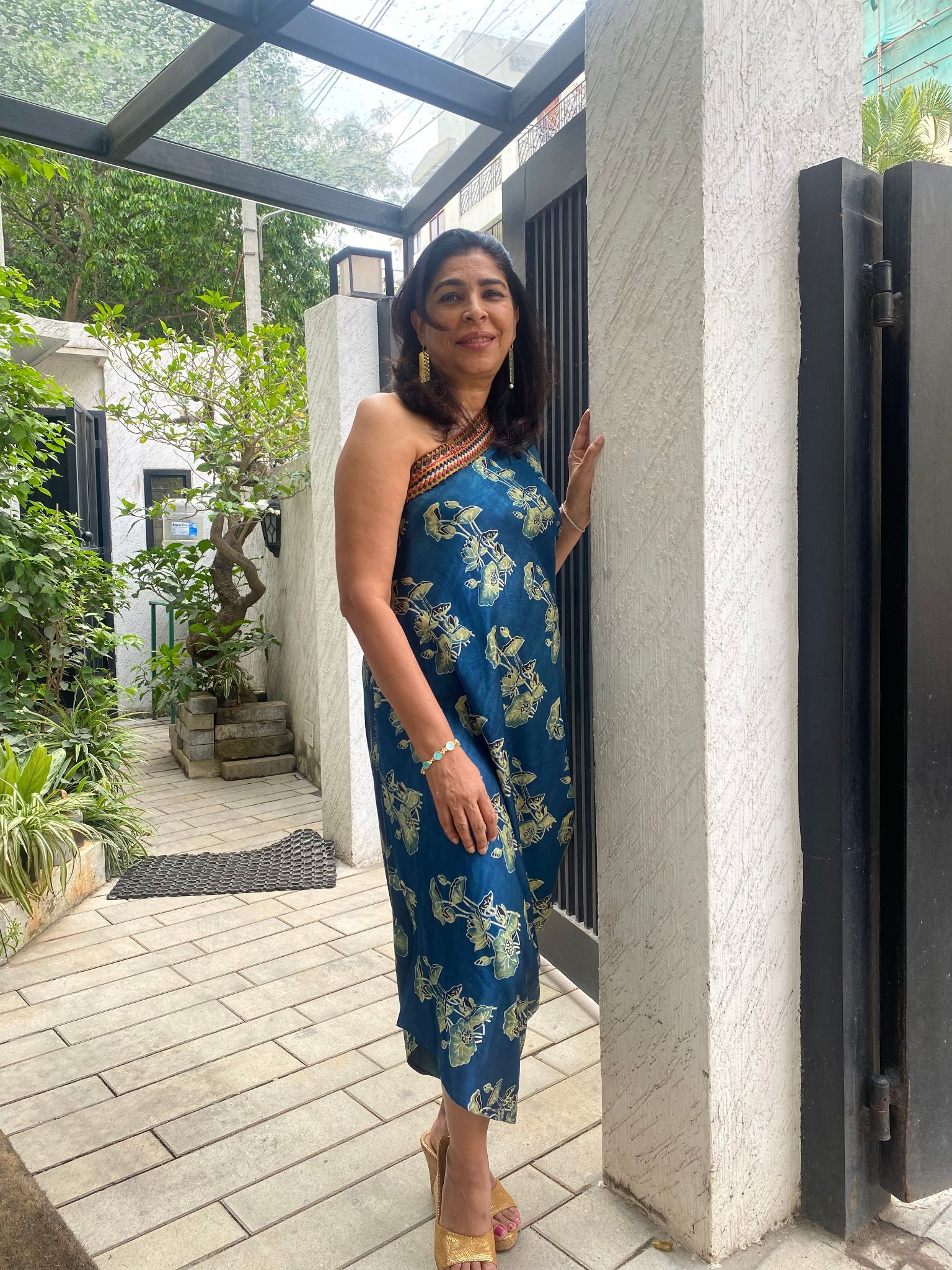 Mounica Chitturi: is the Founder & Creative Director, Unborn Studio. She designs exquisitely patterned clothes using the art of eco-printing—which involves steaming natural fabrics with leaves, flowers and other plant materials to create beautifully dyed garments. Yes, there will be a demo and a home kit if you want to try your hand at home:) Also: each product is consciously crafted one at a time or in small batches, and is truly one-of-a-kind. You can see an example below—while the rest of the collection is on the website:
The event deets: This is a totally free event—but only for our women subscribers (sorry!). We offer drinks, nibbles and a lively and free-ranging conversation—from the fashion industry and business models to body positivity, conscious shopping and personal style.
Date: Friday, September 8
Time: 6:30 PM to 8:30 PM
Address: The Verandah, 19, Haudin Road, Halasuru, Yellappa Chetty Layout, Sivanchetti Gardens, Bengaluru (map)
Please fill out this short form to RSVP for the event.
Global oil prices are spiking
Crude oil was trading on Wednesday morning at around $90 a barrel for the second straight day, and is up 25% since June. The reason: Saudi Arabia and Russia extended their voluntary cutbacks in production to the end of the year—the former to the tune of one million barrels per day and the latter by 300,000 bpd. These are on top of the April cut announced by the Organisation of Petroleum Exporting Countries and its allies (OPEC+). New York Times has more on why this matters—and what it could mean for markets and geopolitics. Mint looks at the impact on the Indian economy. TLDR: High import bill, petrol prices, inflation, slower economic growth and a depreciating rupee.
Spanish football scores a big win
The context: All hell broke loose when the President of the Spanish football federation Luis Rubiales forcibly kissed a member of the women's team Jennifer Hermoso at the World Cup medals ceremony. It was the last straw for a team that had already been mutinying against the controlling behaviour of their coach Jorge Vilda. All the members refused to play for the national team—until Rubiales and Vilda were removed. For more details, check out this Big Story.
What happened now: The football federation has finally sacked Vilda—and named the first-ever female coach, Montse Tome. It has also withdrawn its support for Rubiales—and called on him to resign. One reason for this quick move: Spain is slated to play Sweden on September 22. But here's the notable bit:
In its statement about Mr. Vilda, the federation did not give a specific reason for firing him and thanked him for his work with the national team and the success during his tenure, crowned by the World Cup victory. It said it was highlighting "his impeccable personal and sporting behaviour," which it called "a key piece in the notable growth of Spanish women's football."
In other words, the federation is still not willing to admit any wrongdoing on the part of these men—or of its own. Point to note: Hermosa has filed a sexual assault complaint against Rubiales. (New York Times)
Moving on to men's football: The prestigious Ballon d'Or trophy is awarded to the best player of the year. This year the shortlist includes seven-time winner Lionel Messi, Man City's star striker Erling Haaland and Paris St Germain forward Kylian Mbappé—but not Cristiano Ronaldo. Messi managed a nomination because of Argentina's big World Cup win last year. But Ronaldo's move to Saudi Pro League club Al-Nassr probably ended the possibility of ever being nominated again. (Eurosport)
An alarming report on ocean sands
A new UN report shows that we are dredging six billion tonnes of marine sand every year—that's one million lorries of sand a day. Sand is the most exploited natural resource after water. We use 50 billion tonnes of sand every year to build pretty much everything:
Our entire society is built on sand, the floor of your building is probably concrete, the glass on the windows, the asphalt on roads is made of sand. We can't stop doing it because we need lots of concrete for the green transition, for wind turbines and other things.
The solution is to set global standards that govern dredging—to ensure that the marine environment can renew itself:
These vessels are like a giant vacuum cleaner on the bottom of the sea. All the microorganisms in the sand are crunched and nothing is left behind. If you take all the sand away to bare rock, nothing will recover. But if you leave 30-50 cm, it will recover.
The Guardian and BBC News have more on an environmental crisis that most of us rarely consider.
Tata Group eyes pricey Haldiram's deal
According to a Reuters scoop—based on unnamed sources—the company is eyeing a 51% stake in the snacks company. The catch: Haldiram's has demanded a valuation of $10 billion—which is 6.6X of its annual revenue of $1.5 billion. And that's a bit rich for the Tatas taste. FYI: the conglomerate already owns the UK tea company Tetley and has partnered with Starbucks in India. That said, Haldiram's owns 13% of the $6.2 billion savoury snack. And the acquisition would help the Tatas grow bigger than the chai-coffee business, say experts: "If you want to suddenly grow big in size, no one better to provide access than Haldiram's. No other brand attacks packaged food, and food services, with equal panache." (Reuters)
Moving on to WeWork: The co-working giant is in financial trouble again. A couple of weeks ago, the company warned that it may not be able to stay in business. Now, it's announced a plan to renegotiate all its leases—which account for more than two-thirds of its operating expenses. There are 777 WeWork offices in 39 countries. (Quartz)
EU locks in six big tech 'gatekeepers'
Context: The EU has passed a series of laws to protect consumer privacy and curb the power of tech companies. Among them is the The Digital Markets Act (DMA) which will impose restrictions on platforms with 45 million+ local active users and a turnover of over $8.04 billion (€7.5 billion).
What happened now: The EU has now confirmed the names of six tech companies who have been designated as "gatekeepers"—and will be ruled by the DMA. These are Alphabet, Amazon, Apple, Meta, Microsoft and ByteDance. This pretty much covers every social media platform—except Twitter and Snapchat—the Google and Apple app stores, all their ad delivery businesses, browsers and operating systems. And, of course, Google search. That's almost every key bit of software on a person's device—except, interestingly, your email. TechCrunch has a very detailed account of how this will impact how their products work in the EU.
Beijing's new rules for iPhones
The government has banned officials from using iPhones—or any other device made by a foreign company. This is a serious alarm bell for Apple which dominates the high-end smartphone market in China—which also accounts for 19% of its revenue. And the new restrictions come on the heels of the unveiling of a new Huawei phone—which is expected to target the same premium market. This is also a bit of a tit-for-tat move against Washington—which banned its government officials from using TikTok. (Wall Street Journal, paywall, Reuters)
Two health stories of note
Rising cancer cases: New research shows that the number of cancer cases in people under the age of 50 has jumped by nearly 80% since 1990. Today, more than a million people under 50 are dying of cancer. Breast cancer accounted for the largest number of cases and associated deaths, at 13.7 and 3.5 for every 100,000 of the global population respectively. But, but, but:
[E]xperts cautioned against reading too much into the findings.The research did not take into account a 40% rise in the total population, while factors such as better reporting may also have played a role… Cancer killed more than a million under-50s in 2019, a rise of over 25%—but with the 40% population rise, this could actually indicate a falling death rate.
BBC News has more on the study.
Breakthrough for autism: US regulators have approved a new tool that may help diagnose autism with greater speed and accuracy. Until now, physicians had to rely on developmental milestones, behaviours and parents' reports to diagnose the condition. And it usually takes time to arrive at a diagnosis. The new tool tracks eye movements while the children watch videos:
A child without autism may focus their attention on the hand gestures of one child in the video who's pointing toward something for another child in the video to look at. That child also may look at the face of another child who looks sad or smiling. But a child with autism would not pay attention to the hand gestures or facial expressions at all, and this can be identified in their eye movements.
The tool can help identify autism in babies who are as young 16 months. CNN has lots more on why it is important to have objective measures for conditions like autism.
Three things to see
One: Scientists have grown an entity that looks like ''a textbook example of a real 14-day-old embryo"—using only stem cells. They did not use sperm, eggs or a womb. The really freaky bit: "It even released hormones that turned a pregnancy test positive in the lab." The model will be used to help scientists learn more about the earliest moments of foetal development. The model below is colour coded: blue cells (embryo), yellow cells (yolk sac) and pink cells (placenta). BBC News has lots more on this fascinating breakthrough.
Two: We're not exactly big fans of Shilpa Shetty, but the trailer for her upcoming movie 'Sukhee' looks promising. This is also the directorial debut of Sonal Joshi. The film releases in theatres on September 22. The trailer is below. (Indian Express)
Three: After over a decade, researchers have spotted a white sambar deer in the Cauvery Wildlife Sanctuary in Karnataka. Captured in one of the camera traps set for leopards in the area, this is the first ever photograph of a deer with 'leucism':
Leucism is a condition in which the pigmentation of an animal's skin is missing, causing white or pale skin. This condition can occur naturally from birth due to a phenotype (a trait of any living being) that may have formed from a defect in the animal's development.

It is different from albinism which is a condition that arises due to a lack of melatonin in the animal's skin, but the animal has pink or reddish eyes. But in leucism, the animal lacks the pink eyes."
You can see one of the two female deer spotted below. (Times of India)