Responsible experiences that feel decadent
Let's face it, the only way people will start to choose responsible travel experiences in India, is when there's no compromise at all on comfort and enjoyment. Enter some of our best-selling experiences that have a dose of good karma.
A reminder from Urbanaut: We know downloading an app is a pain—but you will not regret getting the Urbanaut app (and if we're wrong, it's easy to delete!). We've got tons of curated recommendations that you can save and plan with, and fantastic experiences that you can book with your kids, folks, pets and friends. What you see in this newsletter is but a tiny slice of all the options that await on the app.
This month we decided to focus on (even more) responsible travel. While all of our experiences are hosted by high-quality partners and responsibility is a given, there are a few whose singular focus on sustainability deserves mention.
Giving back to Goan locals: For decades, tourism has graced (and greased) Goa's shores, but the monetary benefits largely eluded the locals. On our waterfall and natural pool experiences like Hidden Pools in North Goa, Forest Lagoons and others our partners recruit young Goans from various communities and train them to be your guides. Not only do they know all the secrets, but they're also best placed to advise on safety and accessibility—and often conduct clean-up drives in the same locations on their days off. Your dip in the water is followed by an elaborate meal, prepared using fresh, seasonal produce by the local village women, served in gorgeous little sheds on their land. In many cases, these families now have steady incomes from waterfall visitors and are constantly looking to improve their quality of service. A win-win like no other, we think.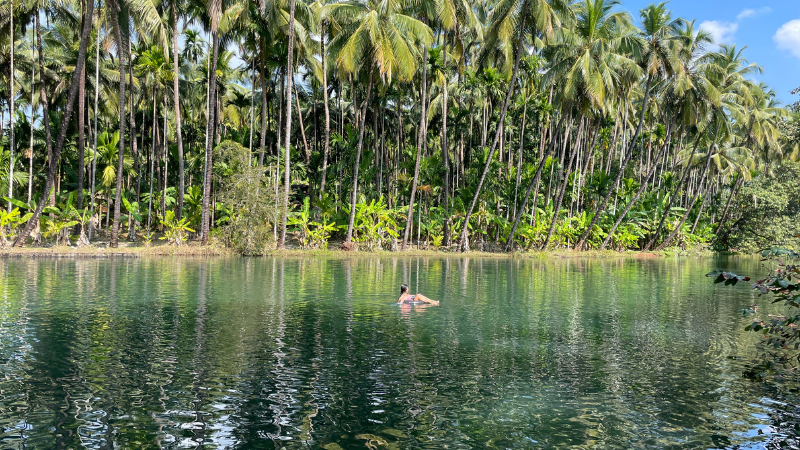 A walking holiday with a difference in Uttarakhand: It's a pet peeve of ours that often only international travellers somehow discover and experience the best that India has to offer. It's our own fault, mind you. As we chase the cheapest deal and the most popular places, they wisely go off the beaten track and uncover real gems.
The Binsar Walking Trail, in partnership with Knowhere Travel, is exactly that. Village communities come together to build comfortable guest houses (made possible through interest-free loans) in their remote villages within the Binsar Wildlife Sanctuary. Trained walking guides take guests from village to village on a rotating basis (so all guides have an equal opportunity to benefit from guest visits) and every guest house is only open to guests for 100 days a year, to prevent an over-reliance on tourism and ensure that villagers continue with their original livelihoods. The crazy bit? These walking holidays have been around for over a decade now until the pandemic halted all international travel—which is when this incredible experience was finally promoted to an Indian audience.
An all-woman run kitchen in Goa: It's a sad fact that not many commercial kitchens have women as head, or line chefs. Not our Goan Garden Feast! Run out of a home in stunning Loutolim, in the shade of Mango trees, this is a feast to behold. An extensive, multi-course menu featuring local specialities—you'll have to crawl out of there after the meal, trust us. You can also visit the kitchen and learn how to make Bebinca but most importantly, you'll be supporting a small business run entirely by local women.
Secret hikes near Mumbai: We believe that everyone should have an opportunity to savour nature in the right way to be inspired to protect and cherish it. If you're frustrated with popular hiking locations that become overrun with litter, people and noise, try the Don't tell a soul hike. Walk up a completely unknown trail that is verdant and untouched, all while marvelling at the sights and stunning vistas. Our partners are the best in the business—operating responsible, safe hikes for small groups, so you'll be in great hands.
Supporting communities in Kumaon: If we really started to list all the wonderful community-owned enterprises on our app, we'd run out of space. But if you do find yourself in Kumaon (on the walking trail, perhaps), there are plenty of wonderful organisations that can guide you to support the right local cause.
At Himadri Hans Handloom formerly home to Panchachuli, an award-winning women weavers' association in Kumaon, you can walk through the centre and watch women on the hand looms and pick from a range of stoles and scarves, or a rare pashmina for a special occasion.

Between Ranikhet and Majkhali lies the cooperative Umang, which has been helping women in the region earn a livelihood for years now. It specialises in hand knit woollen garments in contemporary designs. Pickles, chutneys, and jams made of Kumaoni fruits are also sold here, among other souvenirs.
What's up @urbanaut
Ok, it's time for introductions—so you know who we are. Urbanaut curates authentic recommendations from those who know best—creative, discerning locals in different cities. We often joke that even if no one else ever uses Urbanaut, we have a treasure trove of places that we would have never heard of without this job. So win-win for us! But 25k+ travellers do use our app just in case you were wondering!
We're an early-stage travel tech startup (fancy lingo for the win!), female-founded, and with dreams of being in cities and countries around the world. The discerning traveller is having their moment, and we're here for it—and we sure as hell plan to be a part of it!
We've got recommendations in 25+ cities and bookable experiences that you've never heard of, but definitely want to try in Goa, Mumbai, Alibag, Manali, Ladakh and Dharamshala—and we'll be launching soon in plenty of exciting new destinations in India and abroad.

Download Urbanaut on the App Store or Play Store to get started. Or visit our website (we're better on the app, but we get it) to view our experiences and recommendations!