Chef Nuzha Ebrahim's guide to breakfast
Editor's note: Every month we bring to you an article from our partner enthucutlet—a truly unique food magazine that brings you unusual stories, perspectives, and guides on food in India and beyond. The magazine is helmed by a brilliant team of editors and the good folks of Hunger Inc—the parent company of The Bombay Canteen, O Pedro, Bombay Sweet Shop, and more. This month we curate their handy hacks for the 'most important meal of the day'. We strongly encourage you to check out the rest of their content on their website.
Written by: Chef Nuzha Ebrahim. Nuzha Ebrahim learnt how to cook at the age of nine, and knew right away that she never wanted to stop cooking. She is now the Chef and Founder of the Kuckeliku Breakfast House and The Fromagerie, both in Mumbai.
As someone who "loves breakfast so much, she opened a breakfast house in Colaba", I am Nuzha, and I'm here with 5 legendary hacks to take your breakfast game to the next level. No more average jane breakfast for you; I got your back.
Not yo mama's Upma

Marry the idea of your family's Upma with a Polenta, and lean further into the breakfast mood with my take that features cheese stock, a soft boiled or poached egg, and crispy bacon bits (in my case "halal bacon").
Cheese Stock: gently simmer allll leftover cheese rinds in some milk to extract every last bit of cheesy scent

Start with your family's Upma recipe (note: comfort and familiarity is key)

Add the cheese stock instead of plain ol' water

Fry up a sliced onion (think Brishta) in butter, and end it with a generous helping of Madras Curry Powder (yes, that green tin you bought and never used)

Build your Upma bowl with the (duh) Upma as a base, Poached Egg, Bacon bits, and finally the Curried Butter.
PS: You can freeze the broth as cubes and use them for up to 3 months.



Curry Powder Buttah
Get some butter nice and warm in a pan and throw in SO MUCH CURRY POWDER* (I'm a pataak flavour kinda gal). Store refrigerated and use it to wake up any neutral (read: boring) dish — roasted veggies on yoghurt (a la Turkish Eggs), slather in a grilled cheese, an egg salad, or even to wake up your boring dal rice dinner — 3 nights in a row.
Note: I use the unknown brand green tinned kind but if your family has a curry powder recipe that'd make this so much more fun.



Sourdough Pancakes
Remember the precious, leftover sourdough starter from your pandemic experiments?
Use this fluffy yeast to create a delicious, nutty batter if you're in the 'swap wheat flour for a healthy/ gluten free/ millet everything' club.



Poach the Perfect Egg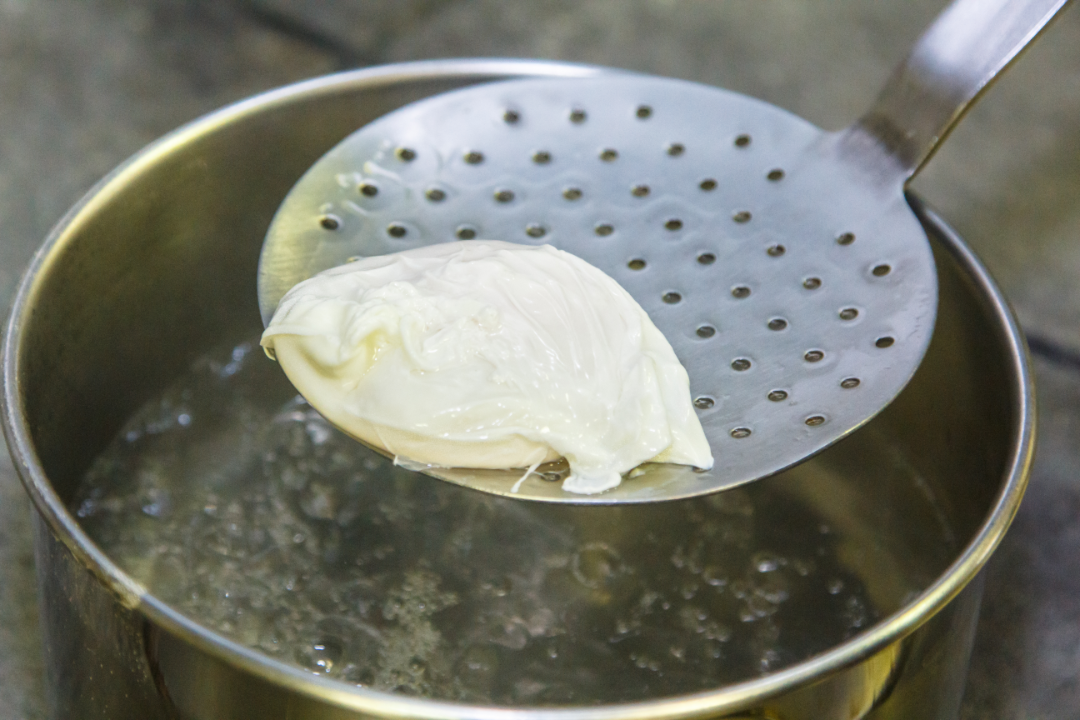 If you've ever struggled to poach an egg or been busy, this is the hack for you:
Simmer water and vinegar in your tadka pan (you read that right). Best space, no mess; is perfect

Crack a room temp egg in a small bowl, use the back of the spoon to create a soft swirl and pour the egg into the swirling centre

Use the back of the spoon once again to ensure the egg is setting in a soft ball shape.

Set your timer to 6-8 mins, depending on how runny you like your egg (more ways to dummy proof)

Using a slotted spoon (puri-frying-thingy), gently pick up the egg and transfer to a kitchen towel to soak up the excess water



Coffee for sureee
Since I can't keep up with Coffee's many waves, I recreate the cold coffee I grew up with on the daily (think Nescafe Machine Coffee or the cold coffee dude at Churchgate Station).
I start with a good ground coffee because I still want people to think I'm cool and brew my espresso in my rickety mocha pot

I take the espresso with SO much powdered dairy creamer, a little bit of sugar, a lot of ice, and shake it in my protein shaker (never used once to make an actual protein shake) to get it nice and creamy



Grab a bite of enthucutlet
enthucutlet is a bimonthly food mag that brings you unusual stories about food in India (& sometimes beyond). Check out all our original food stories (like this one on Growing up in the Cheesling-filled 90s) and actionable guides (like the one on India's Top 5 Indie Hot sauces) on our website.
Our current season is 'Food + Design'. Through July and August, expect original stories, delicious tips and pointers, and lively events, all of which will explore how all food is design—whether intended or discovered.
To get first dibs on all things enthu, and to connect with fellow cutlets, subscribe on our website, and follow us on @enthucutletmag on Instagram, Twitter, and Threads. enthucutlet is brought to you by the cutlets behind The Bombay Canteen, O Pedro, Bombay Sweet Shop, and Veronica's.