The TLDR
Four years after the government scrapped Kashmir's special status, the Supreme Court has finally begun hearing petitions challenging the decision. This is likely to be a landmark case. And to help you make sense of it, we will be doing a series of Big Stories as the hearings unfold. Today, we look at how it all began: the accession of Kashmir—and the creation of Article 370.
---
Editor's note: Please don't forget to take our big reader survey—your feedback is critical to us. We only do this once a year and the results help shape splainer's growth and direction. So we plan to nag you about this over the coming weeks.
The lead image: That's Jawaharlal Nehru shaking hands with Maharaja Hari Singh in Srinagar in May 1948.
Researched by: Rachel John & Nirmal Bhansali
Kashmir: The Dogra years
The Sikh conquest: In 1819, Maharaja Ranjit Singh conquered great parts of the Kashmir Valley. And he appointed his general—Gulab Singh—as the ruler of Jammu. Gulab Singh went on an expansion spree—first annexing Ladakh and then Baltistan in the 1840s.
The Treaty of Amritsar: After the death of Ranjit Singh in 1839, the Sikhs were defeated by the British—but Gulab Singh sat on the sidelines. As a reward, in 1846, the British signed the Treaty of Amritsar—selling Jammu and Kashmir to him. The price: 75 lakh Nanakshahi rupees. Gulab Singh also promised to provide the British one horse, twelve shawl goats of approved breed (six male and six female) and three pairs of Kashmiri shawls every year. And that's how a Muslim-dominated Kashmir came to have a Hindu ruler. This is Gulab Singh: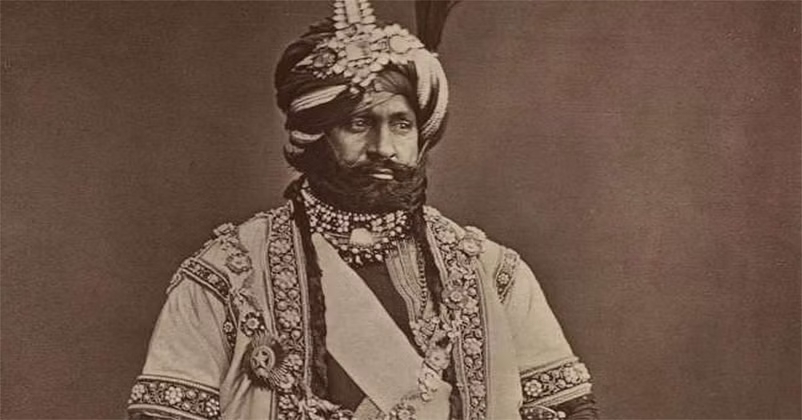 The Dogra years: According to authors like PN Bazaz, the Dogras imposed a 'Hindu Raj'—giving Muslim subjects fewer rights than the Hindus. As a result, there were a number of uprisings in 1865, 1924 and 1931.
Enter Sheikh Abdullah: The son of a shawl merchant, Abdullah went on to get a master's degree in science from the Aligarh Muslim University. And yet he couldn't find a government job in Kashmir—which was the preserve of Hindus. Furious at this blatant discrimination, Abdullah first started a reading room for like-minded Muslim Kashmiris—which became the All-Jammu Kashmir Muslim Conference in 1932.
Six years later, Abdullah renamed it as the National Conference—including Hindus and Sikhs. The new party's aim: a parliamentary democracy.
The end of the Dogras: The last ruling Maharaja of the Dogra dynasty was Hari Singh—who signed the treaty of accession with India in 1947. And he ruled like a stereotypical dynast—all privilege, no governance:
Having ascended the throne in September 1925, he spent much time at the racecourse in Bombay, and much time hunting in the vast and plentifully stocked jungles of his domain. In one other respect he was typical of his ilk. As his fourth and youngest queen complained, he "never meets the people—that's the trouble. He just sits surrounded by fawning courtiers and favourites, and never really gets to know what is going on outside."
FYI: this is Hari Singh:
Abdullah vs Hari Singh: The king's greatest nemesis was Abdullah—who began aggressively pushing for the overthrow of the monarchy. Hari Singh repeatedly put him in jail since 1931—and he served a three-year sentence in 1946 for asking the Dogras to 'Quit Kashmir'. OTOH, Abdullah's politics cemented his close friendship with Jawaharlal Nehru.
End of the Dogras: After the accession, Hari Singh's son Karan held on as 'Sadr-e-Riyasat'—until the title was abolished in 1953.
The accession of Kashmir
When India and Pakistan gained independence in 1947, Hari Singh found himself in a terrible place. He had lost the support of the British—who helped him keep his subjects in place. And they were already rising up against him:
As early as June 1947, about 60,000 ex-army men (mostly from Poonch) had started a no-tax campaign against the Maharaja. On August 14-15, Muslims in Poonch hoisted Pakistani flags, provoking the imposition of martial law.
Meanwhile, Abdullah was still stewing in jail—much to the outrage of his friend, Nehru.
But, but, but: Hari Singh didn't want to join India—since that meant embracing parliamentary democracy and losing his kingdom. But the prospect of hitching his fortunes to a Muslim-majority Pakistan wasn't appealing either.
The standstill agreement: In August 1947, Singh tried to buy time by proposing a standstill agreement with both India and Pakistan. It would "allow the free movement of peoples and goods across borders"—but not alter the status quo. Pakistan inked the deal—but India decided to wait and watch.
The view from India: Nehru was keen on accession—as it would free Kashmir from the Dogras. It would also ensure the ascendancy of Abdullah's National Conference—which was pro-Congress. Oddly, his home minister Sardar Patel wasn't all that keen:
Notably, while Nehru always wanted Kashmir to be part of India, Patel was at one time inclined to allow the state to join Pakistan. His mind changed on 13 September, the day the Pakistan government accepted the accession of Junagadh. For "if Jinnah could take hold of a Hindu-majority State with a Muslim ruler, why should the Sardar not be interested in a Muslim-majority State with a Hindu ruler?"
Once Patel and Nehru were on the same page, the task of mediation fell to the new viceroy of India—Louis Mountbatten. Although Hari Singh continued to cling to the dream of independence—to preserve his dynasty—circumstances dictated otherwise. The 'independence' of Kashmir lasted a mere 73 days after the British left India.
The famous last words: On October 12, 1947, the deputy prime minister of Jammu and Kashmir said in Delhi:
We intend to keep on friendly relations with both India and Pakistan. Despite constant rumours, we have no intention of joining either India or Pakistan . . . The only thing that will change our mind is if one side or the other decides to use force against us.
Point to note: At the time, Mohammed Ali Jinnah had sent a threatening note to Singh, saying: "The time has come for Maharaja of Kashmir that he must take his choice and choose Pakistan. Should Kashmir fail to join Pakistan, the gravest possible trouble will inevitably ensue." And J&K army leaders were already unhappy about continual border incursions by Pakistan. In fact, the weary maharaja released Abdullah from prison—in hopes that the popular leader would help him stave off a Pakistani invasion.
The invasion: On October 22, Pakistan lost patience—perhaps due to the reports of bloody violence in the Kashmir district of Poonch. At the time, British newspapers reported: "2,37,000 Muslims were systematically exterminated — unless they escaped to Pakistan along the border — by the forces of the Dogra State headed by the Maharaja in person and aided by Hindus and Sikhs"—which has not been verified by any other source.
Whatever the reason, this is what happened on October 22:
About 2,000 tribesmen, armed with modern weaponry, raided Muzaffarabad. By the evening of October 23 they had captured Domel. Garhi and Chinari fell over the next two days. Then their main column proceeded towards Uri, and then, along the Jhelum river towards Baramulla, the entry point to Srinagar.
The point of dispute: As historian Ram Guha notes:
Most of these raiders were Pathans from what was now a province of Pakistan. This much is undisputed; what is not so certain is why they came and who was helping them. These two questions lie at the heart of the Kashmir dispute; sixty years later, historians still cannot provide definitive answers to them.
To date, Pakistan denies any involvement—and claims it was a spontaneous tribal response to the oppression of their brethren in Poonch. But, but, but:
As Jinnah's American biographer [Stanley Wolpert] observes, "trucks, petrol, and drivers were hardly standard tribal equipment, and British officers as well as Pakistani officials all along the northern Pakistan route they traversed knew and supported, even if they did not actually organise and instigate, the violent October operation by which Pakistan seems to have hoped to trigger the integration of Kashmir into the nation."
You can see the armed fighters here:
The accession: Two days after the invasion, on October 24, Hari Singh appealed to the Indian government for military support. Indian leaders wanted to rush arms and ammunition to Kashmir—but it is Mountbatten who insisted that Kashmir accede to India:
[A]ccording to Jyoti Bhusan Das Gupta's book 'Jammu and Kashmir', Mountbatten warned that "it would be dangerous to send in any troops unless Kashmir had first offered to accede", arguing that it would result in an India-Pakistan war. He suggested the accession should be considered as provisional, and "when law and order had been re-established in Kashmir, a plebiscite should be held as regards Kashmir's future".
Also present at this critical meeting in Delhi: Sheikh Abdullah.
How it ended: On October 27, the first plane left Delhi for Srinagar with troops and arms. As the battle for Kashmir raged, Nehru took the matter to the United Nations in January, 1948. The fighting finally came to an end in August:
On 13 August 1948, the United Nations Commission for India and Pakistan passed a resolution providing for a ceasefire; the withdrawal of Pakistani troops and tribal militia, followed by an Indian withdrawal; and a plebiscite. However, following the ceasefire, neither side pulled back their armies, and the plebiscite never took place.
And things have been an unholy mess ever since.

The bottomline: In the next part, we will look at the Instrument of Accession—which became the basis of Article 370.
Reading list
Ramachandra Guha's 'India After Gandhi' has both great detail and nuance—taking a careful, even-handed approach to the facts. The Print and Frontline have briefer histories of the accession. Outlook Magazine is best on the Dogras. This Print piece has a more sympathetic take on Hari Singh.