The great pandemic: A quick update
Global internet outage: a quick update
Fastly—the cloud computing service—which was the culprit in the widespread breakdown has blamed it on a software bug:
"Fastly said the bug was in a software update shipped to customers on May 12 but was not triggered until one unidentified customer carried out settings changes that triggered the problem 'which caused 85% of our network to return errors'."
Yup, that's what took down the biggest websites around the world, including Amazon, Reddit and BBC News. (Reuters)
A dismal survey of Indian Americans
The survey shows that every second Indian American has faced some sort of discrimination in the past year in America. That said, 53% feel that discrimination is a minor problem. Also this:
"The data suggest that discrimination based on skin colour is the most common form of bias: 30 percent of respondents report feeling discriminated against due to the colour of their skin… An equal percentage of respondents – 18 percent apiece – report that they have been discriminated against due to their gender or religion."
But here's the really interesting bit:
"When it comes to discrimination experienced by Indian Americans, a significantly larger share of foreign-born Indian Americans (59%) state that they have not been discriminated against on any grounds in the past year, compared to just 36% of U.S.-born Indian Americans."
Scroll has more on other findings.
Ethiopia: A tragic update
Back in March, we did our big story on the ethnic conflict unfolding in Ethiopia—which targeted the Tigrayans who live in the region of, well, Tigray. The government ruled by PM Abiy Ahmed—in coordination with neighbouring Eritrea—have been hunting down and killing the residents. Now, the UN is warning that the Tigray region is on the brink of famine. Also this: "Women and girls are still being subjected to appalling acts of sexual violence… adolescent boys speak of fear of recruitment and use by parties to the conflict." And this: "There is now a risk of a loss of life running into the hundreds of thousands or worse." (CBS News)
The limits of human longevity
A new study has found that our life spans cannot extend beyond 120-150 years. After that age, the body simply won't recover from stresses like illness and injury, resulting in death. But here's the key point:
"Even though the research suggests humans could live to 150, that number doesn't say anything about the quality of life in old age… In recent years, many scientists have come to refer to the number of healthy years in a person's life as their health span."
Quality always trumps quantity when it comes to human life. (LiveScience)
Nusrat Jahan sets the record straight
There's been lots of gossip swirling around the marriage of the feisty and often controversial Trinamool MP—who got hitched in a glitzy 2019 wedding in Turkey. But now she wants everyone to know that her so-called marriage is null and void as per Indian law—since it was sealed by an interfaith ritual solemnized in a foreign land. Jahan put out a statement saying:
"As per court of law, it is not a marriage, but a relationship or a live-in relationship. Thus, the question of divorce does not arise. Our separation happened long back, but I did not speak about it as I intended to keep my private life to myself…The alleged marriage is not legal, valid and tenable; and thus not a marriage at all in the eye of the law."
Wow, an Indian Member of Parliament saying openly she was in a live-in relationship? Mind blown. (Indian Express)
Three things to behold
One: A very large map of the brain. Google and Harvard University have unveiled the largest high resolution map of every cell and connection within a single cubic millimeter of the human brain. It contains tens of thousands of neurons and 130 million synapses and occupies 1.4 petabytes of disk space. This shows only a millionth of the entire brain—and a full map might take a few years. Go take a look right here. If you want to nerd out over this, Singularity Hub explains exactly how they did it.
Two: 'Glacier blood' on the peaks of the French Alps. It is the result of a process called Chlamydomonas nivalis—where a species of green algae containing a red pigment undergoes photosynthesis and stains the snow. It isn't exactly good news, but a sign of warming temperatures that help this particular algae to flourish. Gizmodo has more details. Also, the 'bloody' snow looks like this:
Three: Stiletto Crocs, courtesy a collab with Balenciaga. Wrong, so wrong. New York Post has the deets, while Quartz explains why this is just a big publicity stunt. See the Monstrosity below: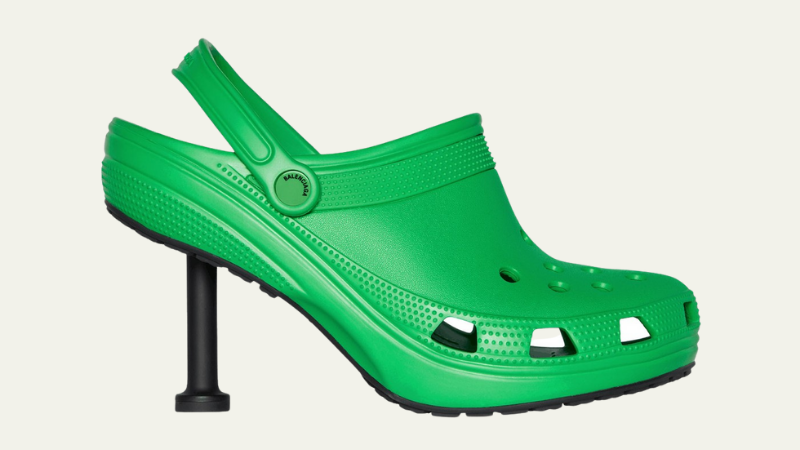 In our gratitude jar…
Our founding members are always special to us, particularly those who have been with us from the early days—right when we needed it most! So a big thank you to Stuti Johri, Kamal Govindraj, Joey Bose, Inderpreet Uppal, Anand Katakam, Simran Gagnani, Arti Shantakumar, Anubhav Tyagi, Manasi Adya and Sujana Raj Gurung.