TLDR: This month marked the 75th birth anniversary of our nation. How better to mark the occasion than with iconic pictures of India—taken by its greatest photographers: Kulwant Roy, Homai Vyarawalla, Madan Mahatta, Jyoti Bhatt and Foy Nissen.
Kulwant Roy: Chronicling the freedom struggle
Roy, born in 1914 in Bagli Kalan, Ludhiana, was educated in Lahore. Like other photographers at the time, Roy had no formal training in the medium. Instead, he learned on the job at Gopal Chitter Kuteer, the studio in Lahore where he was employed. He worked as a freelancer and eventually founded the Associated Press Photos. In the 1930s, he began to document the activities of the Congress and the independence movement—including Gandhi (see a larger collection here).
In the picture below, you see the composer of 'Kadam Kadam Badhaye Ja', Captain Ram Singh Thakuri of the Indian National Army (INA), playing the violin for Gandhi at the Harijan Colony. The idea that music could be used to ignite patriotic fervour in people was promoted by Netaji Subhash Chandra Bose, the founder of INA. In 1945, the British banned the song and declared it seditious. Roy's photos are available at the Museo Camera, Gurgaon.
Homai Vyarawalla: India's first female photojournalist
In 1942, Vyarawalla was hired as a photographer at the British Information Service in Delhi—at a time when photojournalism was gaining popularity in India. She captured the most significant years of Indian history—our transition from a colony to a nation.
Vyarawalla—known for her candid photographs of political leaders—was the only woman in her profession. See a lovely picture of her at work below. More photos—both by Homai and of her—are available at the Alkazi Archive.
Where Vyarawalla focused mostly on great men in the public eye, twin sisters in Bengal—Manobina and Debalina Roy—were street photographers who captured candid moments of strangers—like this boy on a boat staring wistfully at a ship headed to distant shores—taken in the 1940s.
The Jadunath Bhavan Museum and Resource Centre is hosting an exhibition of the Roy twins' photographs in New Delhi till August 25, 2022. If you're in the city, please don't miss it! Our Heritage Lab feature has more on the sisters and more images.
Madan Mahatta's architectural photographs
Trained in England, and working at his family's eminent studio in Delhi's Connaught Place, Madan Mahatta chronicled Delhi's evolving landscape. His pictures are a priceless record of post-colonial India's architectural heritage and ambitious nation building project—and an unabashed celebration of India's modernism. Below you can see his photographs of IIT-Delhi in the 1960s. You can view his work in-person at the Kiran Nadar Museum of Art, Delhi.
Foy Nissen's Bombay
He was perhaps the city's most memorable chronicler—photographing its people, festivals, places and monuments starting in the 1960s. His meticulous work—detailing the neo-Gothic and Art Deco buildings in the Fort—helped shape Bombay's first heritage list. Jehangir Nicholson Art Foundation (JNAF) has some of these on its Instagram account and website. You can see one of his photos of boys celebrating nariyal poornima at the Banganga Tank.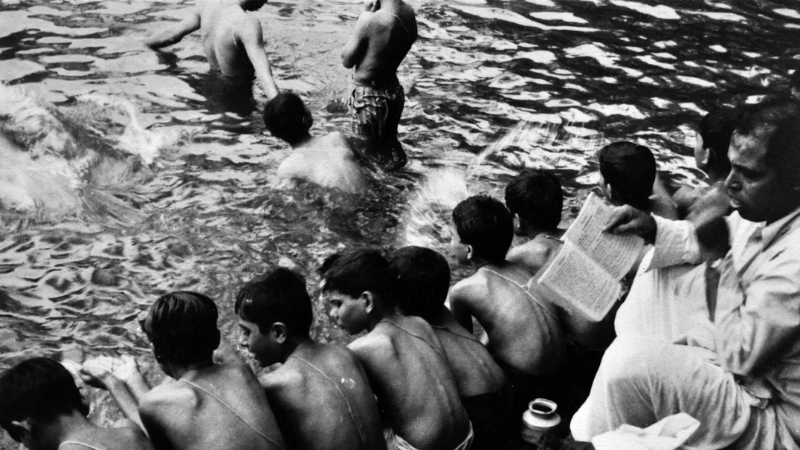 Jyoti Bhatt's photos of living traditions

For thirty years—starting 1967—Jyoti Bhatt travelled in rural India documenting the nuances of folk life and the vanishing crafts across India—from Gujarat to Uttar Pradesh, West Bengal and Kerala. Below is a photo of a Meena (tribal) woman decorating the bullock for 'Gordhan' festival. More of Bhatt's photos can be viewed at the Museum of Art & Photography, Bangalore. Heritage Lab also offers a feature on the richly creative collaboration between Gond artist Jangarh Singh Shyam, modern master J Swaminathan and Bhatt.