Researched by: Aarthi Ramnath & Anannya Parekh
The world's view of India
A Pew survey shows a wide variance between how Indians view themselves and the perspective of others nations. Example: while almost 70% of us believe India has become more influential, only 28% across 19 countries said the same. There's a similar mismatch on the subject of PM Modi: 79% of Indian respondents have a favourable view of him—with 55% holding a 'very' favourable view. Only 37% in the rest of the world agreed. The country with the greatest faith in him: Kenya—compared to 12% of Argentinians.
Notably, India has become more unpopular in a number of European countries:
Favourable views of India had declined by around 10 percentage points or more in all five European countries where past data was available. The greatest change was seen in France, where only 39% held a favourable view of India now, as compared with 70% in 2008.
The Hindu and Indian Express have more details. The entire report is here.
Meta takes down 'spamoflauge' operation
The company closed nearly 9,000 Facebook and Instagram accounts linked to a Chinese misinformation campaign named 'Spamoflauge'. It targeted users in Taiwan, the US, Australia, the UK, Japan and the Chinese-speaking diaspora—with false claims. Example: the coronavirus originated in the US. It doesn't sound like a big deal except Meta says this operation was spread across 50 platforms—which reposted or repurposed the same piece of content. Though it doesn't seem to be influential despite its size. To quote Meta: "We assess that it's the largest, though unsuccessful, and most prolific covert influence operation that we know of in the world today." (The Guardian)
Also a big time spammer: Giant oil firms such as BP, Chevron, ExxonMobil and Shell. They are paying influencers to plug, umm, gas stations: "'Come with me to get some snacks at my family Shell gas station,' says one TikTok influencer, dubbed The Petrol Princess, who usually models wigs for her 2.7 million followers." Such plugs were found in India, Mexico, South Africa and the United States. The aim is to woo the increasingly unhappy Gen Z:
"Many young people are well aware of the urgency of the climate crisis and take a dim view of fossil fuel companies," which are now seeking to "build up social capital" with such audiences.
FYI: oil companies spend $10 million on just Facebook ads. AFP via The Hindu has more on this bizarre new strategy.
Moving on to 'sportswashing': The Saudis have entered the world of professional fighting—specifically, Mixed Martial Arts (MMA). The sports arm of the country's sovereign fund just invested $100 million to acquire a minority stake in the Professional Fighters League (PFL). And it plans to create a regional league in the Middle East and North Africa in 2024. Quartz has more on how this fits into Saudi Arabia's plan to use sports to remake its image—and compete with its neighbours.
OpenAI's revenues are soaring
According to an exclusive report in The Information, ChatGPT creator OpenAI is reportedly earning $80 million a month. It is on track to earn more than $1 billion in revenue over the next 12 months from the sale of artificial intelligence software. Why this is remarkable:
Last year—before it began charging users to access its generative A.I. chatbot ChatGPT—OpenAI's annual revenue reached just $28 million… The chatbot, powered by OpenAI's large language model (LLM), became the fastest-growing app in history earlier this year, reaching 100 million users far quicker than earlier Internet sensations like Instagram, Netflix and TikTok.
Interesting to note: OpenAI won't be enjoying the rewards of all the hard work for a while: "Under the terms of a deal it made with Microsoft earlier this year, the tech giant is entitled to 75% of OpenAI's profits until its $13 billion investments in the start-up are repaid." (Fortune, paywall, The Economic Times)
A seven-minute jab for cancer
The National Health Service in England will roll out an injection of Atezolizumab which significantly reduces the risk of cancer returning in a patient who is in remission. Why this matters: Atezolizumab is usually given to patients intravenously via an IV drip—which takes between 30 minutes to an hour—and is more uncomfortable. The jab takes only seven minutes. The drug is used to treat a variety of cancers, including lung, breast, liver and bladder. (The Guardian)
The burdens of too much entertainment
Thanks to the exponential growth of streaming content, it takes ten minutes to find something to watch—up from seven in 2019. Countries like the US, Canada, the UK, Mexico and Germany now have 167 streaming providers. The number of titles on streaming services jumped 39% over the past two years to 2.35 million. But here's the kicker: in the US, viewers spent 60% of their time on streaming platforms watching shows that originally aired on regular TV. Original content? Not so much. (Bloomberg News)
A death penalty case for homosexuality
The context: In May, Uganda passed one of the harshest anti-gay laws in Africa—where 30 nations ban homosexuality. Consensual gay sex could result in life imprisonment—and the law allowed the death penalty for what it labeled "aggravated homosexuality." The World Bank earlier this month announced it will not offer new loans to Uganda because of the law.
What happened now: A 20-year-old man is charged with "aggravated homosexuality" for having sex with a 41-year-old man at a sports arena. It isn't clear why the crime is "aggravated"—which either involves a minor and other categories of vulnerable people, or when the perpetrator is infected with HIV. This is the first such case since the law came into effect—where a person could be sentenced to death for having consensual gay sex. (Associated Press)
In other bad news from Africa: The military has seized power and put President Ali Bongo under house arrest in Gabon after he recently won his third term in the national election. This is the eighth coup to take place in West and Central Africa since 2020. (Reuters)
iPhone 15 is coming!
Apple announced that it will roll out the new generation of iPhones on September 12—along with the new Apple Watch. There's been lots of buzz about a larger screen, a standard USB-C charging port—and a periscope lens for the camera. Forbes has all the rumours and more.
Five things to see
One: It's been a week since Vikram landed on the moon's surface—and set Pragyan free to roam the South Pole (deets in this Big Story). The little rover has since confirmed the presence of a number of chemicals including sulphur, aluminium etc. The most surprising bit of new information: there's a whopping difference between the temperature above and below ground—ranging from a searing 60°C on the surface to minus 10°C at 80mm (just about 3 inches) below the ground. Also: Pragyan took this nice pic of his buddy Vikram. (BBC News)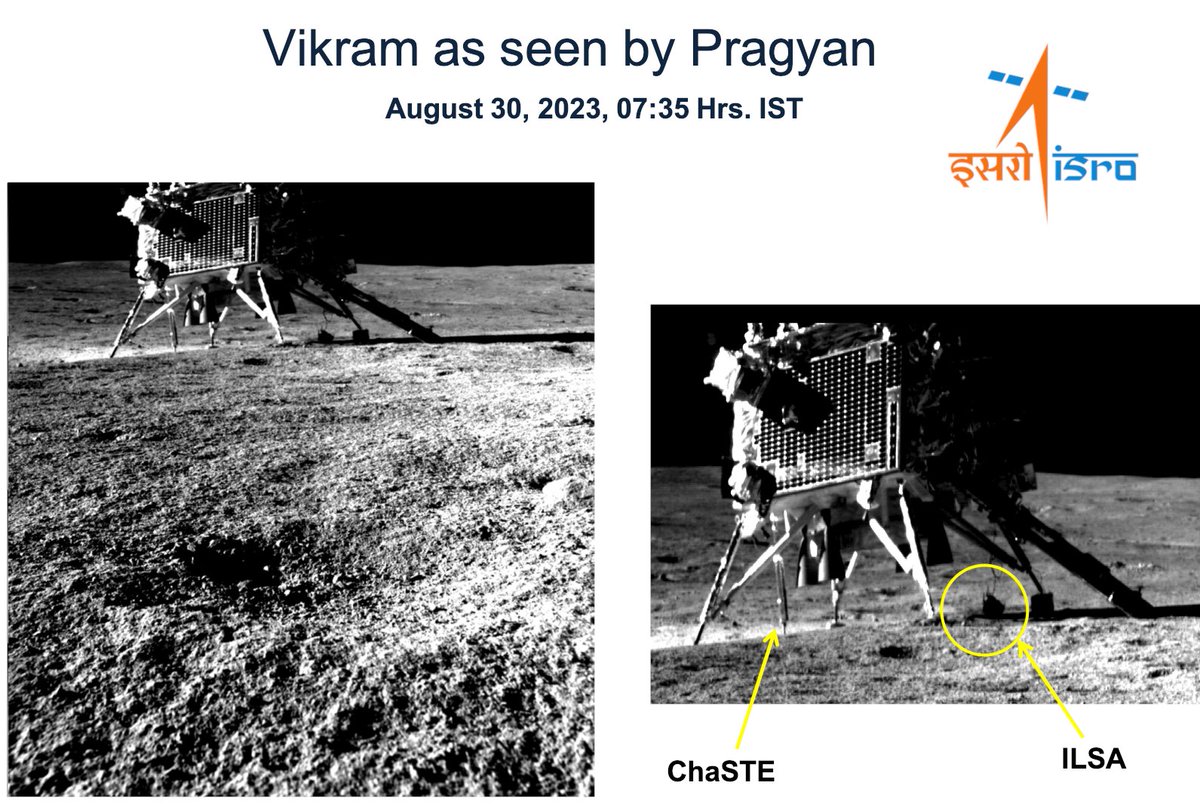 Two: 101 musicians from the G20 nations performed in Varanasi in a concert titled 'Sur Vasudha'—to mark the end of the bloc's summit. Below is a short clip. You can check out the one hour concert here. (Deccan Herald)
Three: Eminem is mad at Republican presidential candidate Vivek Ramaswamy for rapping his songs on the campaign trail. And he wants his record company BMI to stop Ramaswamy ASAP. Btw: we profiled Ramaswamy's background and rightwing worldview in this Big Story. And just so you don't miss out, here's a clip of Vivek rapping 'Lose Yourself' in Iowa. (New York Times)
Four: Late night shows have been cancelled due to the Hollywood writers strike (explained here)—leaving their hosts not much to do. As a consequence, five of them—Jimmy Fallon, Jimmy Kimmel, Stephen Colbert, Seth Meyers and John Oliver—have teamed up to create a 12-episode podcast titled "Strike Force Five" on Spotify. The proceeds will be used to pay their staff who are no longer receiving their salaries. See the announcement below. (Washington Post)
Five: Much as we love SRK, the new song from his upcoming flick 'Jawan'—titled 'Not Ramaiya Vastavaiya'—is a bit meh. But here it is if you wanna check it out. (Indian Express)