Researched by: Rachel John, Aarthi Ramnath & Anannya Parekh
The Israel-Palestine war: The latest update
For more context on the Israel-Palestine, check out our two-part series on the Hamas attack on Israel: part one lays out the Hamas offensive and failures of Israeli intelligence; part two explains the big picture—and Hamas' motive driving what seems like a suicidal attack. Also read, our Big Story on the blast at the Al-Ahli Arab Hospital in Gaza that killed 471 Palestinians—which has become the latest flash point of the war.
The death toll: The death toll in Gaza has increased to at least 4,385—and more than 13,500 have been injured. The number of Israeli deaths remained at 1,400.
Strike on the West Bank: The Israelis struck a mosque in the West Bank—claiming that it was being used as a command centre by members of Hamas and Palestinian Islamic Jihad. See the footage below. Reminder: last week, Israel bombed a refugee camp in the West Bank—which again, it claimed, was being used as a refuge by terrorists. Thirteen Palestinians, including five minors, were killed. The West Bank is not controlled by Hamas—and yet 91 Palestinians have been killed there since October 7. (Washington Post)
Summit #1: Egypt held a peace summit—attended by Arab, European and African nations. The US was conspicuously absent. Reminder: Jordan cancelled a similar summit scheduled during President Biden's recent visit to the Middle East. In any case, there were no breakthroughs—but Arab leaders like the Jordanian king had the opportunity to berate the West for its unqualified support for Israel: "The message the Arab world is hearing is that Palestinian lives matter less than Israeli ones." And there is some indication that at least the Europeans are moving toward pressuring Israel "to act according to international law and urged greater protections for Palestinian civilians". Reuters has more on that meeting.
Summit #2: In a separate virtual meeting with Biden, leaders of Canada, France, Germany, Italy and the UK reiterated Israel's right to defend itself—but also urged it to adhere to humanitarian law and protect civilians. Point to note: US officials claim that they have "advised" Israel to delay a ground invasion. (The Telegraph)
Humanitarian aid: trickled into Gaza yesterday. A second convoy of 14 trucks entered the strip—after the first instalment of 20. While Biden has promised a "continued flow" of aid into Gaza, Israel has intensified its bombing. At least seven hospitals have shut down due to strikes, warnings or lack of power. Aid workers warn that 130 premature babies are at 'grave risk' across six neonatal units due to the lack of fuel for generators. India has sent 6.5 tonnes of medical aid and 32 tonnes of disaster relief material to Gaza via Egypt.
A sea of protests: Around 100,000 people took out a rally calling for a ceasefire in London:
Thousands took part in protests in cities across France—though not as many as London. See the rally in Lyons below:
While there is real anger at Israel in Egypt, the government has been stage-managing the protests—to promote support for President Abdel Fattah el-Sisi. Protesters who raised slogans against el-Sisi were quickly arrested. See the protests in Tahrir Square—which was also the location for the Arab Spring uprising against the Hosni Mubarak dictatorship in 2011.
Meanwhile in Spain: Fans of the football club Osasuna turned the game against Granada into a sea of Palestinian flags—even though it is banned by La Liga. The reason: Granada's Jewish and Israeli forward Shon Weissman said he supported dropping 500 tonnes of bombs on Gaza. (Football Espana)

The battle over Al-Ahli: The back-and-forth over evidence of an Israeli strike on the hospital continued. An analysis by research agency Forensic Architecture—plus NGOs Al-Haq and Earshot—says the blast was not a result of a misfired Palestinian rocket. You can see the reconstruction below—and the details are in this thread. OTOH, Hamas says it cannot offer definitive evidence of an Israeli strike because "there is nothing left" of the munition.
As for the media coverage: This hard-hitting interview of former Hamas chief Khaled Mashal on Al-Arabiya is definitely worth a watch. The entire interview is here.
Also notable: CNN reporters were accosted by protesters in the West Bank. Worth watching in its entirety:
Meanwhile, in India: Sudarshan TV promoted a 'news' show that will prove that Jews (yehudis) are really Yadavs. Wah!
World Cup 2023: The latest update
One: India trounced New Zealand so convincingly that Indians are beginning to believe that we might actually win this damn thing. The most dazzling bit about this four-wicket victory: Virat Kohli's stats: 95 runs off 104 balls, 8x4, 2x6. Mohammed Shami kept the Kiwis to 273 runs, taking five wickets for 54. Indian Express has more on why Virat is the Sachin of World Cup 2011. (The Hindu)
Two: Ugly Indians made news thanks to this clip of fans ripping apart a soft toy of the Bangladesh mascot—snatched from a Bangla superfan at Pune in the match against India. Reminder: this comes on the heels of the 'Jai Sri Ram' heckling during the Pakistan match. Odd how this crap only goes down when we play Muslim countries. (India Today)
It's not just the fans. Here's a policeman telling fans not to chant 'Pakistan Zindabad' during a match against Australia in Bangalore. His words: "Bharat Mata ki Jai is allowed but not Pakistan Zindabad." (Business Today)
Three personal-becomes-political stories
Here are three leaders in trouble for their personal lives—for very different reasons.
UK PM Rishi Sunak: is in trouble because the government fund to support startups during the pandemic loaned $2.4 million to companies linked to his wife—Akshata Murthy. Sunak said he had nothing to do with the decision—and has already declared his wife's financial holdings. (The Guardian)
Italian PM Giorgia Meloni: has finally dumped her life partner—TV journalist Andrea Giambruno—who was caught on camera propositioning colleagues:
In the video, which was shot during a commercial break in front of a live audience, and posted on the program's social media accounts and website, Giambruno is seen walking around the set and heard asking a female co-host if she has a boyfriend, which she says she does and that he had asked her earlier. Then he asks if she wants to have group sex, asking her if he minded if he touched his genital area, which he did, while talking to her, according to the video published by the program.
Meloni announced the breakup but did not address his behaviour. (CNN)
Trinamool MP Mahua Moitra: continues to make news due to the antics of her former life partner—whose complaint sparked the money-for-questions scandal. We honestly do not have the energy to get into the messy details of the relationship—and were mainly struck by the starring role played by her pet dog named Henry. NewsLaundry has that story.
What is exceptionally sleazy: He has been releasing carefully cropped photos to the BJP—of her supposedly smoking a cigar, drinking wine and with her arms around Shashi Tharoor while posing for a photo. All of it would be entirely absurd except for the potentially serious fallout from the Lok Sabha ethics investigation—explained here.
Menstruation changes your brain
A new study reveals that the ebb and flow of hormones during the menstrual cycle also reshape your brain: "The results showed that, as hormones fluctuate, gray and white matter volumes change too, as does the volume of cerebrospinal fluid." Why this matters: this isn't just about mood swings. The research could show effects on memory and movement. That said, it hasn't been peer-reviewed—and the authors do not have any definitive evidence on how these neurological changes actually affect us. ScienceAlert has all the nerdy details.
A temple-sized scandal in the US
A $96 million temple—the largest in the Western Hemisphere—opened its doors in New Jersey. The Akshardham Mahamandir took 15 years to construct. It sits on "180 acres and includes 10,000 statues and spires nearly 200 feet tall". But it also comes with its share of controversy: the exploitation of Dalit workers:
Federal law enforcement agents raided the temple construction site in 2021 after workers accused the builders, a prominent Hindu sect with ties to Prime Minister Narendra Modi of India and his ruling party, of forced labor, low wages and poor working conditions. Their lawyers said workers who were Dalit, the lowest rung in India's caste system, were specifically targeted. A federal criminal investigation is ongoing, as is a wage claim lawsuit.
New York Times (splainer gift link) has lots more on the story. See a pic of the temple below.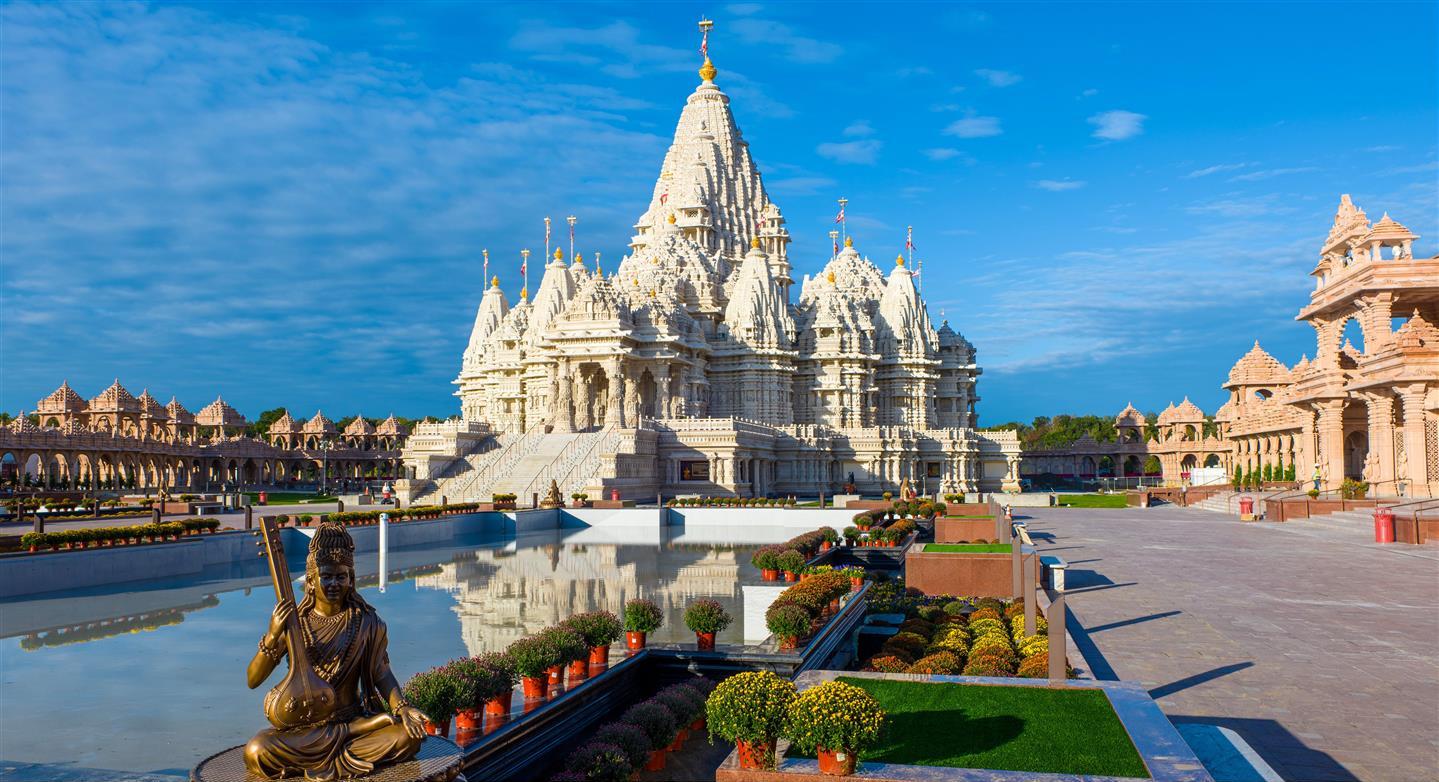 Two neta things to see
One: Rahul Gandhi followed the footsteps of his sis Priyanka—and tried his hand at making dosais on the campaign trail. She displayed her dosai chops during the Karnataka election—so maybe this is the Gandhi lucky charm. Warning: keep the volume off to skip the awful soundtrack. (NDTV)
Two: Jyotiraditya Scindia's not winning any popularity contests among his supporters—ex Congressmen who defected to the BJP along with him. The party leadership has denied most of them tickets in the upcoming Madhya Pradesh election—triggering great outrage at Scindia. (New Indian Express)