Valley of Wonders: A luxury guide to Kashmir
Editor's Note: Shunali Shroff offers a luxurious guide to the Valley's infinite delights. Find out where to stay, binge on local cuisine and pick up souvenirs, handicrafts and shawls.
Written by: Shunali Khullar Shroff is the author of the bestselling books 'Love in the Time of Affluenza' and 'Battle Hymn of a Bewildered Mother'. She writes for a host of print and digital publications on modern Indian life, culture, travel and feminism. You can follow her on Insta or Twitter.
Over to Shunali…
An entire generation of Indians have only ever heard of Kashmir from their parents or experienced it vicariously through the timeless embrace between Amitabh Bachchan and Rekha in "Silsila." But Kashmir cannot be described. It has to be experienced over and again to be truly understood.
When to visit
Kashmir is resplendent in all seasons: frosty white and misty in the winters, crimson and auburn in autumn. In spring, tulips burst forth and summer blankets its green valleys and mountains with an abundance of blooms. Regardless of when you go, you will return mesmerised. Indeed, winter in Srinagar is a quieter time, yet its stillness possesses a poetic quality that has a charm all of its own.
Where to stay: hotels
The Lalit Srinagar: With the grand Zabarwan mountain range behind it and the Dal Lake stretching in front of its vast gardens, this hotel is magnificent in scale and architecture. Formerly known as The Gulab Bhavan, the palace was built in 1910 by Maharaja Pratap Singh as a summer retreat for the ruling family. Its design draws inspiration from European architectural styles infused with local craftsmanship. The most spectacular feature is its manicured gardens and apple orchards. (Room rates range from Rs 24000 - Rs 60000)
Qayaam Gah: This luxurious boutique resort gracefully rests atop a secluded ridge, offering sweeping views of the Dal Lake. In Sufism, Qayaam Gah represents the pinnacle of mystical experience, characterised by serenity and unity with the divine. True to its name, this hotel offers vernacular architecture, sustainable practices, a reverence for the environment and rarefied seclusion.
Its most attractive feature is its heated pool with steam rising over it on cold days. The pool sits on the edge of the hill and overlooks the valley on one side and the Zabarwan mountains on the other. Pick this property if you have a thing for magical sunsets accompanied by the soulful sound of qawwali singers and mornings welcomed by the lively chorus of frisky roosters scuttling about the cherry trees. (Room rates range from Rs 25000 - Rs 40000)
Image: Jonny Bealby
Taj Vivanta: With Taj properties, you always know what to expect and therein lies their appeal. This 84-room hotel is located atop Kralsangri Hill and is ideal for a family vacation. With its prime location facing Dal Lake, it offers a panoramic 360-degree view of Srinagar and is conveniently located near popular attractions such as the Pari Mahal and the tulip garden. (Room rates range from Rs 25000 - Rs 350000)
Hotel Nadis: Just a few kilometres from the famous Mughal Gardens is a chalet-style hotel for the budget-conscious traveller. Designed like a Kashmiri villa, Nadis is more homestay less a hotel. The property has a charming living room for a lobby, a cosy dining room and a thriving garden overlooking the mountains. (Room rates range from 9,000 - Rs 20,000)
Where to stay: houseboats
While houseboats may not cater to everyone's needs, they offer a unique and distinctive way to experience Srinagar. Step aboard a houseboat on the Dal or Nigeen lake and you'll find yourself transported into a world of beauty no hotel on land can match. These floating hotels offer a delightful twist on traditional living.
Picture this: as you glide along the lake, you become a spectator in a visual carnival of floating gardens, brightly painted shikaras, gracefully propelled by flower sellers, bright-eyed school children being ferried on the waters and farmers harvesting lotus stems. And then there is the snow-dusted Pir Panjal range that embraces the valley from all sides, the call of the azaan rising from the mosques across Srinagar and the Hari Parbat fort on the hill competing for your attention. It is a sensory overload, indeed.
Sukoon Houseboat: This exceptional houseboat on Dal Lake stands out as one of the rare luxury options that prioritises sustainable and plastic-free hospitality. Its distinguished guests in the past have included travel writer Pico Iyer and British actor Joanna Lumley. From the rich carpets to the intricately carved wooden interiors, rainforest showers and gourmet food, every detail has been carefully crafted to create a special experience. With a spacious viewing deck, four-poster beds, ornate chandeliers, and Kashmiri cuisine Sukoon can bring you what its name promises—calm and tranquillity. (Room rates range from Rs 15000 to 20000)
Welcomheritage Gurkha Houseboats: The luxurious Gurkha houseboats, moored on the serene Nigeen Lake, offer a quiet and less touristy alternative to Dal Lake. Run by the experienced Gurkha family, who have been in the business for generations, these houseboats provide an immersive Srinagar experience through visits organised by them to workshops to witness craftsmen and artisans at work on carpets, carvings, shawls, and other local handicrafts. (Room rates range from Rs 12000 - Rs 27000)
Things to see and do
Almost any travel guide can list the wondrous places to visit in Srinagar. I highly recommend strolling through its gardens that weave together Mughal architecture, symmetry and horticulture to stunning effect.
Shalimar Bagh (map): It was commissioned by Emperor Jahangir as a gift for his wife, Empress Nur Jahan is rightfully a UNESCO World Heritage Site. Be sure to admire the damask roses—which inspired Guerlain to create a signature perfume.
Nishat Bagh (map): Nishat Bagh -- located on the eastern side of Dal Lake—has avenues of chinar and cypress trees and flowers of every conceivable variety. Rising from the edge of the lake the garden ascends to the hill and has twelve terraces representing the 12 zodiac signs. A perfect selfie spot, you'll find stalls renting pherans and accessories along with costume jewellery to tourists.
Pari Mahal (map): was originally a residential college for Prince Dara Shikoh. Perched on the Zabarwan mountain range, it offers stunning views of the valley and Dal Lake. The architectural style of Pari Mahal blends Islamic and Persian influences, with intricately carved arches and ornamental columns. Catch a glimpse below:
Shikara rides in the Dal Lake: There are few things in life more relaxing than languidly sailing past floating stalls of fruits, hookahs, shawls, and kahwa sellers in a shikara. With your hands tucked safely under your blanket, the Bukhara radiating heat inside it, you can people-watch to your heart's content. Watch lovestruck honeymooners, hard-selling hawkers, and elderly boatmen with their contented smiles. As the gliding shikara lulls you gently, you'll feel like you're in a parallel universe, a far prettier one than you currently inhabit.
Where to eat
Adhoo's restaurant (map): This is a good place to introduce your palate to the rich flavours of traditionally cooked Kashmiri meats. The restaurant is most famous for its tabakh maaz, a dish of lamb ribs (grilled in ghee) that are marinated in a special blend of spices.
Books and Bricks (map): This is one of Srinagar's celebrated cafes. It is an all-American diner offering breakfast picks, fast-food classics from burgers to milkshakes—all in a quaint setting.
14 Avenue Cafe & Grill (map): If you want a serene ambience, then check out this cafe located on the bank of river Jhelum. A star dish is their sumptuous Kashmiri mutton kanti and they also offer an Iftiyar platter during the Ramzan season.
Lhasa (map): It is the finest and one of the oldest Chinese restaurants in Kashmir. You'll enjoy the Eastern-facing decor at the family-friendly joint and their authentic Tibetan & Chinese cuisine.
The Chinar (map): This is a multicuisine restaurant at the Lalit. Their lavish Wazwan meal will make you want to come back for more. Be sure to call ahead to book.
Krishna Dhaba (map): This is a strictly vegetarian joint where the food tastes like it was cooked by the loving hands of your grandmother. The service is quick, the portions generous and the food, especially their rajma, sublime.
PS: If you want to combine sightseeing with delicious street food, head to the Hazratbal Shrine (map). Dedicated to Prophet Mohammed, it is believed to house a strand of the prophet's beard that was brought into Kashmir in the 14th century. Outside you can stop to savour some local delicacies like deep-fried lotus stems and sweet bread called Halve Parate—which is the size of a carpet and nothing like you've tasted before.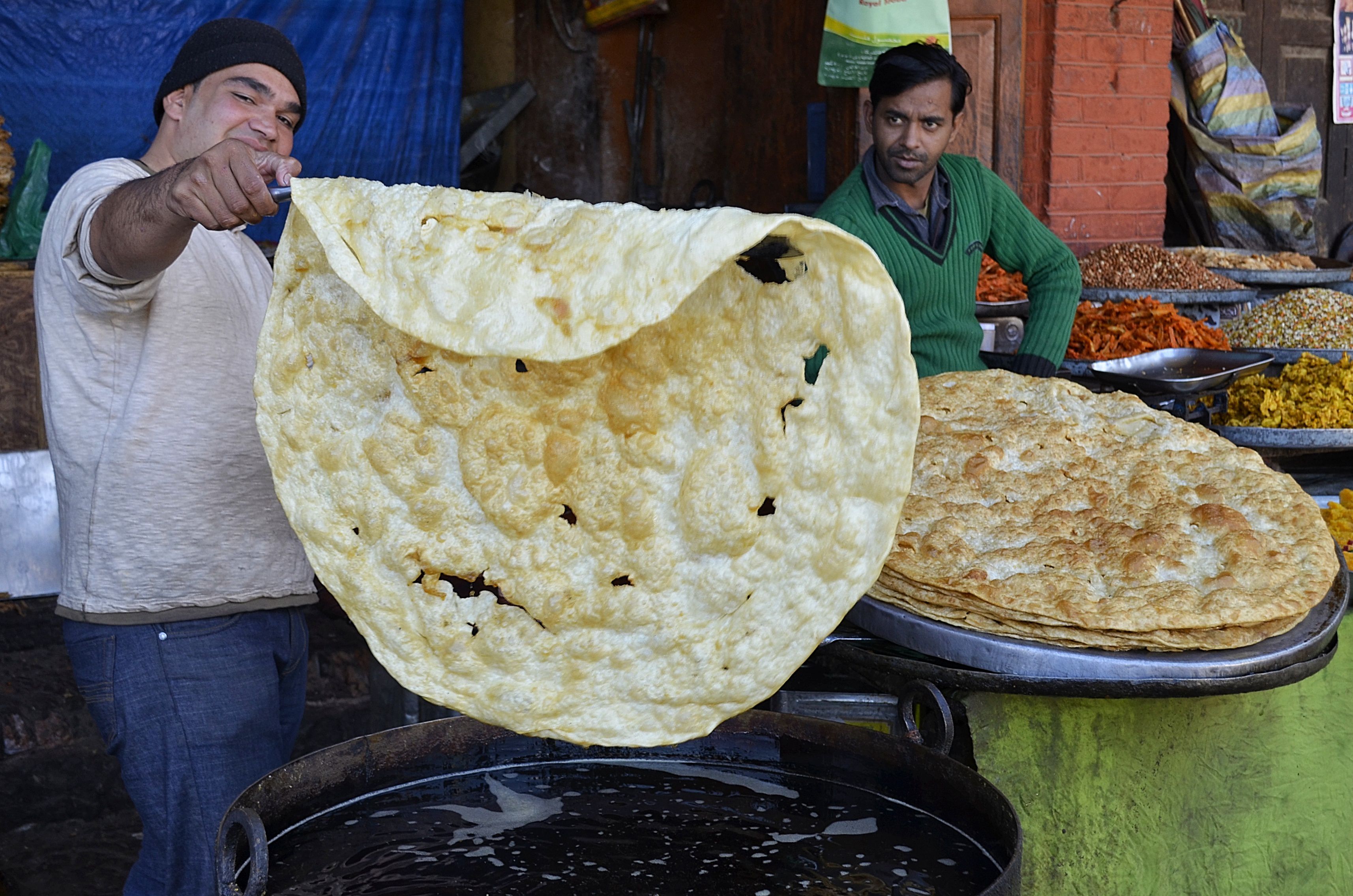 Cafes and bakeries
Srinagar has more bakeries per capita than anywhere else in India. There is a row of them on Hazratbal Road (map) itself and if you do not have an affinity for carbs, you shouldn't even be considering driving past them. But if it's gifts you want to carry back for friends and family, and Kashmiri carpets and pashminas don't quite fit your budget, Mughal Bakery (map) and Ahdoo's Bakery (map) are the most popular bakeries in Srinagar, that you might want to visit. Mughal Bakery at Chhatabal (map), is known for its bakherkhani, lavaash, kulchas, and shirma, while Ahdoo's Bakery near Residency Road (map), is famous for its waraq kaat, phirni, almond cookies and baklava.
Where to shop
There are a number of places to pick up souvenirs, handicrafts and carpets. These include Lal Chowk (map)—which is one of the oldest and most famous. Badshah Chowk (map) is known for its traditional Kashmiri handicrafts, such as paper-mâché, walnut wood carvings, and shawls—as is Residency Road (map) where you get clothes and spices, as well. Picking up fruits, vegetables and bread from the Floating Vegetable Market (map) on Dal Lake is a quintessentially touristy and fun thing to do. Last not least, there is the always reliable Kashmir Government Arts Emporium (map) that sells a wide variety of Kashmiri handicrafts, including shawls and carpets.
A personal shoutout: for Harmukhh carpets and shawls. I've been buying from them for years and I like the quality of their handwoven carpets, kanis, pashminas and jamas. Mujtaba Mir can be contacted on 9820537994 or on his Instagram.
Beyond Srinagar: Pahalgam and Gulmarg
Pahalgam: I recommend a two-night stay at Pine n Peak (an ITC hotel) which is approximately a three-hour ride away from Srinagar. Despite the large tourist groups, this is a comfortable and well-located property and the best hotel in the area. Do remember to carry your own wine unless you're travelling with Jesus—because the property doesn't serve any. Be sure to hire a local taxi to Betaab Valley (map)—named after the Bollywood movie "Betaab," which was extensively shot here. Surrounded by dense forests of pine and deodar trees, the valley with the Lidder River meandering through it is picture-postcard beautiful. Switzerland is overrated.
Gulmarg: Gulmarg in the summer is like falling in love. It can make you giddy with joy and stir within you unexpected joys. The green that claims the mountain resort is so bright, it feels like nature's own emerald carpet unrolling before your eyes. Spend at least a night at one of the following hotels:
The Khyber Himalayan Resort & Spa is a luxurious ski resort with stunning views of the Himalayas and the reason people flock to Gulmarg in the winter season. The world's highest ski lift, the Gulmarg Gondola—which takes you to Kongdoori Mountain, is only a short walk away. It is a must-have experience with staggering views.
A peek of the hotel below:
Highland Park: This is an old lodge-style hotel that serves the best Kashmiri food in all of Gulmarg. It has a charming bar with a massive fireplace in the centre that in the winter months is very popular with skiers for an apres ski drink.
The Vintage Gulmarg is a more affordable option than the Khyber and Highland Park and is still charming, very comfortable and well-located.
Nedou's Hotel is a heritage hotel that has been offering a quiet stay to guests since 1888. The hotel is spread over 50 acres of land, which is cut off from the rest of Gulmarg. This makes it a great place to relax and enjoy the peace and quiet of the mountains.
What to do in Gulmarg: Nature enthusiasts can trek, golf or fish–or just behold the breathtaking scenery. Hiking to the Alpather Lake nestled amidst towering pine trees and reflecting the stunning vistas like a vast mirror is another option. Be warned though, it's about 13 km away from Gulmarg. If you're looking for a guide to take you on treks in and around Gulmarg, Mallik (9906697934) is your person.