Editor's Note: Hyderabad is a fantastic tapestry of legacy, culture, and food that can be difficult for a new visitor to navigate. In this 48 hour guide to the city, Pallab De serves up fantastic insider recommendations for the best options to eat and shop while in the city of the Nizams.
Written by: Pallab De fell in love with Hyderabad's vibrant and rich culinary legacy almost as soon as he moved to the city. Check out more of his wonderful recommendations over at 'Hyderabad Food Guy'. Also: he is our subscriber so how awesome is that?
48 hours in Hyderabad
The very mention of Hyderabad is enough to bring a procession of images and aromas to the forefront of the imagination. A city of contradictions—where the towering minarets of Charminar and the legacy of the Nizams vie for supremacy with the city's status as one of India's premier tech hubs. If you only have 48 hours to savour the rich and complex delights of Hyderabad, this guide has you covered.
Something to know: This is a food and shopping guide to Hyderabad. If you want to know about the history and heritage of the city, check out the event calendar of The Deccan Archive or reach out to them for a private guided tour. Telangana Tourism department also conducts heritage walks on Sundays. The participation fee for these walks is nominal, but the quality of the narration is uneven. Also, I recommend calling ahead to confirm that the walk you want to attend is taking place.
PS: My only sight-seeing pick is a visit to the Charminar. Although I've consciously excluded most of the well-known 'places to see' in this guide, this is the great exception. The area is dotted with fragments of a bygone era —houses, bustling markets, and iconic restaurants. It is the heart and soul of the city and offers something for everyone; whether you're interested in history, architecture, food, photography or shopping. In fact, if you have time on hand, you should consider coming back later in the day. The markets and restaurants truly come alive after the sun goes down. Take a look at the walks offered above if you want to put it on your itinerary.
Day 1
Breakfast: Start your day at Govind's Bandi (map), which is a stone's throw away from Charminar. The Hyderabadi Bandi dosa is a distant cousin of the Udupi-style tiffin that most of the country is familiar with. It's smaller in size, and typically folded just once into a semi-circle. An alarming quantity of butter is the essential ingredient, which ensures a glistening, crisp dosa. The typical spiced potato filling is not even an option here. Instead, the dosa is topped with liquidy upma to add a little bit of textural variation. A generous sprinkling of gun-powder and half a tomato is smashed on the dosa to create an unmissable amalgamation of acid, heat, and fat. There are many variations of this recipe, but Govind's Bandi in Ghansi Bazar has remained a popular choice for decades. He also serves some of the fluffiest and softest idlis in the area.
Although their numbers have dwindled, Hyderabad still has several thriving Irani Cafes like Niloufer, Blue Sea, and Nimrah. Located just next to Charminar, Nimrah Cafe & Bakery (map) is the most convenient option for most tourists to experience Hyderabad's unique tea culture. The Instagram-worthy shot of Irani Chai and Osmania Biscuit with Charminar in the backdrop is an added bonus. The recipe for Irani Chai calls for the tea decoction to be prepared separately and then mixed with milk that has undergone a long and slow reduction process. The flaky, salty, and sweet Osmania Biscuit is unmissable. But you should also try Hyderabad's lesser-known bakery favourites with eclectic names such as Chaand Biscuit, Tie Biscuit, Fine Biscuit, Khopra Biscuit, and Dum ka Roat.
Shopping and scents: Most of the shops around Charminar open after 10:00 AM. The most popular shopping street in this area is Laad Bazaar (map), which gets its name from lacquer bangles, but has everything from ethnic wear to handbags and pearls on offer. For those who can bargain hard, there are some great deals to be had. If you're looking to pick up some pearl jewellery during your stay in Hyderabad, begin your hunt with Modi Pearls.
The markets around Charminar also house numerous perfume shops selling Ittar — perfumes without alcohol. Famous Perfumery Center (map) near Gulzar Houz and Nizam Attar (map) on the Laad Bazaar Road are both over half a century old and widely visited by locals.
You can spend your entire day exploring the markets or weave in other points of interest such as Chowmahallah Palace and Salar Jung Museum into your itinerary.
Lunch: Head to Hotel Shadab (map) to tick off another bucket list item – the Hyderabadi Biryani. If you're visiting on a Friday, I'd also recommend trying the Shikampur and Bagara Khana with Dalcha. If you still have room for desserts, walk down the lane to a nondescript shop that's popularly known as High Court ki Jalebi (map) and is famous for its jalebis and imartis.
Sweet indulgences at Mozzamjahi Market: Once you're done exploring the areas adjoining Charminar, cross the Musi river on a tuktuk to reach Mozzamjahi Market (map). This recently restored building first opened its doors during the 1930s. It's best known for the ice-cream vendors offering a range of fruit ice cream. While there's not much to differentiate the ice creams served by these vendors, I prefer Bilal just for the opportunity to sit inside the clock-tower. Just across the road is Hameedi Confectioners (map), which is famous for its unique nutmeg-spiced Jauzi Halwa. Around the corner from the market complex is the original outlet of Karachi Bakery, which is famous for its fruit biscuits.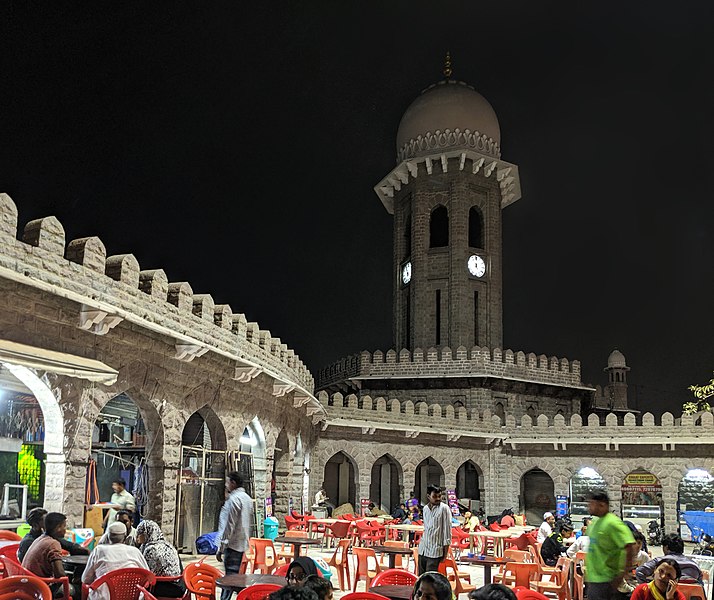 Hyderabad's other old commercial hubs, such as Nampally, Abids and Begum Bazaar, are a stone's throw away from the Mozzamjahi market. These markets are shoppers' paradise, offering prices that you'd struggle to find in the newer parts of the city.
Write of passage at Deccan Pen Stores: If you enjoy writing, The Deccan Pen Stores should be on your bucket list. This nearly century-old store has a massive collection of pens, but it's their Deccan series of handmade Ebonite pens that are the main draw. Check out their Facebook page for a glimpse of their collection.
Bring home a bit of Bidri: Bidri metalwork originated in the city of Bidar under the patronage of Bahmani Sultans. However, the Nizams emerged as keen patrons of the striking black and silver creations. Owning a piece of Bidri work is cheaper than you might expect it to be. Bidri Crafts (map) on Abids Road is a relatively small shop, housing a great collection that starts from a couple of hundred rupees.
Dinner: Hail a cab to The Green Park Hotel in Begumpet. The Deccan Tales TDH menu at Once Upon a Time restaurant is a great way to experience Dakhni flavours repackaged into a new-age dining experience without burning a hole in your pocket. The Dakhni Menu is very meat-heavy, but the vegetarian selection titled 'Green Fables', also has a couple of vegetarian takes on local favourites.
If price is no bar, you can head to Taj Falaknuma Palace for an a la carte dinner at Adaa or a TDH experience at Gol Bungalow. Reservations are a must, and a minimum spend policy is applicable for a la carte. Diners also have an opportunity to participate in guided tours of the palace conducted by the hotel.
Day 2
Breakfast: Traditionally, Hyderabadi breakfasts are rich and sumptuous. While the humbler South Indian tiffins are the common pick for weekdays, dishes like Khichdi-Keema-Khatta remain a popular Sunday breakfast in Hyderabadi homes. Unfortunately, there aren't many restaurants serving these dishes. If you want to savour the distinctive Hyderabadi Khichdi, head over to the Tolichowki outlet of Shah Ghouse (map) at sunrise. This Khichdi is served al-dente, with generous amounts of onion and mint. A tangy tamarind chutney, Mutton Keema and Tamatar ka Kut are the usual accompaniments. Shah Ghouse also serves other breakfast favourites, such as bheja and gurda (offal) fry along with Tandoori Roti.
Another excellent choice for Hyderabadi breakfast is Hotel Nayaab (map). You'll miss out on the Khichdi-Khatta here, but will be treated with their signature Malai Paaya. Both places don't have a lot to offer for vegetarians and rank poorly on the hygiene index. For vegetarians, as well as those who're not particularly adventurous with their food, Chutneys (map) is a great alternative for breakfast. They've several branches; you can walk into the nearest outlet and savour Dosa and Babai Idli, accompanied by a fantastic ensemble of chutneys.
A break for books: Over the past decade, Hyderabad lost many iconic bookstores like AA Hussain and Walden. Luckily, there are still some lovely indie bookstores that are daring to swim against the tide. Housed in a quiet bungalow in Jubilee Hills, Luna Books is a cosy space that invites booklovers to browse, sit down, and get lost in the pages.
Lunch: Head to Simply South in Film Nagar, for a celebration of southern flavours. The menu features plenty of specialities from the two Telugu states, but you should also indulge in favourites from nearby states—such as Appam and Stew from Kerala, and Prawn Ghee Roast from Karnataka. Don't forget to finish with a bowl of chilled Elaneer (Tender Coconut) Payasam. Simply South can get busy; so, reservation is recommended.
Snag a steal deal at Shilparamam: Shilparamam (map) is a sprawling complex devoted to arts and crafts in the heart of Hyderabad's cyber district. Yes, it's very touristy; but there are some genuinely good deals to be discovered here. I've picked up bags and handicraft pieces here for less than a fifth of what they were being sold on etsy. It also frequently acts as a venue for cultural events.
Dinner: For dinner, hail a ride to Spice 6 – The Arab Villaggio (map) in Banjara Hills to indulge in Khabsa and Mandi. These Middle Eastern rice and meat dishes were brought to the city by settlers from Yemen and adjoining regions. Just a word of caution though, the portions are large. Even in restaurants, Mandi is typically served in a large communal plate shared by everyone at the table. Finish off your meal with a bowl of Umm Ali and a plate of Baklava. If you have a sweet tooth, you can also consider hopping over to Gourmet Baklava to relish their fantastic range of Baklava and Cheese Kunafa.