Editor's note
Customer reviews on most platforms are kinda crap—and a lot of those Insta posts are just glorified ads. Most of us end up relying on the same set of friends for advice any time we have to buy something new. So we decided to start a community-sourced version of the 'I Recommend' section—to pool our collective wisdom to help each other out.
Here's how it works: You tell us what products/services you need help with. We will then gather together the best suggestions from our subscribers, personal networks and social media followers. Each month will have a different theme—examples: workout equipment, jewellery, men's clothing, luggage etc. This edition of I Rec features all kinds of snacks—healthy or just delicious.. FYI: also check out our previous editions on the perfect red lipstick, all kinds of athletic shoes, sunscreens and watches.
Each edition is based on your requests. So be sure to let us know what help you need by filling out this single-question form—and we will make it the theme for next month.
Wanted: The perfect snack
Food is weird. Either we're being bullied into eating less or better by nutritionists—or being tempted into eating total crap by advertisers. But let's face it, everyone loves a delicious snack. However, the sheer variety in the grocery aisles makes shopping for them feel like a round of Russian roulette. So here's a list of the splainer fam's tried-and-tested faves. We've divided them into 'healthy and delicious' and just plain 'tasty'—because who the f*** wants to be good all the time?
Healthy and delicious snacks
One: All kinds of makhana. We got lots of different brands for this. Himani Baid and Hannah swear by Mr Makhana. Recommended flavour: Himalayan salt & pepper (Rs 120) simply because it "tastes good and feels healthy :)". Ruchika prefers Farmley (Rs 300) because she loves "this start-up's commitment to the humble foxnut". Tina Vajpeyi vouches for Conscious Food (Rs 134) because "it's flavourful and natural and it is a trustworthy brand".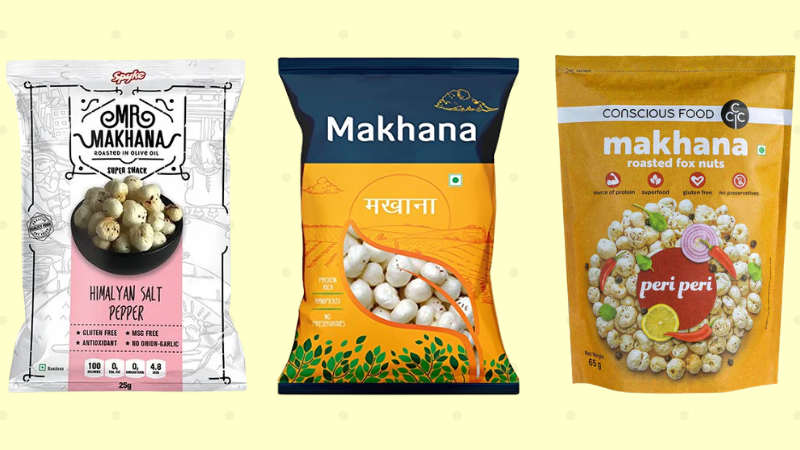 Two: The Whole Truth bars. Monica Pillai says "They're great for a low-guilt snack when on the move and are easy to carry." Her faves include the Coffee cocoa and coconut cocoa protein bars (Rs 600 for a box of 6), the mocha almond (Rs 600 for a box of 10) and the peanut chocolate fudge energy bars (Rs 600 for a box of 10).
Three: Peels Nut Butter Co.'s Peanut butter. Monica also loves this because their "peanut butter is super versatile, goes well on bread, with fruits and smoothies, or with a spoon dipped in between meetings or pre/post cardio. It's made locally in Bangalore, whipped fresh in small batches, very very yum and a bonus for me, it's a women-run business." Her fave flavours: crunchy peanut (Rs 350) and dark almond (Rs 600).
Bonus peanut-related rec: GiTagged's Kovilapatti Kadalai Mithai. There is a dizzying assortment of peanut chikki—but most of the bars are too big just for a quick bite. Anupama recommends this Kadalai Mittai because "it's got a perfect crunch and is in just the right size to pop into your mouth." (Rs 35)
Just plain yummy snacks
One: Chitale Bakarwadi. Lavisha swears by this because it is "perfect for those anxious times when I need to bite on something. But not as disastrous on my teeth as Haldirams' Bakarwadi. Not that healthy because of the fat content but not that unhealthy because it has less salt than namkeen." Sanaya Bharucha adds that she loves it because she can keep popping them endlessly. "They are crisp and flaky, with a super flavourful filling!" (Rs 220)
Two: Gery Sugar Cheese Crackers. Shreya says "these sugar cheese crackers are perfect for people who don't like biscuits that are too sweet." Her tip: "my way of savouring it is to balance the cracker on the rim of my cup, cheese side down, so that the steam melts the cheese a bit. It has the perfect crunch and bite that stays till the end." (Rs 585 for a pack of 10)
Three: Bombay Sweet Shop's Bhel Chikki. Sanaya Bharucha loves this and says "the Bhel Chikki from Bombay Sweet Shop sounds weird and unappetising, but it is an amazing mix of sweet and savoury while being surprisingly really yummy!! Great for when you aren't sure whether you want a sweet or salty snack!" (Rs 360 for a pack of 2)
PS: Need more options?
For the healthy kind:
Snackible's Ragi Jalapeno Chips:

Charmaine likes these because they have a "subtle chilli flavour and are thin & crisp." (Rs 200 for a pack of 4)

Rice cakes: Preeti recommends these "if you are trying to get off biscuits". She recommends "having it with some almond butter or peanut butter." Her fave brands:

Pintola

(Rs 151) or

Grainic

(Rs 424 for a pack of 3).

Phalada Pure & Sure's Kara Sev

: Arya vouches for these because "it's tasty, made using organic ingredients and is pocket friendly". (Rs 90)

Yoga Bar's peanut butter

: Hannah says it "tastes good and feels healthy :)" Her suggestion: eat it with slices of apple. (Rs 206)

Happilo's roasted dry fruits

: Bhakthi Pereira loves it because "a handful of these keeps you full until the next meal". (Rs 365).

Ragi Crackers from the Baker's Dozen

: Nidhi Mapuskar suggests that you team it with either the

chilli caramel dip

or

garlic mayo

from Boombay. She says "they both have real and whole ingredients and taste bomb!!" (Crackers, Rs 119; Mayo, Rs 280)

Eat Better Co's Premium Nut Mix

: Durgesh Kumar Garg likes these because "it helps me whenever I am feeling hungry but doesn't leave me guilty." (Rs 540)

Sequel's Granola Bars

: Protima recommends these because they have no preservatives and use clean ingredients. (Rs 240)

Murmure/makhana/poha chivda: Lavisha recommends buying these from local housewife style co-ops in TKTK because "they have both spiced and non spiced options. I used to buy it from the women that made them out of their houses, in small cooperatives. I terribly miss these in Germany."

Healthy dishes from Getafix Café

: If you're in Delhi, Anil Chawla recommends this because it is "healthy, tasty and freshly made."
Here's more in the 'tasty' range:

Note: We do NOT receive any revenue from the brands recommended.