A rebellion in Rajasthan
The Gandhis have once again been left with egg on their face. The first family of Congress tacitly backed loyalist Ashok Gehlot for the post of president in the upcoming elections. But the Rajasthan Chief Minister signalled he also wants to hold on to his present gig. Rahul Gandhi made it publicly clear that there will be no exceptions to the party's 'one person, one post' rule. And the party moved swiftly to appoint Gehlot's successor.
What happened now: Loudly cracking the whip, however, has resulted in a massive rebellion—with 92 Rajasthan MLAs threatening to quit if Sachin Pilot replaces Gehlot as CM. The most absurd bit: Gehlot has not even formally filed his nomination for the presidential election as yet. Indian Express' conclusion: "Gehlot… has clearly indicated that he—much like Sachin Pilot—cannot think beyond Rajasthan and could even challenge the leadership to protect his turf." The Hindu has more blow-by-blow details on the drama.
A death in Uttarakhand
The state is in uproar over the killing of a 19-year-old girl at a resort. Here's what happened:
Ankita Bhandari took a job as

a receptionist

at the Vanantra Resort to help her family meet ends. She went missing on September 18—just 27 days into the job.

The police did not respond to the family's complaints—likely because the resort is owned by Pulkit Arya—the son of a BJP leader in a BJP-ruled state.

But as public outrage grew, the police arrested

three people

: Arya and two managers—who have

confessed

to beating and pushing her into a canal—where she drowned.

And Ankita's

messages

to a friend reveal that she was being sexually harassed: "She had told me on WhatsApp on the evening of September 18 that Pulkit had tried to force himself on her.... She had told me earlier that the owner of the resort wanted her to go to the room of a guest to 'please him'."
The fallout: In a bizarre move, the state government demolished the resort—which had already been set ablaze by locals. And it has launched an investigation into illegal resorts in Uttarakhand. The BJP has expelled both Arya and his father. Thousands attended Bhandari's funeral yesterday. Her family continues to allege an official cover-up. The Quint has most details on the case, Indian Express profiles the victim while The Telegraph reports on the investigation.
An eventful weekend for women's cricket
One: Legendary pacer Jhulan Goswami retired after India's final ODI match against England at Lord's—which we won by 16 runs. Since her debut in 2002, she has represented India in 12 Tests, 204 ODIs and 68 T20Is—and taken 355 wickets. She remains the leading wicket-taker in the history of the Women's World Cup. Best read: former Hyderabad bowler Ananya Upendran's lovely tribute to "guardian angel" Goswami in Scroll. See an emotional farewell moment below:
At the same match: There was some ugliness over Deepti Sharma—who ran out Charlie Dean when she stepped out of the crease on the non-striker's end. There was great hue and cry over this 'Mankading' moment—which is considered 'unsportsmanlike' by the gods of cricket. Sharma was flailed by English bowlers like Stuart Broad and James Anderson—while Virender Sehwag and R Ashwin rallied to her defence. You can see the run out below. Scroll and Mint analyse the incident—and the outrage around it.
PS: The men's team also did good. They beat Australia by six wickets in the T20 series—thanks to fabulous half centuries by Virat Kohli and Suryakumar Yadav. The Guardian has more details.
Speaking of farewells: There has been plenty of coverage of the key moments from Roger Federer's retirement at the Davis Cup over the weekend. ICYMI, here are clips of: his emotional post-match interview, Rafael Nadal and Federer bawling their eyes out, and even Novak Djokovic getting emotional. But our favourite image is this one of Rafa and Roger holding hands:
For a list of good reads: Check out Rahul Jacob in Mint on Federer's equally brilliant off-court personality. The Guardian on his GOAT status, and New York Times on his special bond with fans. And above all, this seminal 2006 NYT profile by David Foster Wallace.
Two 'best of' stories of note
One: The best university in the UK is not Oxford or Cambridge—but Scotland's St. Andrews—which has toppled the Oxbridge hegemony for the very first time. If you care:
"Oxford, Cambridge and St Andrews take first place in 30 out of the 66 subject areas. Cambridge leads the way in 15 subjects but St Andrews is ranked first in a string of major subject areas, including history, economics, chemistry and English."
What's interesting: the top three are very close to each other in rankings—but a considerable gap separates them from the rest, such as Imperial College. (The Guardian)
Two: This one is far less surprising. Qatar Airways is once again the #1 airline in the world—as per the Skytrax World Airline Awards. This is the seventh time it has won this honour. At #2: Singapore Airlines, followed by Emirates—which aced the Economy Class category. The big shakeup: Ireland's RyanAir—which got its first honour as Best Low-Cost Airline in Europe. Always useful to know. CNN has everything you need to know before booking your next flight out of the country.
Speaking of travel: Bhutan has reopened its borders to tourists for the first time since the pandemic. But there's a catch: you will have to pay a sustainable development fee (SDF) of Rs 1,200 per day if you're Indian. If it is any consolation: many others will have to shell out $200 instead. The Print has more details while Tenzing Lamsang's Twitter thread explains why a SDF fee is necessary.
A massive heatwave on… Jupiter
If it makes you feel any better, it is way hotter on the gas giant right now than on our planet. The planet is experiencing 700°C heat waves, spanning an area of 1,30,000 kilometres—roughly the equivalent of 10 Earth diameters. But here's why this is a bit surprising: Jupiter receives only 4% of the sunlight as us. Scientists have now discovered the culprit: auroras—which are caused by solar wind colliding with a planet's magnetosphere. At home, they give us lovely light displays like the aurora borealis at the North Pole, for example. Sadly, Jupiter gets insane heat waves instead. The video below explains how. (CNET)
Darth Vader loses his voice
James Earl Jones has called it quits on the most famous voice-acting role in Hollywood history. He has transferred the rights to his voice to a Ukrainian tech company—that uses AI and archival footage to replicate the speech of actors who've either lost their voice or passed away. FYI: this is the same company responsible for giving 'voice' to a younger Luke Skywalker in 'Book of Boba Fett'. Well, Jones is 91-years-old and his decision is entirely understandable. But we're not sure about this 'zombie' tendency of high-tech. Maybe some things should inevitably come to an end? And you know it is only a matter of time before Darth Vader will be selling you McD's latest special. (Gizmodo)
Ooh look, a baby island!
This little one emerged in the Pacific Ocean after an underwater volcano started spewing lava, steam, and ash earlier this month. It is 24,000 square metres and located near the Central Tonga Islands. But don't get too attached to it. NASA says islands created by underwater volcanoes "are often short-lived." Haw. Ok, so it isn't much to look at but it's the thought that counts. (CNN)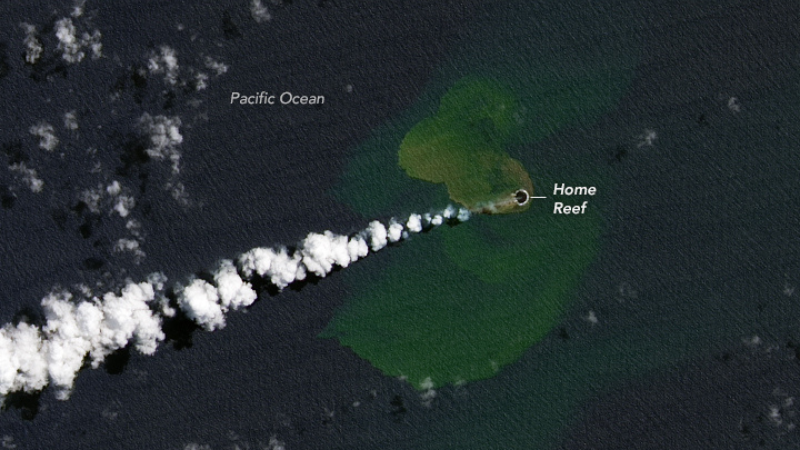 Two things to see
One: World champion… again! Eliud Kipchoge broke his own marathon world record at a Berlin event—shaving 30 seconds off his previous record of two hours, one minute, and 39 seconds—which was set four years ago. Watch him run the final stretch below. (BBC News)
Two: A shirtless pic of Shah Rukh is something to see, right? This is what he shared to promote his upcoming flick 'Pathan'—which will be in theatres in January. The caption for the tweet is classic SRK: "Me to My Shirt today: 'Tum hoti toh kaisa hota…. Tum iss baat pe hairaan hoti, Tum iss baat pe kitni hansti…….Tum hoti toh aisa hota..'" Subhanallah!