Wickremesinghe's big crackdown
Less than a day after he was sworn in as president, a large contingent of troops swooped down on the main protest site at Galle Face in Colombo. They dismantled the tents and took over the location—barring the media and lawyers while they did so. The raid took place despite the fact that protesters had promised to vacate the area today. (The Hindu)
A Ukraine-Russia breakthrough on grain
The world gave a big sigh of relief as the two countries—along with Turkey and the UN—agreed to sign a deal to restart grain exports from Ukraine. Since the invasion, its ships have been blocked from passing through the Black Sea—which sent global prices of wheat soaring, since Ukraine is one of the world's key suppliers. The details of the agreement are as yet unknown. But it will roughly entail Moscow guaranteeing the safety of the ships—while Turkey inspects them to ensure they are not smuggling weapons. (The Guardian)
IPL bigwigs sweep up South African league
All six teams of the new T20 league have been bought by IPL franchise owners—including the Mumbai Indians, Chennai Super Kings, Lucknow SuperGiants, Sunrisers Hyderabad, Rajasthan Royals, and a co-owner of the Delhi Capitals. But this isn't the IPL fatcats' first foray into international waters. Shah Rukh Khan—who owns Kolkata Knight Riders—was the first to strike out, when he bought the Trinbago Knight Riders in the Caribbean Premier League in 2015. ESPN Cricinfo has more details on the SA league.
Facebook's big India problem: Women
In February, Facebook announced the first ever drop in its daily users—and tied it to higher mobile data costs in India, which is its largest market. But internal research accessed by Reuters identifies other, more alarming problems for the waning numbers.
A big one: Indian women worry about their safety and privacy on a platform where 75% of the users are male. That's higher than the wider gender breakdown on the internet—where 62% were Indian men in 2020. Why this matters: Facebook's slowing growth has a direct impact on Meta—which has already lost half of its market value. And making FB safe for Indian women may hold the key. Reuters has lots more on the internal report.
The first ban on gender-neutral language
Buenos Aires became the first city in the world to ban gender-neutral language in schools. The reason: The gender-neutral words violate the rules of Spanish grammar—where the default is masculine. Civil rights and LGBTQ+ groups are up in arms—and have filed a series of lawsuits. Similar bans are in the works across South America—including Peru, Mexico and parts of Brazil. (New York Times)
OTOH, Disney doubles down: The company is changing the title of its staff at its boutiques—which make over little kids as Disney characters. The employees used to be known as 'Fairy Godmothers in Training'—but will now be 'Fairy Godmother's Apprentices'. The reason: "This way cast members that might not identify as female can still be part of the process to dress up and style the children without having to refer to themselves as a female Disney character." (Fox News)
Speaking of Disney: The Afro-Filipina actor H.E.R. will play Belle in a special that marks the 30th anniversary of the great Disney classic 'Beauty and the Beast'. It will be a hybrid of animated and live-action. (Deadline)
Moving on to Mattel: The company is partnering with SpaceX to create toy versions of its rockets and spacecraft. The first batch will roll out in 2023. (Space.com)
A new cure for haemophilia
The blood of people with haemophilia B does not clot due to a genetic defect, which puts them in great danger of bleeding out. The reason: their body is missing a critical protein called clotting factor IX. UK doctors have now developed a cure. How it works: the patient is given an engineered virus carrying instructions to manufacture the missing factor IX: "The virus acts like a microscopic postman that delivers the blueprints to the liver, which then starts producing the clotting protein." BBC News has more details.
Four things to see
One: Congress party chief Sonia Gandhi has been summoned for questioning by the Enforcement Directorate in connection with a money laundering case that involves the newspaper National Herald. While she was grilled for three hours, Congress MPs staged a protest—and were promptly detained by the Delhi police. She has to go back for another round on July 25. You can watch Shashi Tharoor express great indignation as he and other MPs are bundled off in a bus. (NDTV)
Two: The world's oldest male panda in captivity—An An—died in a Hong Kong amusement park zoo. He was 35 years old and had to be euthanized after his health started to deteriorate. His mate Jia Jia was the oldest female panda when she died in 2016 at the age of 38. You can see An An enjoying his last birthday in 2021. (BBC News)
Three: In a small Australian town, the night sky was suddenly lit up with a pink glow. No, it wasn't aliens or another Elon Musk-owned satellite fooling natives. The real culprit: the local medicinal cannabis facility—which left its blackout blinds open by mistake. Reminder: pot farms often use hydroponic light to encourage plants to grow. Well, it sure does look lovely. (The Guardian)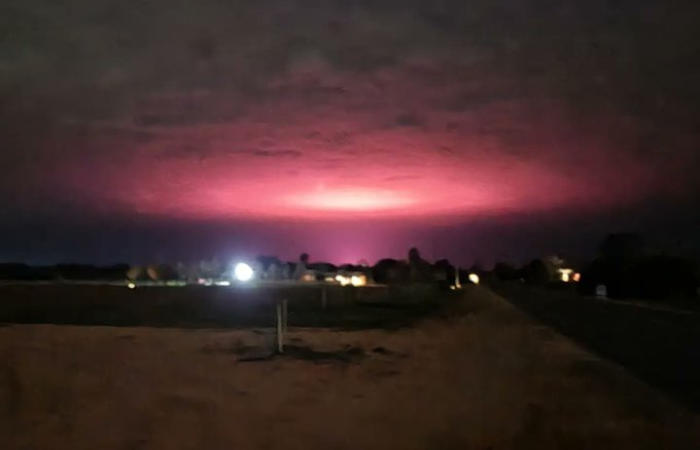 Four: This isn't even news, but we were gobsmacked by this old 2015 clip that resurfaced and went viral yesterday. It's part of a conversation between Anushka Sharma and Ranbir Kapoor on a show hosted by Koel Purie Rinchet. All we can say is… really?