A big vaccine U-turn
Modi-ji addressed the nation and said the union government is once again in charge of vaccinating everyone—and will provide vaccines free of charge to all above 18 from June 21. That's pretty much the definition of a full U-turn. The Centre will manage 75% of the total available vaccines and distribute them to the states for free. While 25% will be sold on the market—directly to hospitals etc.—there is now a cap on Rs 150 on service fees (which were being used to jack up the price).
Mint has the five big takeaways from the speech. This Political Fix edition was written before the announcement, but it does a good job analysing why the government had to reverse itself. The Hindu looks at the role of the Supreme Court in nudging the government to change its strategy. Indian Express has an exclusive on the next set of guidelines aimed at ensuring vaccine equity. If you need a reminder of why this is good news, Scroll has a good analysis on the shocking disparities in vaccination rates between districts.
In other pandemic-related news:
On the lighter side: Here are the amazing ASHA workers on the cover of Cosmopolitan.

And here are the effects of sunbathing with your facemask on..lol:
A hunger strike in Lakshadweep
In a remarkable show of unity, all the residents of the Union Territory staged a 12-hour hunger strike—demanding the immediate withdrawal of the new laws introduced by administrator Praful Khoda Patel (which we explained at length here):
"Since Covid protocol did not allow them to step outside their properties, 68,000 residents in 10 of the 36 islands off the Kerala coast observed a dawn-to-dusk hunger strike wielding placards and banners raising their demands."
The Telegraph has more details.
Bad news about carbon emissions
According to US scientists, the amount of carbon dioxide in the atmosphere in May hit 419 parts per million (ppm). It is certainly the highest CO2 reading since 1963—which is when we started collecting emission data. But researchers say it may well be the highest in the history of humanity:
"CO2 [is] now at its highest levels in human history...one would have to go all the way back beyond the beginning of human history — to the Pliocene Epoch, between 4.1 to 4.5 million years ago — to find a time when Earth's atmosphere held a similar amount of carbon."

And this in a year marked by lockdowns and slowing industrial activity. (Axios)
Jeff Bezos is flying into space
The Amazon CEO says he plans to be on board when the first human flight of his space company Blue Origin takes off into space. Keeping him company: his brother plus the lucky person who wins the bid to join the Bezos bros on the flight. The highest bid right now: $2.8 million. (BBC News)
Naomi Osaka pulls out… again
After exiting the French Open, the tennis star has opted out of next week's Berlin WTA 5000 grass court tournament. This after her decision to not attend press conferences due to their effect on her mental health sparked a huge controversy—leading to her decision to quit the tournament in Paris because she was "already feeling vulnerable and anxious." Osaka hasn't spoken about her decision to quit the Berlin fixture, but the organisers said: "We have received notification Naomi Osaka cannot start in Berlin. After consulting her management, she will take a break." (The Guardian)
In other sports-related news: There is no official confirmation but 'sources' claim that the second half of the IPL tournament will be held in UAE between September 15 and October 15—in a bid to minimise the number of double headers in hot weather. Times of India has more on the calendar.
In sorta-sports related news: YouTube star Logan Paul lasted eight rounds in a boxing bout with the great Floyd Mayweather—a fight that ended in a draw. We don't particularly care but this has made headlines pretty much everywhere. CNN has details on the fight. New York Times has more on the crazy money everyone made out of this event—which likely explains why it happened, and how it turned out.
An odd Pakistan-China collab
So the world of global media will soon have a brand new entrant:
"Pakistan and China are working on plans to create a television channel and media organisation with the aim of achieving "information dominance" and offering an alternative to the narrative of Western news media, people familiar with developments said on condition of anonymity."
Of course, nothing about the source inspires confidence, but it is amusing to contemplate two countries with very poor reputations for democratic freedom trying to create "an organisation on the lines of Qatar's Al-Jazeera...complete with journalists of international stature"—funded by Beijing, of course. Hindustan Times has all the goss.
Puppies are born to bond
So we've long known that dogs can communicate with humans—because we've been bonded together for over a millenia. But new research suggests that puppies are genetically programmed to understand humans. The evidence: even baby pooches without exposure to humans get it when we point at something—be it a toy, stick or food. BBC News has more on the research, but we mostly enjoyed watching the experiments lol!
Speaking of God's creatures: An aquarium in Japan has discovered a new species of jellyfish—which has been named 'Wataboshi Kurage' due to its resemblance to hats worn by Japanese brides. Japan Times has the story. Behold the similarity between bride and jellyfish below: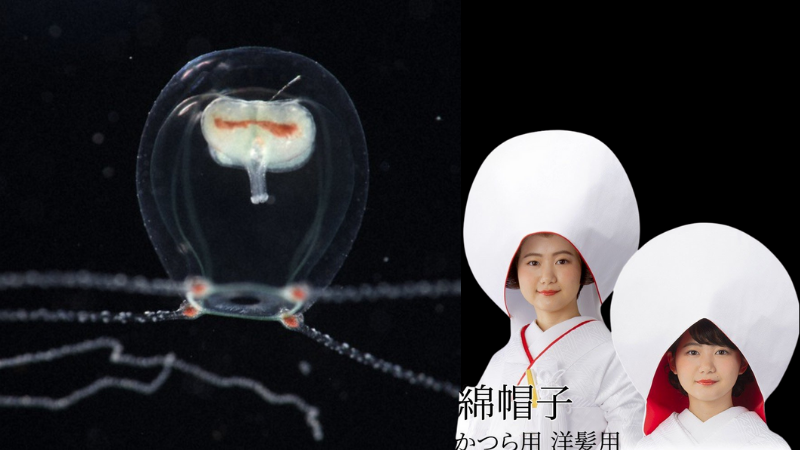 A Husain documentary premiere
Scale magazine editor-in-chief (and subscriber) Sindhu Nair sent us this heads up about a wonderful opportunity to rediscover the final work of MF Husain. You can watch the premiere of the documentary on Husain's masterpiece titled 'Seeroo fi al ardh' by signing up for this webinar. If you want to know more about this project, check out Scale magazine's interview with its award-winning director Dimitri Yuri.
In our gratitude jar…
We want to give a big shout out to Ameya Nagarajan and Susan George who have been by our side from the very beginning—referring us to everyone they know, buying gift subscriptions, helping us with information and suggestions. We also want to express our gratitude to founding members Samhita Arni, Palak Sanghavi, Lathika Pai, Simran Savlani, Darshana Rajaram, Anita Guha, Insiyah Rangwala, Deepti R, Bhavya Vatrapu and Sirisha Gadepalli.