The TLDR: It's officially traffic light season (orange and red alerts galore) and when we're not ensconced in our homes, we're embracing the full frenzy of the monsoon. Let's dive right in and give you some ideas about things you can do this month.
A reminder from Urbanaut: We know downloading an app is a pain—but you will not regret getting the Urbanaut app (and if we're wrong, it's an easy delete!). We've got tons of curated recommendations that you can save and plan with, and fantastic experiences that you can book with your kids, folks, pets and friends. What you see in this newsletter is but a tiny slice of all the options that await you. We've got teasers from Goa, Pune, Mumbai, McLeod Ganj/Dharamshala and Manali, but like we've said before—there's a lot more on the app!
Trip to the Quarries in Goa: You might have seen your lucky Goa friends frolicking near quarries in the past two years. These cavernous monsoon pools can be visited only during the rains—and this is an invitation to get in on the local scene in Goa. It's a 40-minute drive from most places in the north. While you'll strap on life jackets to jump into these inviting waters repeatedly, you'll also be fed and plied with feni cocktails at regular intervals. This limited-time experience is not to be missed so we encourage you to book it right now. FYI, this experience is pet and kid-friendly.
Immersive tour through Dharamshala and McLeodGanj: The rains in Himachal Pradesh become quite a deterrent in August. So this is your month to head quickly to Dharamshala and McLeodGanj—where you're likely to find peace and quiet despite the steady stream of tourists. Try our immersive tour for a quick but lovely familiarisation experience. Highlights include a walk through the village of Naddi, a visit to the Dalai Lama temple, a scenic walk through a tea plantation and the serene and wondrous Norbulingka Institute. FYI, this experience is kid-friendly and local.
Kid-friendly nature trails in Mumbai: If we had a dollar for every time people ask us for kid-friendly experiences, we would not need more money. Rest assured that we're trying to make sure there are plenty of family-friendly experiences around. Bombay friends—you can choose between a host of experiences in and around the city as well as in Alibag (to RoRo runs—ferries that let you take your vehicles on board—all through the monsoon). Try some of the numerous nature trails right in the heart of the city, like the Colaba Nature Trail or the Goregaon Monsoon Trail within the dense greens of the Film City area. In Alibag, older kids can try the Brunch and Paint! experience—or take the family for an invigorating Trek to a Mountain Lake where kids can jump in the water and generally soak in nature. There's a lot to do with your kids and it's almost criminal not to get them out and experience the outdoors.
Date with Mitti in Mumbai: If you're currently kidless, keen to leave the kids or kid-averse—we've got you too! Try this ever popular pottery class with a friend or partner. It's a therapeutic and relaxing guided experience, where you'll create something with clay while sipping on wine and enjoying a cheese platter. You can also join the friendly folks at Vallonne Vineyards for a memorable wine experience in a cosy space in Prabhadevi. Learn the basics of wine and food pairing, decode popular myths about wines and enjoy a five-course meal with wines from Vallonne. How very adult and refined!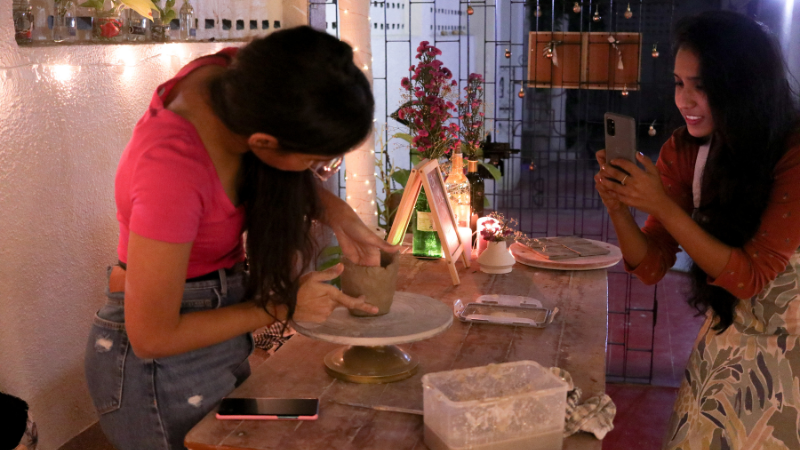 Brewery Tour in Pune: This wonderful city is turning out to be an exciting leisure and culinary destination and we're getting more experiences on the app for it. A fun one to try is this Brewery Tour that takes you behind the scenes of a well-loved craft beer brand that specialises in experimental craft beer using local ingredients, seasonal produce and innovative styles. A fun Saturday afternoon followed by a few pints—what more could you want?