Researched by: Nirmal Bhansali, Aarthi Ramnath & Anannya Parekh
World Cup finals: India's big heartbreak
It's hard to lose a World Cup final—harder still when you were unbeaten and seemingly invincible. But lose we did—by six wickets to a confident Australia that sauntered to victory with 241 for four in 43 overs.
For detailed post-mortems, read Indian Express on how India lost to a plan and some homework. You can check out this analysis on ESPNcricinfo on India's risk averse batting in the finals. Also on ESPNcricinfo a look at the Australian side's enduring championship mentality, which helped them beat India's best.
Now on to the sidelights:
The protestor: An Australian supporter of Palestine stormed the pitch—wearing a T-shirt that said 'Stop bombing Palestine'. He's being described as a TikTok prankster who is a big fan of Virat Kohli. This would explain his best efforts to hug the King. But at least he managed a handshake in the end:
The uninvited: Kapil Dev is furious because the cricket board never sent him an invitation: "I wasn't invited there. They didn't call me so I did not go. As simple as that. I wanted the whole '83 team to be there with me but I guess due to the fact that it's such a big event and people are so busy handling responsibilities, sometimes they forget."
The PM's performance: was cause for great complaint in various quarters. Modi showed up for the match in a show of support. But he was cheerily chatting with Amit Shah—and waving at the crowd—when things were going seriously south. So not exactly feeling his people's pain:
But he was perhaps wrongly given grief for what seems to be bad event choreography—which left Captain Pat Cummins stranded on the stage after he received the trophy:
Unhappy fans also dubbed him 'Panauti'—as in unlucky:
The celebrity factor: was high as expected. The boldface names included Deepika Padukone, Ranveer Singh etc. But as usual, SRK—the attention hog—stole the limelight by helping Asha Bhonsle get rid of her cup:
Israel-Palestine War: The latest update
For more context on the Israel-Palestine war, check out our two-part series on the Hamas attack on Israel: part one lays out the Hamas offensive and failures of Israeli intelligence; part two explains the big picture—and Hamas' motive driving what seems like a suicidal attack. Also read: our Big Story on the ground offensive by Israel, which will decide the fate of Gaza and the power balance in the Middle East. We look at the larger geopolitical picture in the region in this Big Story. We explained the Al-Shifa hospital in north Gaza that has turned into a battlefield in this Big Story.
Death toll: 13,000 people have been killed in Gaza—of them over 5,500 are children and 3,500 are women.
Evacuation of Al-Shifa: At least 2,500 people—including staff, patients and displaced residents—were moved out of the hospital—which the WHO described as a 'death zone'. The silver lining: 31 preemie babies have been rescued and are on their way to medical facilities in Egypt. Eleven are in critical condition and all were fighting serious infections. Two died before the evacuation could take place.
No safe zones: Those being forced to relocate have no guarantee of safety on the road to South Gaza:
Underscoring the perils of movement inside the coastal enclave, Doctors Without Borders said a convoy of clearly marked vehicles carrying staff and their families was fired upon in Gaza City on Saturday. A relative of a staff member was killed and another person was injured, the aid group said.
The Israelis also hit two schools—run by the UN—killing more than 80 people.
Point to note: Although Israel is warning residents to move out of the north, its leaders now claim that Hamas has moved to south Gaza—and they plan to target the rest of the country to root its members out. The latest warnings are now telling Gazans to move out of southern towns as well.
About those Hamas tunnels: Israel gave a number of news organisations access to Al-Shifa. But both BBC News and CNN were extremely sceptical of the so-called "proof" of Hamas presence—some of which seemed staged. See the BBC breakdown of the IDF video below:
Point to note: The IDF has released two more videos since—which have not been evaluated as yet.
About the October 7 attacks: Haaretz and other Israeli media have uncovered new details about the attack on the music festival—including the fact that at least some attendees were accidentally killed by Israeli fire. (Al Jazeera)
Meanwhile, in the West Bank: The violence against residents is escalating—with more police beatings and mass arrests. Sky News recorded the killing of an unarmed Palestinian child—and shooting of his father who was trying to rescue him. You can see a clip of the report below:
The geopolitics of war: The US president Joe Biden said a "revitalised" Palestinian Authority—which runs the West Bank—should be put in charge of Gaza. But no one knows what that means since the West Bank is currently occupied by Israel—and the PA doesn't have any real power. Biden also signalled that the US will impose sanctions on extremists attacking West Bank Palestinians. But this doesn't seem to include the Israeli police. Washington Post has more from Biden, while Axios has details of the Israeli settler attacks. A related good read: Vox on the level and kind of US military aid flowing to Israel.
Also very notable: The Saudi Foreign Minister's announcement that a delegation of Arab countries are headed to China to seek help to secure an immediate ceasefire. (Reuters via Deccan Herald)
SpaceX's big moon rocket launch
The company launched its biggest and most powerful rocket designed to take astronauts to the moon—called Starship. It wasn't a total success since the rocket blew up before attaining its objective—which was taking "a partial trip around the world ending in a splashdown in the Pacific Ocean." Starship instead blew up four minutes after lift-off. But the path of science is almost never smooth—and requires multiple iterations and failures.
The good news—this attempt was way more successful than than the first one:
By contrast, the first Starship launch badly damaged the launch site; several engines on the booster failed, fires knocked out the steering of the rocket and the flight termination system took too long to explode.
In terms of spacecraft design—for "the biggest and most powerful rocket ever to fly"—that 's a win. As one expert put it: "The magic of engineering is that it is all about learning, iterating the design, and reflying again soon." (New York Times)
Speaking of Elon Musk: His other company X (aka Twitter) is in even more trouble (if that's possible). The reason:
[T]he tech billionaire agreed with a post on X that accused Jewish people who are facing antisemitism amid the Israel-Hamas war of pushing a "dialectical hatred against whites"... 'You have said the actual truth.' Mr. Musk replied.
More awfully, this is a dog whistle for something called the Replacement Theory—which claims that Jews are encouraging the immigration of brown people to the West to replace white folks. When he was criticised, Musk dug himself even deeper:
In follow-up posts, Musk wrote that he doesn't believe that "all Jewish communities" hate white people but said the Anti-Defamation League "unjustly attacks the majority of the West, despite the majority of the West supporting the Jewish people and Israel. This is because they cannot, by their own tenets, criticise the minority groups who are their primary threat."

"I am deeply offended by ADL's messaging and any other groups who push de facto anti-white racism or anti-Asian racism or racism of any kind," he wrote. "I'm sick of it. Stop now."
The fallout: Big tech brands—including Apple, IBM and others—pulled their advertising. And Musk tried to make it all better by banning words like "decolonizing"—which he claimed was anti-semitic since it is used by pro-Palestine supporters to demand a free Palestine state. Yeah, it is all every bit as stupid as it sounds. New York Times and Axios have lots more on the boycott—and why it matters.
Google search gets a makeover
Worried about competition from AI chatbots like Bing's CoPilot and ChatGPT, Google has decided to make its search page a bit more useful for the rest of us. It is experimenting with a feature called 'Notes' that allows users to add annotations to websites that show up in search results:
It effectively places an internet comments section on top of the results page. If you search for a recipe that calls for meat, for instance, someone can append a Note sharing a vegetarian substitute. Search for a website with timely information, and someone can add a Note if it's outdated. If one website is easy to navigate and another is a nightmare, you can add a Note to help others determine which to visit.
The experiment will be first launched in the US and India. (Slate)
The most expensive whiskey in the world is…
A 1926 bottle of The Macallan Adami—which sold for an absurd £2,187,500 ($2.7 million) at a Sotheby's auction in London. Why is this one so special:
Just 40 bottles of The Macallan 1926 were bottled in 1986 after being aged in sherry casks for 60 years. Twelve of the bottles, including the one sold Saturday, had labels designed by Italian painter Valerio Adami.
This is one of those 12 unicorns. If you're wondering what it tastes like: Macallan's Master Whisky Maker Kirsteen Campbell says it contains notes of "rich dark fruits, black cherry compote alongside sticky dates, followed by intense sweet antique oak." Oh yum. You can see the famed label below. (Associated Press)
Miss Universe things to see
So it isn't exactly a feminist event—or, to be frank—a very successful one any more. But we appreciate the lighter, goofier side of the Miss Universe contest. Held in El Salvador, the top prize went to Sheynnis Palacios of Nicaragua. You can see her winning moment in a standard pretty gown here. We were far more impressed with her National Costume outfit:
We have a soft spot for Miss Pakistan—Erica Robin in a baby pink burkini.
Miss India Shweta Sharda's 'National Costume' gave out 'Naagin' vibes:
But no one can top Miss Ecuador's tribute to her country's railway system—which "featured a steam-producing chimney, a light-up hat and a train designed to look like railway tracks."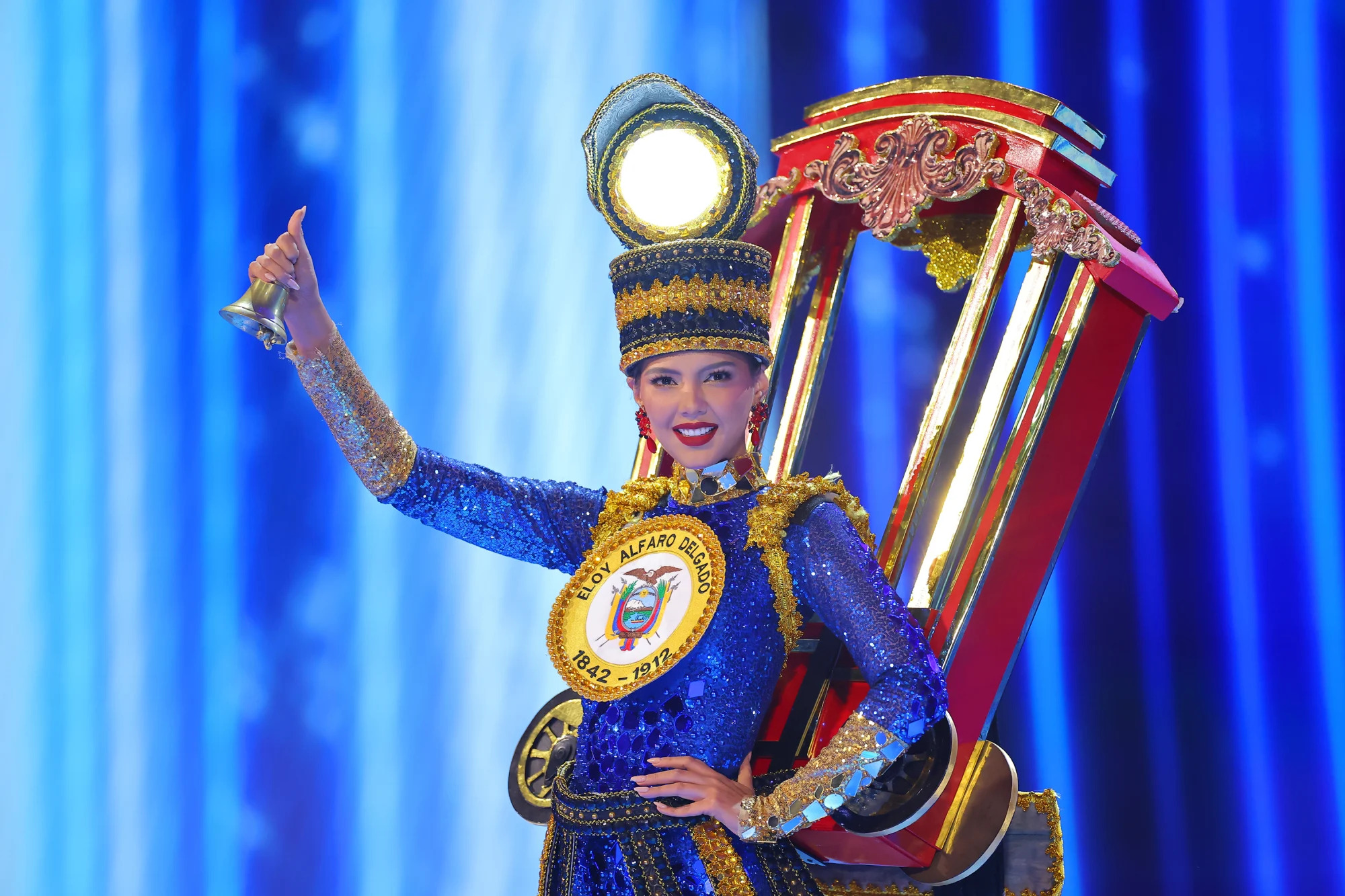 There are lots more delightfully zany costumes over at CNN.