Researched by: Nirmal Bhansali, Aarthi Ramnath & Anannya Parekh
Invasion of Ukraine: The latest update
The context: Since August, Russia has been doing its best to take the city of Bakhmut—which has turned into the longest and bloodiest battle in the war. According to the US, 20,000 Russian soldiers have died since December—and 80,000 injured. The number of Ukrainian casualties remains a closely guarded secret. Troops of the Russian paramilitary group Wagner account for half of the deaths.
What happened now: After 224 days of battle, Wagner chief Yevgeny Prigozhin announced in a video that his forces have taken full control of the city—a claim denied (without much conviction) by President Zelensky. US sources also claim that any victory in Bakhmut is purely symbolic—as it does not have much strategic value. Again, that's an odd claim to make about a city that Moscow invested so much in winning. (Wall Street Journal, paywall, BBC News)
Also notable: The US has finally agreed to arm Kyiv with US F-16 fighter jets—after months of pressure from Zelensky—which could allow Ukraine to launch a significant offensive. Moscow warned that any such move would pose a "colossal risk" for Western nations.
Meanwhile, in Japan: PM Modi met with Zelensky in person for the very first time on the sidelines of the G7 meeting in Hiroshima. While Modi did not condemn the Russian invasion, he said that New Delhi would do everything in its power to resolve the crisis. Zelensky once again invited him to visit Kyiv. (The Telegraph)
Government 'overturns' Supreme Court ruling
Context: As the national capital, New Delhi has a special status—which gives the Lieutenant Governor extraordinary powers to influence the administration of the city. The constitutional limits on that power became a sore point once AAP came to power. A key issue: the power to appoint and transfer IAS officers to important bureaucratic posts. The Kejriwal government argued that the LG was exercising direct control over these officials. On May 11, the Supreme Court ruled that the Delhi government has exclusive powers over transfer and posting of IAS officers—except in matters relating to "police, public order and land."
What happened now: On Friday, the union government dismantled the Court's ruling. It issued an ordinance that will set up a National Capital Civil Service Authority (NCCSA). It will be headed by the Chief Minister and two senior-ranking Delhi bureaucrats—the Chief Secretary and the Principal Secretary of the Home department. But, but, but:
Notably, all matters required to be decided by the body shall be decided by "majority of votes of the members present and voting." This means, that in effect, the decision of the elected chief minister of Delhi can be overruled by the two senior bureaucrats.
More importantly, the NCCSA will only have power to make "recommendations" to the LG—who will make the final decision on matters of transfers, postings etc.
Also this: The government has sought a review of the Court ruling, saying its judgement "has upset the basic tenets of the constitutional idea of federalism." Indian Express has more on the government's argument.
Why this matters: In his column, Pratap Bhanu Mehta writes that the government's decision to overturn a Court ruling—without bothering to pass a legislation in Parliament—sets up a dangerous confrontation. Either the Court quietly accepts being overruled or:
On the other hand, if the Court strikes down the ordinance, you have a full-blown war between the executive and judiciary. The executive will claim the mandate of the popular national will to delegitimise the judiciary. It might be the case that the purpose of this ordinance is not to urgently wrest control of Delhi. It may be to engage in price discovery about how much the government can put judicial power in its place, and get away with it. Either way, we are facing a constitutional crisis that could spiral out of control.
Meanwhile, in Manipur: The clash between tribal groups and the dominant MeiTei community has escalated. Groups that represent the powerful Kuki tribes now want to be fully separated from the state: "We want to seal our borders and want to be out of Manipur." They are no longer willing to settle for independent territorial councils to ensure their independence. All of which has sparked fears of fresh insurgency in the troubled state. (The Hindu)
Shein is coming back to India
The popular fast fashion brand was kicked out of the country—along with TikTok—at the height of tensions on the China border. It is now staging a comeback in partnership with Reliance. The wide-ranging agreement encompasses a lot more than just selling clothes:
With this agreement, Shein is likely to source fabrics from small businesses in India, the people said. That could help Shein diversify its supply chain beyond China, they said, as it faces scrutiny in the U.S. over the sourcing of cotton. Through the partnership, Shein could reach India's large, fashion-conscious young population, while Reliance could benefit from Shein's brand recognition, technology and supply chain, the people said. Shein also plans to build a production hub in India to export to the Middle East, the people said.
Point to note: Shein moved its headquarters to Singapore in 2021—and therefore isn't a Chinese company—technically speaking. (Wall Street Journal, paywall, Quartz)
Jeffery Epstein's plot to blackmail Bill Gates
The context: Jeffrey Epstein was a high-profile financier best known for his lavish lifestyle and very famous friends—including Bill Clinton, Donald Trump, Bill Gates and Woody Allen. In 2007, he was indicted for sexually abusing dozens of underage girls—but got off with a light sentence. In 2019, he was again arrested—this time for sex trafficking minors who he recruited for his powerful friends. He allegedly killed himself in prison while awaiting trial in 2019. In 2021, Gates said he regretted meeting him—and that it was a mistake.
What happened now: According to the Wall Street Journal, Epstein tried to blackmail Gates over an affair he had with a Russian bridge player named Mila Antonova around 2010. He had met her at a tournament—though the details of the relationship are unknown. Cut to 2017, Epstein sent an email to Gates indicating that he knew Antonova—and had paid her software coding school fees. He asked Gates to reimburse the fees:
The implication behind the message, according to people who have viewed it, was that Epstein could reveal the affair if Gates didn't keep up an association between the two men. "Mr. Gates met with Epstein solely for philanthropic purposes. Having failed repeatedly to draw Mr. Gates beyond these matters, Epstein tried unsuccessfully to leverage a past relationship to threaten Mr. Gates," said a spokeswoman for Gates.
Gates denies paying up. There are lots of other odd details in this Wall Street Journal (splainer gift link) exclusive.
Coming soon: A Twitter clone on Insta
Next month, Instagram will launch a text-based app that will compete with Elon Musk's pet project. The details are extremely hazy but here's a screenshot shared by marketing influencer Lisa Haberman on Twitter:
According to Haberman, this will be a separate app—that will carry over your Insta account handle and settings. It will eventually be compatible with other social media platforms like Mastodon: "So, users on other apps will be able search for, follow and interact with your profile and content." (Bloomberg News)
Cyclone Mocha: A rising death toll
The cyclone devastated the Bangladesh-Myanmar coast last week. The military regime in Myanmar has finally revealed the shocking death toll: 145. Notably, most of the victims were from the persecuted Rohingya community. About 800,000 people have been affected by the storm that witnessed winds of up to 209 km/hour. The category five storm is being described as one of the strongest storms to hit the region in recent decades. The clip below gives you a sense of its immense power. (BBC News)
A Monty Python reboot controversy
'Life of Brian' is the British comedy troupe's most iconic movie—and it is being remade as a live stage production. Of the four former members, only John Cleese has been working on the reboot. He has complained about being forced to make some big changes to the script—which is being made more transgender-sensitive:
The potentially offensive scene features Eric Idle as Stan telling his fellow members of the People's Front of Judea 'I want to be a woman', and adding 'from now on, I want you all to call me Loretta.' He explains that this is because he wants to have babies, and explains that, 'it's every man's right to have babies if he wants them.' Cleese's character Reg explains 'you haven't got a womb', but the People's Front decide that they will champion Stan's right to have babies, as it is 'it is symbolic of our struggle against oppression.'

However, rumours about axing the famous crucifix song 'Always Look On the Bright Side of Life'—written by Eric Idle—may not be true. Point to remember: when it was first released, the film was accused of being blasphemous—and was banned in Ireland. (The Telegraph)

Three things to see
One: PM Modi unveiled the mascot for the International Museum Expo being held in Delhi. And it's a dreadful Barbie-esque version of the famous 'Mohenjodaro Dancing Girl'—a statue dating back to the Indus Valley Civilisation. The Wire explains why this 'Lacto Calamine' version is a travesty. Or you can just look at the original:
And compare it with this monstrosity:
Two: Government departments are notorious for 'repurposing' random images for PR purposes—inviting a world of embarrassment. The latest culprit: the J&K government's official Twitter handle—which shared the photo of a fancy walkway in Bangladesh—and pretended it was a revamped boulevard in Srinagar. The reason for this creativity: the G20 summit on tourism is being hosted in Kashmir—to showcase the government's achievements in the state—real and fictional. (The Telegraph)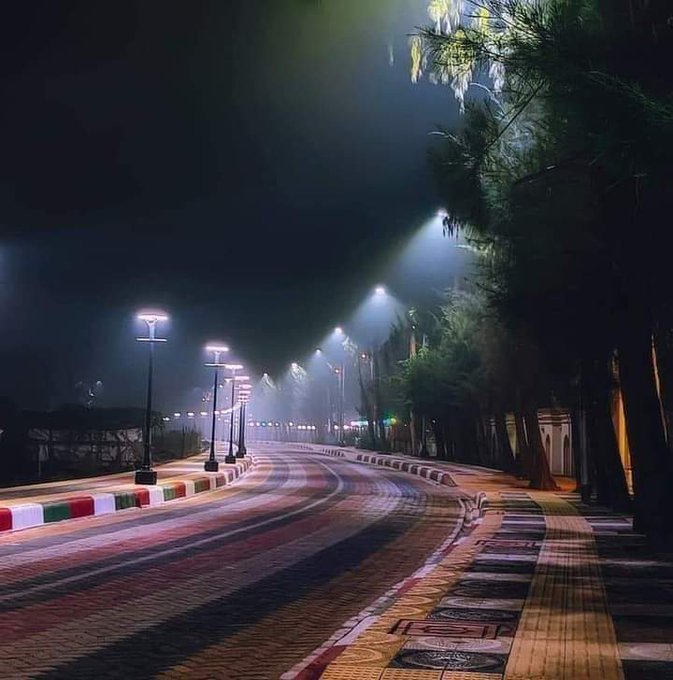 Three: Meanwhile, PM Modi landed in Papua New Guinea—for yet another global summit—and was astonishingly greeted by Prime Minister James Marape like so: