Editor's note: Our Buy section is devoted to giving you trusted recommendations for useful and delightful things. This community-sourced list—which we publish once a month—is designed to save you from untrustworthy online reviews and glorified Insta ads. You can rely instead on the collective wisdom of our wise and experienced subscribers :) This month's theme sparks great debate–with many who insist it doesn't even exist in India: quality men's clothing.
Wanted: The best men's clothing
Comfortable everyday casuals
No Nasties: Sanaya likes this organic, fair trade, vegan clothing brand because "It literally has no nasties….And the softest fabric in the coolest designs!" She recommends their khaki shorts and relaxed pants starting from Rs 1200 to Rs 3000. They also have a circular closet that you can check to resell or repair clothes from your closet.
March Tee's: This is a popular pick among our subscribers. Hersh says they make "literally the best t-shirts I've worn. Looks good, no fuss and no branding. Supima cotton". (FYI: Supima cotton is sought after for its strength and softness—and said to represent less than 1% of cotton grown in the world) Pallab says "The attention to detail, the stitching, the material. Everything is top notch." But his word of caution about their regular tees, "Washing Machine rinse cycles will cause the colour to fade really quickly." You can instead go for their durable UnitHD and the comfy Hammo winter wear. Their prices start from Rs 1500.
DaMensch: You don't want to miss out on the 500-day collection series by DaMensch, a favourite of Pallab's, who says "I can't vouch for their 500-day claim, but they definitely hold their lustre and colour well. I've everything from the amazingly soft sweats (Rs 1490-Rs 2790) to the smart shorts (Rs 900 - Rs 2000) to the unique solid coloured polos." Abhimanyu recommends their underwear range (Rs 750- Rs 1000) and popcorn trousers (Rs 2790)!
Want more options? Here's a longer list:
Dapper looks for date nights
Andamen: Pallab likes this brand because it "hits the sweet spot with its focus on affordable luxury. Great designs, excellent material, and attention to small details makes it stand out." His specific recommendations: the Indigo collection with "striking designs", Persona series of business casual polos (Rs 2000- Rs 3500) and their Indian winter-friendly shackets (Rs 2900-Rs 5000).
Bombay Shirt Company: Prarthana likes this brand because they make "made to order custom fit shirts that look great on my husband!" The brand has a good mix of understated designs and zany fun ones. (Rs. 2000 upwards)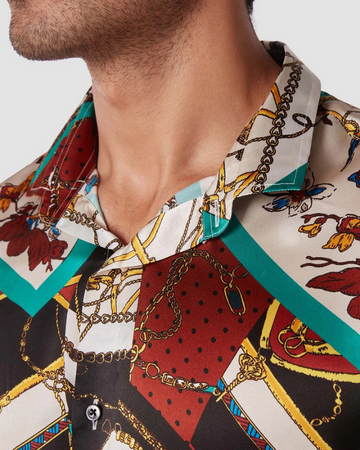 Rare Rabbit: Another recommendation from Pallab for those looking to be a bit frugal: "They are often available at a discount and have versatile designs; from minimalistic monotones (Japano series) to bold text art to catchy prints." Their prices start from Rs 1000.

Want more options? Here's a longer list:
Sexy shaadi styles!
Sri Ram and Sons: Sri Ram and Sons claims to have been sprucing up style quotients since 1882. Daksh vouches for them and considers the brand "pioneers in men's formal clothing since my grandfather was a kid." Their prices start from Rs 3000.
Herringbone and Sui: If you are looking for luxurious suits and bandhgalas with a decent price range, then Herringbone and Sui could be it. Prarthna says, "When you visit them in-store, they guide you to make the right buying decision. Sound fashion sense. Not as expensive as the bigger brands, somewhere in between." (Rs 20,000 - Rs 1,00,000)
Fabindia: Fabindia is a classic, Sourabh finds their style to be "understated" and says their collection is "not nouveau bling like those new Sherwani brands made that threaten me with being ostracised from shaadi celebrations if I'm not wearing them." So, if you are looking to pull off something light yet chic, this is your pick. (Rs 2500 to Rs 9000).