We recommend: fun jigsaw puzzles
Editor's Note: For your next rainy day at home: the splainer team's excellent list of jigsaw puzzles–ranging from natural wonders to Potterhead decor, queer gender-bending to Indian folk art. Happy shopping :)
Aurora Borealis Over The Sea Jigsaw Puzzle: This is the first jigsaw puzzle that Nirmal purchased and despite being a 500 piece puzzle, here's why he's recommending it. Price: Rs 500
I've always wanted to witness the Aurora Borealis. While the IRL experience is not possible, putting together this jigsaw is the next best bet. Putting the pieces together with your friends and family over a few hours, to end up with a stunning picture is worth it.
Marauder's Map Puzzle: Mischief is indeed managed in this 300-piece puzzle from Ferns n Petals. Arunima recommends this for all who solemnly believe they've just missed their Hogwarts letter. Price: Rs 999
Since I don't have access to an invisibility cloak or time-turner, this life size marauder's map cardboard puzzle would have to do. It can be glued and set as a display or art piece which is a great conversation starter in your living room for Potterheads.
In the Bookstore: A 1000 piece puzzle game, it recreates all sections of a bookshop. Arunima purchased this for a bibliophile friend's birthday and enjoyed assembling it with the whole gang! Price: Rs 1150
Illustrated by Giacomo Gambineri, the comic-style graphics feature intricate and quirky details of bookstore sections come alive with rocket ships in the science fiction section to prince charmings in the romance section. This is major group fun with fellow readers and book lovers!
Yellow Kimono Beauty Paintings: This 1000-piece wooden jigsaw puzzle of popular Japanese artist Haruyo Morita is unquestionably a splurge. But Lakshmi says: "The artwork is stunning–and the final result is totally worth the blowout. And this is the kind of puzzle you put together over and over again." She also recommends checking out the other Morita puzzles over at Amazon. Price: Rs 4672.
PS: If you want high quality puzzles at a reasonable price, Lakshmi says it's way smarter to have a friend or family member in the US bring it along on their next trip to the homeland–although they might grumble about luggage space:) She recommends the Peter Pauper Press and Ravensburger puzzles–which offer a great variety of themes–from paintings to ancient maps–at reasonable prices.
Need 'conscious' shopping picks? Here are some from Anannya. They aren't very challenging for a serious puzzler but are entirely worth the spend.
Queer Party Utopia by artwhoring: Titled 'Party at the end of gender normativity' this big 320 piece puzzle by one of the strongest queer voices of our generation—Priyanka Paul aka artwhoring on Instagram—creates an ode to assemble for those who do not want to be fit into boxes. Pastels and pop art come together for a non-conforming party puzzle. Price: Rs 2768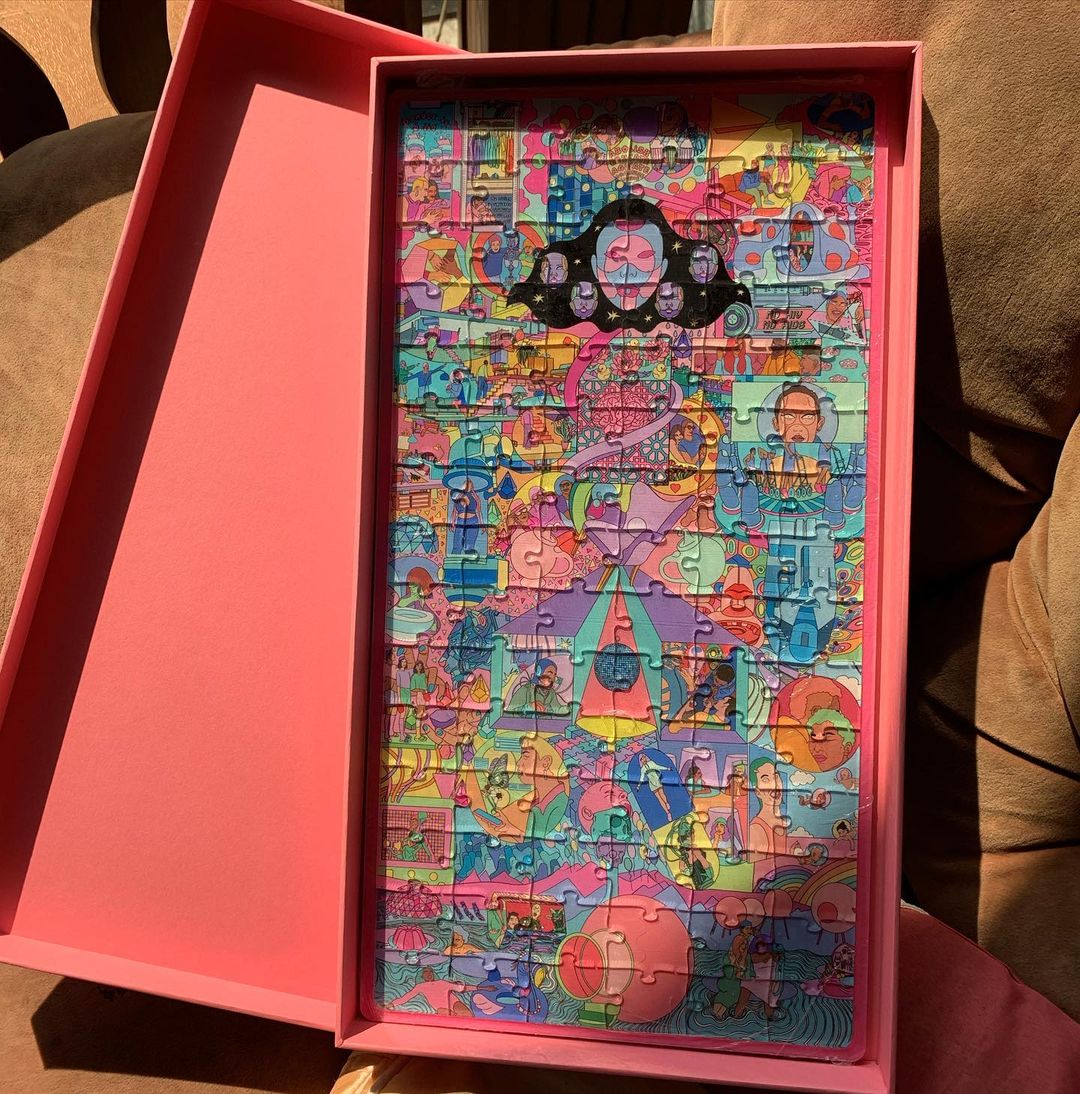 Froggmag "Bhil Deer" 63 Pieces Jigsaw Puzzle: The stunning detail on this tribal 63-piece tribal artwork puzzle is a testament to the talents of our artisans. Okhai–the makers of this puzzle–work with grassroots self-help groups (SHGs) to support women artisans. So you're also boosting handcrafted and heritage art–and at a very reasonable price. Price: Rs 660.