Bangin' Bangkok: A very good travel guide
Editor's Note: Nidhi Gupta offers a detailed guide to a city brimming with art, architecture, food, shopping and other wondrous sights. You will most certainly want to spend many nights in this Bangkok.
Written by: Nidhi Gupta is a Mumbai-based journalist who writes on culture, lifestyle and travel. She was the former Culture Editor at GQ and her work has appeared in The Hindu, Dazed, Architectural Digest, VICE, Hindustan Times and more. You can follow her on Instagram.
Over to Nidhi....
Bangkok. Who hasn't heard tall tales about the gateway to southeast Asia. Party central of the eastern hemisphere. Home of the Emerald Buddha. Both a shopper's playground and food lover's paradise. And the number one sex tourism destination of the world. The name itself evokes a land of lewdness, loudness, licentiousness. As I discovered over a week in the most visited city in the world this year—Bangkok is all of that, and a whole lot more. Excess is par for the course. You go to Bangkok not to be satiated, but to be surfeited.
Over the last 500 years, Bangkok has evolved from a tiny village along the Chao Phraya river, into Siam's capital in the 18th century, to the shiny, vibrant megapolis it is today. Here, the past and future collide; and the result is not contradictions, but oddities that co-exist to delight, not to offend. Pack your most comfortable sneakers, practise your "khap khun kha", and break out the baht. Let's dive in.
Where to stay
The Standard: A few thousand baht a night could get you a king-sized bed at the (newish) Hollywood-origin hotel inside King Power Mahanakhon, the most recognisable skyscraper on the Bangkok cityscape. Between Skybeach, the highest rooftop bar in town, the four in-house restaurants and a whimsical tea room, a pool with a view and your artfully designed rooms—by Spanish artist-designer Jaime Hayon—you may not want to step out at all. (Room rates range froM Rs 15,000 to Rs 80000 )
Mandarin Oriental: For a room with a view of the Chao Phraya river, head to the classic Mandarin Oriental. This marble, wood and gold-bedecked hotel practically screams old money—it is, indeed, Bangkok's first hotel, built in 1984—but with every modern amenity you may desire on a holiday. (Room rates range from Rs 44000 to Rs 115000)
1905 Heritage Corner: If its privacy and quietude you're after, check in to this 20th century Chinese medicine dispensary-turned-massage joint-turned-boutique hotel at Phraeng Phuton in the heart of Old Bangkok—a neighbourhood that allows you to experience the intersection of Thai and Sino cultures. (Room rates range from Rs 6,500 to Rs 20,000 )
Sukhumvit (map): For mid-range accommodation, hunting for apartments on AirBnB is a great option. Stick to downtown Sukhumvit—a centrally located neighbourhood that is bursting with nightlife, and has the great advantage of train connectivity. Stations on both the BTS Skytrain (map) and MRT (map)—Bangkok's main public transport networks—are walking distance here, as are high-street malls and food courts for when those good old familiar food pangs hit.
Khao San Road (map): Backpacking through Thailand? Hostels for solo and budget travellers are a dime-a-dozen all over Bangkok, from Old Town to Chinatown. But arguably, if you want to do this right, shack up at one of the many guesthouses and dorms on Khao San Road, the notorious party district that was once described by a poet as "the shortest street with the longest dream in the world"—or a thoroughfare unlike any other, where wanderers much like yourself from around the world congregate to lose themselves in buckets of spiked Red Bull, a proliferation of weed shops (weed is legal in Thailand) and laughing gas inhaled from balloons.
Where to stroll
Talad Noi (map): Every Bangkok exploration must begin with combing the banks of the Chao Phraya river, the arterial lifeline of this city. Board any of the many ferries plying these waters, beginning at Talad Noi. The neighbourhood predates the founding of Bangkok, and which is now a Chinese settlement. Walk its narrow streets past the greasy auto parts shops and you'll stumble upon temples, churches, murals, grand homes turned into cafes, and street carts selling everything from iced Milo drinks to pad thai.
Old Town: Ramble along carefully manicured gardens and cobbled streets until you reach the Grand Palace (map). Built in 1782, it was the seat of the royal court for 150 years. At Wat Pho (map), be awed by the magnificent scale of the Reclining Buddha and learn about the history of the Thai massage, a more carefully crafted science than you'd imagine. Stop by the Museum of Siam (map), set up in a large neoclassical house, to get a snapshot of the roots of Thai civilisation, from the beginning of Ayutthaya to wars, to Buddhism's influence and the country's rapid modernisation in the 20th century.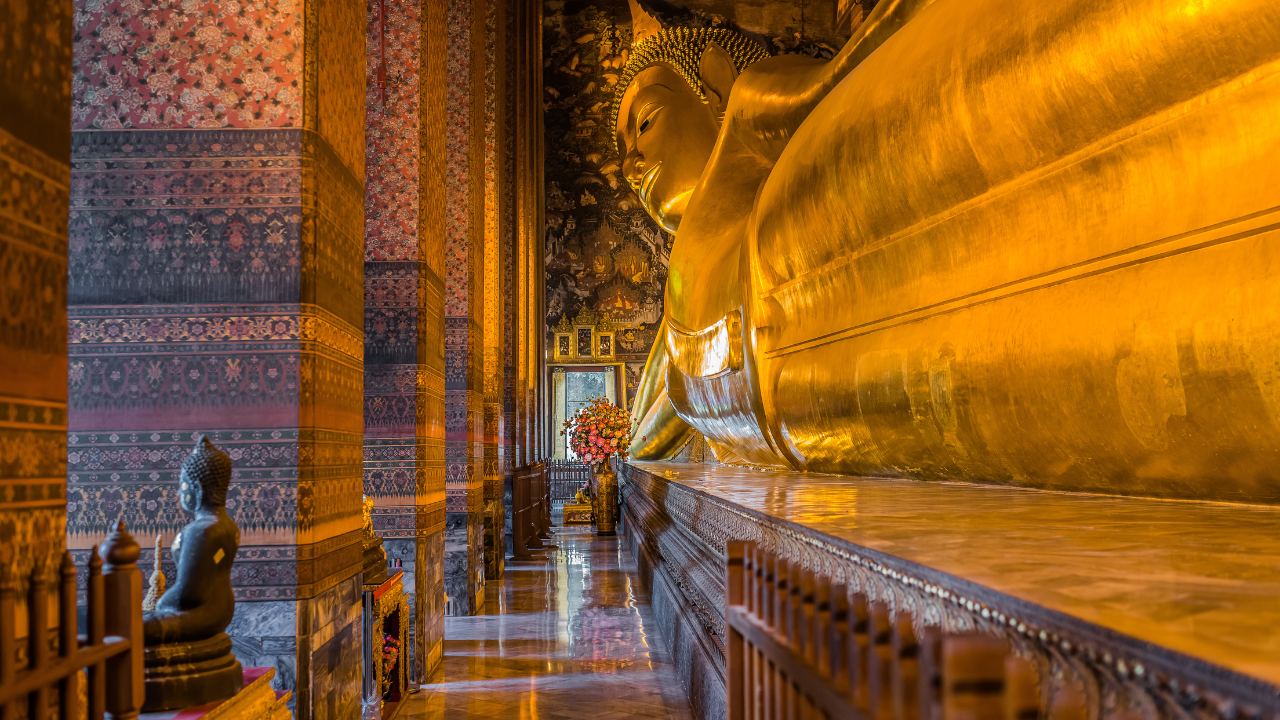 Wat Arun (map): On the opposite side of the river bank lies Wat Arun, the iconic temple that has existed since at least the 17th century, and whose distinctive prang or spire was built in the early 19th century. Wat Arun's architecture (as well as that of Wat Pho) are different from the kind of buildings you'd find in Chiang Mai or Phuket. On the street behind the temple, you can find shops from where to rent traditional Thai costumes, jewellery and accessories, like paper umbrellas, for a few hours—great for the 'gram.
River City (map): For art aficionados, the River City's galleries, DIY art cafes and antique and art supplies shops offer a peek into the city's thriving art scene. Documentary-photography projects tracing the oral histories of Bangkok's communities, to Takashi Murakami-inspired kawaii art, to shiny sculptures in gold and bronze—this is a borderless world. Pro tip: The shop right at the entrance is exceptional for souvenirs, fridge magnets, books or candles.
Warehouse 30: This industrial chic warehouse is just a 10-minute walk away. It offers a community arts space for vendors, galleries, coffee and films. Shop for miniature figurines, posters, and artisanal soap, browse contemporary abstract art, rifle through art magazines, sip on artisanal coffee or taste locally made ice cream—you could spend a whole day here.
Soi 32 (map): Urban art junkies can walk down this crumbling street (behind Warehouse 30), and discover wall graffiti by the city's popular street artists like Alex Face, Kult, Bonus TMC and Lolay.
Charoen Krung (map): A few steps away is Bangkok's first functional paved road, which has seen something of a creative resurgence in recent years, especially after the Thailand Creative and Design Centre reopened here in 2017 (architecture lovers will enjoy this space). Stop by Charoen 43, where a few independent galleries, design studios and a vinyl store that also serves cocktails—The Entertainment Project—sit next to each other.
Bangkok Art and Culture Centre: At Siam Square in the main city, in the maze of skyscrapers and malls, the Bangkok Art and Culture Centre's circular architecture will take your breath away; as will the student art lining its 10 floors, large-scale retrospectives of modern and contemporary art by Thailand's most respected artists; and the royal photo exhibition "Roaming in Thailand", by the princess Maha Chakri Sirindhorn, at the top floor. If you're in luck, you'll find a jazz quartet playing outside the entrance—a spectacle on its own.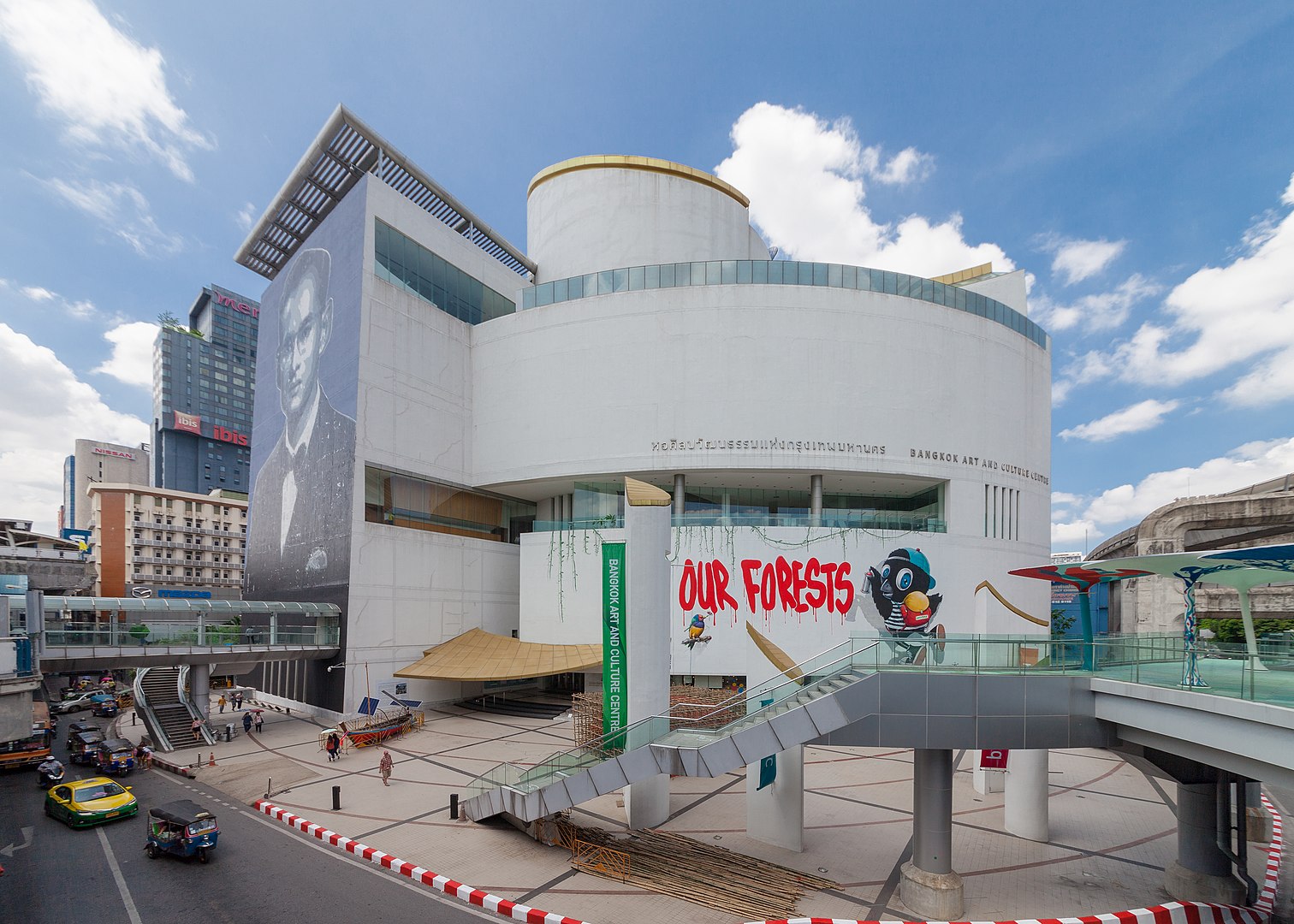 Floating and Railway Markets: More scenic vistas, especially for the photo hounds, can be found at the Maeklong Railway market (map)—a fresh produce market built around and dangerously close to a train track. Drone pilots: There are also over a dozen floating markets, from Khlong Lat Mayom (map) to Bang Nam Pheung (map), Taling Chan (map) to Damnoen Saduak (map), where boats playing on waterways sell everything from food to massages; and offer the chance to get some really great footage of a centuries-old way of commerce.
For those nights in Bangkok…
Muay Thai duels (map): If you're looking for a little more "action", get a ringside seat to a Muay Thai fight at the iconic Rajadamnern stadium. This Thai style of boxing traces its roots to traditional martial arts. The fights are electric, the atmosphere is charged as bookies and old Thai gentlemen shout support for their fighters, as an ensemble of musicians perform the Sarama live.
Mirinn Theatre (map): Sit down for a world-famous family-friendly cabaret show performed by "Ladyboys". There's music, dance, acrobatics, muay thai presentations, light and sound and choreography. Similar (if less PG-rated) shows can be found at Playhouse in Chinatown and Calypso in Charoen Krung.
Skywalk at Mahanakhon (map): To get that bird's eye view of the city, sign up for a skywalk at the Mahanakhon, which boasts Thailand's highest glass-floored observation deck at 314 metres, and offers 360 degree panoramic views.
Where to shop
Malls and brands: While the markets mentioned above are more about novelty than retail therapy, true shopping buffs can blow their bank balance on Bangkok's night markets, street markets, and malls. The glamorous Icon Siam along Chao Phraya river has a basement dedicated to Thai crafts, but high street brands like COS and Sephora on upper floors will also call to you. Siam Paragon, Terminal 21, and Central World also boast Thai, Japanese and Korean brands. Schedule stops at local makeup paradise Panpuri to Japanese goods' heaven Don Don Donki.
Street shopping: Save a Saturday (yes, the whole day) for Chatuchak, the sprawling open-air market that's almost synonymous with street shopping in Bangkok. Hunt through these stalls for everything from vintage tees to pre-loved sneakers, indie brands selling good quality linen wear and accessories, and cool home decor and art—but resist the urge to get those elephant print pants. Pause for beer and paella at Viva 8, or weekend market-inspired cocktails at Plot Twist.
For vinyl collectors: Bangkok has enthusiastically embraced the vinyl resurgence. Crate diggers, bookmark Zudrangma Records in Watthana (for vintage global music and Thai country music), Recoroom in Phetchaburi (for jazz and blues), Sex Record Shop (map) in Watthana (secondhand golden hits) and Entertainment Project in Charoen 43 (cocktails, jazz and local pop). Or just head over to Fortune Town (map), a mall with an entire floor stuffed with vinyl shops—and where you can also find film cameras, tech paraphernalia, and great Thai massage from a string of spas in the basement.
Where to eat
Night markets: Another unique Thai phenomenon that melds street shopping with a smorgasbord of good food and drinks. Find the best servings of roti gulay, kanom jeeb, som tam, sticky mango rice and thai teas and cold beer at Rod Fai (the oldest), The One Ratchada (also has an open-air theatre) (map) and Chang Chui (the creative community with wacky sculptures, built around a giant plane that doubles up as a secret restaurant.)
Chinatown (map): Post sunset, this ancient neighbourhood transforms into a orgiastic display of food—sizzling meats on grills on push carts, Michelin starred chefs, such as Jay Fai, posing as they stir up their gourmet meals, the scent of fried Patonggo dipped in sangkaya invading your nostrils. Vendors are chock-a-block, and their customers spill out into the streets. Go hungry, or this can be overwhelming to the senses.
Supanniga Eating Room: For authentic Thai food, head to this Michelin starred restaurant in Thonglor, by the river, where you can tuck into dishes such as "son-in-law eggs", with a view of Wat Arun. They also seat at their open terrace, which is great for sundowners—except you might have to call and make reservations a few days in advance.
Baan Rim Nam: Further upstream, you can find delectable Pad Kra Pao (holy basil stir fry meat) and butterfly-pea flower-infused rum drinks at this sprawling, open-air, hippie joint. Sit (or indeed sleep) on the floor next to bay windows by the river, admire the large cloth dragon hanging off a wooden ceiling, rifle through their vinyl collection, and find a quiet, distant corner to roll your very legal joint—it's all good.
Korea Town (map): Fancy some Korean barbecue? Hit Korea Town or the Sukhumvit area, to find restaurants like Kongju Korean (map), Banjoo (map), Viking (map) where you can grill your own steaks, wrap them in fresh green leaves for the crunch, dip in sauces with flavours you've never tasted before, and and assemble your own bibimbap bowls.
Hai Di Lao: Mala is a spicy cuisine that originated in Sichuan and has a deep presence in Bangkok as the Mala hotpot. At Hai Di Lao in CentralWorld mall, you'll be treated to some performance art along with your bowls of Tom Yum. You could also try Chinda (map) on Pracharath Bamphen Road for Mala hotpot with a conveyor belt experience.
Where to drink
Tep Bar: This new-wave bar in the uber-hip Soi Nana neighbourhood has taken upon itself to spotlight Thai flavours and liquor, all served in a gorgeous, two-floor outfit that used to be a Chinese shop-house, with tons of mood lighting and performances of traditional Thai music from the central region. Try their Mekhong (a spirit brand from Thailand) and gin cocktails spiced with Thai herbs, fruit and spices; or their home-infused line of ya dong or Thai herbal whisky; as you nosh on Thai tapas.
Teens of Thailand: Ranking among Asia's 50 best bars, Teens of Thailand has its own cult following that rejoice in its approach to craft cocktail, housed inside an unassuming blue wooden door, not a few steps from Tep Bar. Their gin-based infusions are to write home about, the giant movie posters on the red walls are their own conversation starters, they even have a line of Indian gin sitting on their shelves—but make reservations—it can only seat 15 at a time.
Ku Bar (map): Before you head into Khao San Road for a night of unspeakable revelry, stop by this speakeasy-style bar in Rattanakosin—if you can find it, that is. If you find the right staircase and knock on the right door, you will enter a rather quiet, minimalist bar of wood and concrete, where the bartenders nod to you, and everyone speaks in hushed tones. The drinks menu is short, changes monthly, but always delightful, with a focus on local ingredients—I was blown away by a whisky cocktail that tastes like hot kheer—and a natural wine selection that will impress the snootiest of oenophiles.
Stranger Bar & Lounge: Soi Silom, known for its gay bars, is another pin code area that really lights up after dark. The iconic Stranger Bar & Lounge is a "pub theatre" founded by an Irish drinkologist and a Thai drag queen—where you can down shots with names like "golden shower" while drag performances ratchet up the energy to 10 pm.
If, after Stranger, you've still got the energy for a bar-hop, hit up DJ Station (map) to dance, and the White Rabbit Lounge (map) for people watching; and Bipolar Silom (map) for late night rainbow shots.
Tichuca rooftop bar (map): A different kind of high is to be found at Bangkok's many rooftop bars—artfully created open-air spaces on top skyscrapers, offering a unique vantage point to this gilded city. The essential (and relatively new one) one to visit would be Tichuca in Sukhumvit, which sits on the 42nd floor of a residential building—with one of three bars housed in a giant tree-like structure. Tiki style drinks and comfort hor d'oeuvres as you watch the sun set over this glittering city—you'll feel like there's no place quite like Bangkok in the world.