Editor's note: Calcutta is defined by nostalgia–a city continually referencing and referenced by its past. Shunali Khullar Shroff offers a delightful guide to a city close to her heart–to which she returns over and again–seeking respite from the other Indian cities rushing headlong into the future–and toward a dull homogeneity marked by malls and metros.

48 hours in Calcutta
Written by: Shunali Khullar Shroff is the author of the bestselling books 'Love in the Time of Affluenza' and 'Battle Hymn of a Bewildered Mother'. She writes for a host of print and digital publications on modern Indian life, culture, travel and feminism. You can follow her on Insta or Twitter.
Calcutta is a city of whispers, where the echoes of time can be heard in the soft murmurs that waft through its bustling streets, colonial monuments, and elegant historic buildings. It is also a city of surprises that unfairly has been maligned for being stuck in a different era. Yet, it is precisely this contrast that lends the city its enduring charm.
As India's other metropolitan cities become increasingly busy—the lives of their inhabitants mirroring the insular values of the Western world—Calcutta offers a warm and welcoming atmosphere harking back to a time when community and human connections were valued above all else.
While parts of the city are developing and high rises are replacing old living quarters, it is almost comforting to find much of Calcutta relatively unvisited by modernity. It is the vibrant culture of the Bengalis, their refusal to forsake their traditions and their unhurried way of living that give the city its appeal. Whether you're a history buff, a foodie, or a culture enthusiast, a visit to Calcutta will leave an indelible impression on you.
Where do I stay: I have not included places to stay since visitors more often stay with friends or family. But here is a handy list of the best five-star accommodations if you want to live large. Or consult Outlook's pick of gorgeous boutique hotels.
DAY 1
Colonial Calcutta tour: Start your day early and take a tour of colonial Calcutta, ideally accompanied by a tour guide (anupsaha808@gmail.com would be an excellent choice. He brings his own car to drive you around in). If you decide to go without a guide, here are some of the most notable landmarks that you may want to include in your tour.
Victoria Memorial: Built in the early 20th century as a tribute to Queen Victoria, this iconic white marble building is truly a colonial masterpiece and the pride of Calcutta.
St. John's Cathedral: This historic cathedral was built in the mid-19th century and features beautiful Gothic Revival architecture. It houses within its ample premises European art and antiques from the time, including Warren Hastings' furniture. There's no better place to admire the artistry and carpentry of the time while simultaneously seethe from within at the grandiose lifestyle of our colonists.
General Post Office: This imposing building was built in the early 20th century and features a blend of British and Mughal architectural styles. It's staggering beauty and sheer size that makes it impossible to take a selfie against, are likely to make your jaw graze the floor.
Raj Bhavan : This beautiful building served as the residence of the Governor-General of India during the colonial era and is home to the governor of West Bengal now. There's no better place to regret not being a politician or a bureaucrat than when you're in front of this magnificent monument.
South Park Street Cemetery: The cemetery from the colonial era serves as the ultimate resting place of several noteworthy British personalities who resided in Calcutta during the 18th and 19th centuries. If you're up for a bit of morbidity and insight into the lifestyles of the British who indulged in India's riches while also dodging fatal tropical diseases like malaria and dysentery, then this is the most intriguing site to explore during the tour (more info in my piece in CN Traveller).
If you need it: Here's a handy Google map of these locations.
Lunch: Locals from the city are proud of their food and with good reason. Calcutta's history has played a vital role in the evolution of its cuisine, which is a fascinating blend of different culinary traditions of the various communities that have lived in the city over the past several centuries.
Flurys: A short cab ride away from the Park Street Cemetery is Flurys, an iconic confectionery and tea room also located on Park Street. It is a popular destination among both tourists and locals and a perfect way to spend an afternoon in the city. Indulge in their delectable cream cakes, sandwiches, and Darjeeling tea, and soak in the charming ambiance of this historic establishment. As with many other things in Calcutta, Flurys has been around since the colonial era and continues to exude its timeless charm, making it an essential part of the city's cultural heritage.
Kasturi Ballygunge : An efficiently run place, it serves authentic Bengali cuisine inside an unfussy setting. Nearly every dish on the menu recommends itself in taste—especially the delectable sukto, and aloo posto, and the unforgettable chingri bhappa and mutton kosha. However, to fully experience the restaurant's culinary expertise, their thali would be an ideal choice.
A trip to Seagull Books: The famous independent bookstore is possibly one of the finest in the country and includes a vast collection of literature, philosophy, history, politics, and more. Do stop to admire the stunning KG Subramanian art works that adorn the walls of the various rooms within the store while you're there. This Architectural Digest feature captures the sheer beauty of the space.
Or a bit of shopping, perchance? If time and Calcutta's traffic permits, you could consider replacing some of your sightseeing with shopping. One great stopover is Sienna (map): Located inside a charming old building in the Ballygunge Area, Sienna café and concept store is a natty venue to shop and grab a coffee at. The cuisine at the café is mostly experimental fusion and a little underwhelming but the coffee and ambience redeem the overall experience.
Here are a slew of other options:
Dinner: There are a wide range of dining options to suit every taste and budget in Calcutta but here are some unmissable ones.
Nizam's: How can a visit to Calcutta be complete without eating the legendary kathi rolls at Nizam's, the birthplace of kathi rolls. Founded in 1932, this restaurant in New Market was visited by sahibs at night for kabab paratha before the late night movie show. The Englishmen found it difficult to eat the paratha without soiling their pretty fingers and thus the kathi roll was born. To date this establishment remains the last word in India when it comes to kababs and rolls. While you may not have a luxurious dining experience at Nizam's, the delicious food is what will bring you back time and time again to the 'inventors of the kathi kabab roll' as the signage outside proclaims.
6 Ballygunge Place: This is an upscale restaurant serving Bengali cuisine in a beautiful heritage building. The menu is elaborate and the food passable but the real star of the show is the ambiance.
DAY 2
Dawn on the Hooghly: Start your morning by catching the sun rise over the Hooghly from the Princep Ghats. And while you're there, hire a boatman to take you sailing. Do tip him well if he serenades you with sweet folk songs as you row along the river pretending to be the star of your very own Satyajit Ray film.
Breakfast: When it comes to breakfast spots in Calcutta, my top two favourites are Flurys and the 8th Day Cafe and Bakery. Flurys offers an all-day breakfast menu that includes English, American, and even Spanish breakfast options, as well as trendy millennial favourites like shakshuka. Meanwhile, the 8th Day Cafe serves up an assortment of bagels, smoothies, and sandwiches, and their coffee is also quite good. If you're looking for a delicious and satisfying breakfast in Calcutta, these two spots are definitely worth a visit.
The Marble Palace: This ornate 19th-century mansion (map) is made entirely of marble and is home to a large collection of art and artifacts, including paintings, sculptures, and antique furniture. It continues to be the residence of the Mullick family but their collection that includes a few Reubens, Reynolds and a Canova is open to visitors.
Jorasanko Thakur Bari: This haveli is located is the ancestral home of poet and Nobel laureate Rabindranath Tagore. It is now a museum and cultural centre that showcases the life and work of Tagore and his family.
Shobhabazar Rajbari: This haveli (map) is one of the most famous in Calcutta. It was built in the 18th century by Raja Nabakrishna Deb and is known for its ornate architecture and rich history.
Lunch: Head to Arsalan at Shyambazar (map) for a satisfying lunch of Biryani followed by a quick dive into Balaram Mullick's to buy some sandesh as a gift for loved ones. Those who are stout of heart as well as digestion could also consider puchkas for lunch at the various puchka stalls across the city.
High tea at the Glenburn Penthouse: If you're in search of a luxurious and transportive afternoon tea experience in Calcutta, consider working up an appetite and head straight to the breathtaking boutique hotel perched high above the city at Russel Street. Whether you choose to sit on the veranda or in the opulent and stylish living room, you'll be treated to an unforgettable high tea experience while you enjoy uninterrupted views of the Victoria Memorial, the polo grounds and the Hooghly river.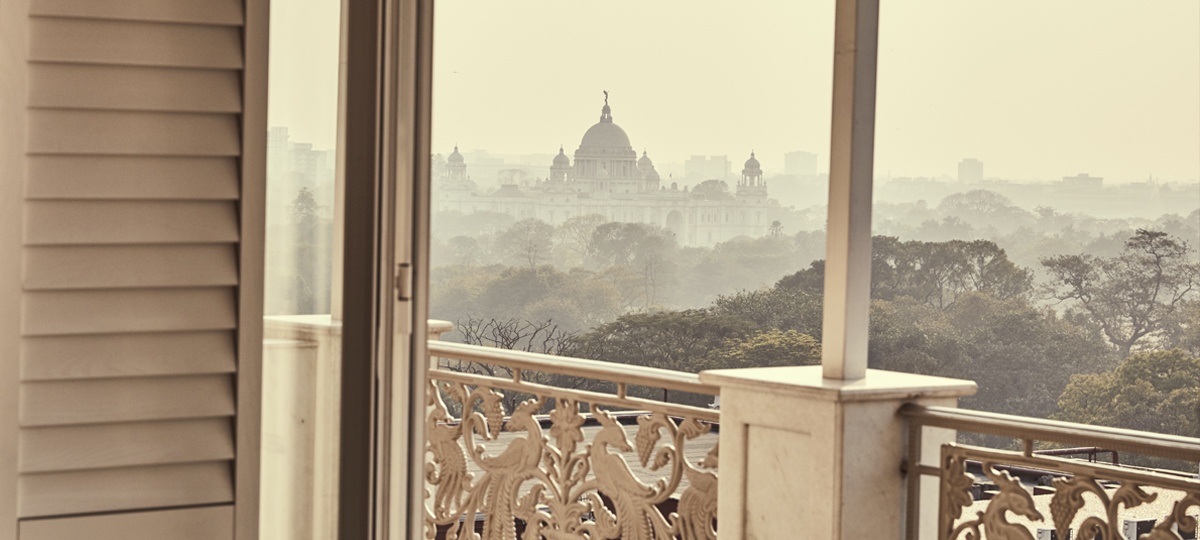 The Indian Museum: This is where you can enjoy the works of Jamini Roy and Abanindranath Tagore including the famous 'Bharat Mata' painting (it's much smaller than you imagined). Built in 1814, the museum happens to be the largest and oldest museum in India, and it houses in its vast collections some rare artefacts and Egyptian mummies too. No better way to reflect on the transience of life than hovering around a cemetery followed by a couple of mummies during the same trip. On the plus side, it may encourage you to make your will at the soonest.
Dinner: You could spend the rest of your evening at the Oberoi Grande. This legendary hotel, also known as the 'Grande Dame of Chowringhee' has been a landmark since the 1800s and truly lives up to its name. As your car navigates through the bustling crowd and approaches the grand colonnaded arcade, you can barely make sense of the property. However, once you enter the premises through the ornate wrought iron gates and reach the porch, you will begin to appreciate the grandeur of this hotel. Start with a relaxing drink at the Chowringhee Bar, before indulging in a sublime meal at Ban Thai at the hotel.
The last word: Although it's impossible to do justice to everything Calcutta has to offer in just two days, think of your experiences as an amuse bouche - a tantalising taste of what this enchanting city has to offer. It's likely you'll go back charmed by this city and be back again for more soon enough.