Researched by: Aarthi Ramnath & Anannya Parekh
Israel-Palestine war: The latest update
For more context on the Israel-Palestine war, check out our two-part series on the Hamas attack on Israel: part one lays out the Hamas offensive and failures of Israeli intelligence; part two explains the big picture—and Hamas' motive driving what seems like a suicidal attack. Also read: our Big Story on the ground offensive by Israel, which will decide the fate of Gaza and the power balance in the Middle East.

Death toll: 8,306 people have been killed in Gaza—including 3,324 children. The number of Israeli deaths are still at 1,400. According to Save the Children, more children have been killed in Gaza in the past three weeks—than the total number of children killed due to conflict around the world. FYI: a total of 2,985 children were killed across 24 countries in 2022.
Ground offensive: Israeli tanks near the main Gaza City as they ventured deeper into Palestinian territory—while airstrikes are hitting closer to hospitals—where thousands of Palestinians have sought refuge. (Reuters)
Also notable: According to Haaretz, a draft document prepared by Israel's Intelligence Ministry suggests moving Gaza residents into the Sinai desert in Egypt: "The document suggests that Israel might initially relocate the population of the Strip to tent cities to be followed later by the establishment of permanent communities in northern Sinai." To be fair, this is among three possible options. The other two do not include evicting Palestinians.
The hostages: Israel claims to have rescued a woman soldier held by Hamas during the ongoing ground offensive. Meanwhile, Hamas released a video of three Israeli hostages—one of whom criticises PM Benjamin Netanyahu and calls for their release. Netanyahu called it "cruel psychological propaganda." Reminder: Hamas is still holding 230 hostages—though most of them are from Thailand. The Guardian has more on the hostages. You can see the hostage vid below:
Also tragic: the death of Shani Louk. The German tattoo artist—went viral because her mother misrecognized a dead body in a video of the Hamas attack. But hopes that she was still alive have now been crushed. The family confirmed that her remains have been found and show she was killed in the initial attack.
Data read: The Hindu charts Israel's iron grip on the Gaza and West Bank economies.
World Cup 2023: Afghanistan is on a roll!
They chalked up a comfortable seven-wicket victory over Sri Lanka. Indian Express puts this down to the team's new-found "maturity." Also in the Indian Express: Why India still hasn't qualified for a semi-final spot despite winning all six matches. TLDR: We only have 12 points—and in the current format, 14 is the magic number. The Hindu looks at the hopes of Pakistan and Bangladesh of making it to the next round. Agence France-Presse via The Hindu looks at three things England has to fix in its ODI game.
A 'scary' Apple launch
The company revealed its "scary fast" M3 family of chips—which includes the M3, M3 Pro, and M3 Max:
[T]he new processors… [promise] up to 1.8X faster rendering performance compared to the M2 and 2.5X faster than the M1. The performance cores of the M3 are up to 15% faster than those of the M2, while the efficiency cores are up to 30% faster than the M2.
These are part of the new MacBook Pro lineup—which includes a 14-inch basic model for the first time. Indian Express has loads more details.
Alarming NASA images of stubble burning
A satellite image captured an astonishing jump in stubble burning on farms in Punjab on Sunday. The number jumped by 740%—from 127 to 1,068 in a single day. This is on October 28:
This is just one day later: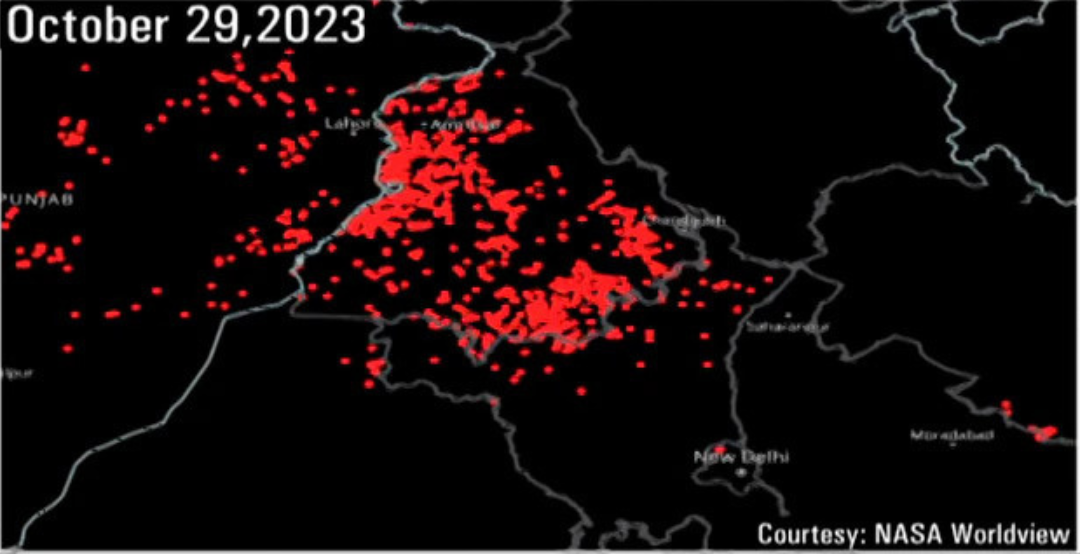 That looks terrible but the number of fires is actually lower—compared to the same period last year. FYI: stubble burning is the practice of burning the residue of the paddy crops after harvest—to ready the fields for the next round of sowing. (NDTV)
IT companies are slashing staff
A Mint analysis shows that nine out of ten largest IT companies have cut the number of employees. The industry has bled 51,744 jobs in just six months. The big reason: US and European clients are cutting costs—and here's why:
The IT services industry has been grappling with slowing growth as clients cut back on discretionary spending amid high interest rates and military conflicts in Ukraine and West Asia. Simultaneously, the rise of disruptive technologies such as generative artificial intelligence (AI) has raised fears that much of the work done by engineers now will be automated, posing an existential threat to the country's $245 billion outsourcing industry.
Why this is notable: This is the first time all the IT giants are experiencing a slowdown in hiring at the same time. (Mint)
Also making changes: The US government. President Biden signed the first executive order to regulate artificial intelligence. It includes safety standards, protection of privacy and civil rights. CNBC has lots more on how it impacts the tech industry.
Twitter/X has yet another new rule…
This one has its heart in the right place. Owner Elon Musk announced that posts that are amended or corrected in Community Notes are no longer eligible to receive ad revenue share. This is intended to discourage people from sharing bad information: "The idea is to maximise the incentive for accuracy over sensationalism." Of course, it isn't clear what prevents people from maliciously 'correcting' accurate posts—though Musk insists "any attempts to weaponize Community Notes to demonetize people will be immediately obvious because all code and data is open source." (TechCrunch)
Meanwhile, over at Meta: The company's Oversight Board wants it to stop incentivising dangerous diet-related information:
As of now, creators posting through Meta's Partner Monetization Program can earn ad revenues off of content that describes people trying to survive on only juice or no food at all for extended periods of time. The Board thinks that needs to change. "Meta should amend these policies to better meet its human rights responsibilities, given the research showing that users, especially adolescents, are vulnerable to harmful diet-related content," the Oversight Board said.
While the Oversight Board's recommendations don't mean all that much—since they're non-binding—this one may be especially damning. The reason: Meta just got sued by 41 states in the US for being harmful to teens and kids. (Gizmodo)
A big win for Zee proprietors
There's been endless drama over the fortunes of Subash Chandra—ever since his key US investors unsuccessfully tried to kick him out in October 2021 (See this Big Story). But that didn't stop Sony-Zee shaadi announced in December of that year. But that merger hit troubled waters after stock market regulators ordered that Chandra and his son could not hold key positions in the company. A bit inconvenient since the Sony deal required Chandra's son—Punit Goenka—to continue as the combined company's managing director and chief executive.
What happened now: The SEBI tribunal court has set aside the previous order—and Punit is free to reclaim his seat on the throne. This is excellent news for Sony—which was eyeing Disney's India assets as a backup plan. Mint has more on what it means for the merger.
Remembering Matthew Perry
We usually don't do quotes but this one from the deceased 'Friends' star shared by Mira Sorvino really moved us. After talking about his efforts to help fellow addicts—including setting up a facility called Perry House and writing a play about addiction—he writes this:
When I die, I know people will talk about Friends, Friends, Friends. And I'm glad of that, happy I've done some solid work as an actor, as well as given people multiple chances to make fun of my struggles on the world wide web… but when I die, as far as my so-called accomplishments go, it would be nice if Friends were listed far behind the things I did to try to help other people. I know it won't happen, but it would be nice.
PS: We still don't know the cause of death. Coroners say they have to perform additional tests—and the results won't be available for a couple of weeks. (BBC News)
Two things to see
One: Back in July, a cranky sea otter in Santa Cruz, California made global headlines for her penchant for biting and shoving human owners off their surfboards. The grumpy gal dubbed 841 is now back with a new addition in tow: a wee pup. This also means that she now has a free pass for her bad behaviour—which is being blamed on pregnancy hormones. To be fair, she is looking positively mellow as she floats with the little one on her belly. (The Guardian)
Two: Leopard sightings are typically common in Mumbai. But this one was spotted in Bangalore—prowling the streets in Electronic City. Nope, they haven't tracked it down yet. Residents are supposedly scared, but we're more worried about the leopard—which is being chased by street dogs. (Indian Express)