Researched and collated by: Rachel John & Sara Varghese
Farewell, Liz Truss; hello, ???
Yes, the United Kingdom has managed to lose yet another prime minister in the space of just months. Truss resigned yesterday after a mere 45 days in office—making her the shortest serving PM in the country's history. The triggers for her downfall included a disastrous mini-budget that rocked the markets, the messy exit of her Home Secretary—and unseemly scenes of Conservative MPs being "manhandled" by their party whips in Parliament.
The reactions: The British pound immediately ticked upwards. Most like US President Biden were polite, while the Europeans rolled their eyes—with many blaming Brexit for this extended bout of political insanity. The rudest of the lot: the Russian foreign ministry which said Truss would be best remembered for her "catastrophic illiteracy."
FYI: our sentiments are better captured by this German news anchor:
The funniest of the lot: The tabloid UK Daily Star—which had set up a live feed with an iceberg lettuce in a blonde wig next to a photo of Liz Truss, asking readers: "Which wet lettuce will last longer?" The lettuce, of course, is the winner.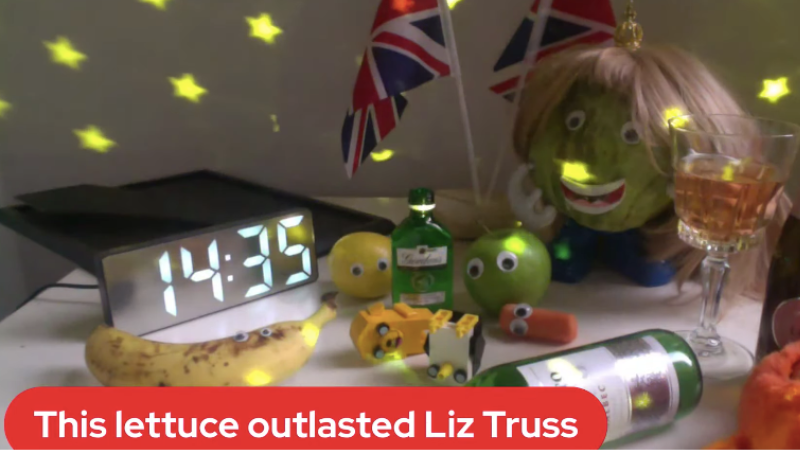 What's next: The Tories will once again hold an election to pick their leader—but plan to wrap it up within a week—i.e Friday, October 28. To weed out the weaklings in this edition of their hunger games, a candidate will have to get at least 100 nominations from the 357 Tory members in parliament. And they have to get it done by Monday. Now, if only one candidate manages that feat, she or he will become the leader by default. But if there are two or more eligible contenders, then the rank-and-file members of the party will get to pick their great leader.
Translation: In essence, the rules have been tightened to ensure—as much as possible—that the grubby masses in the Tory party do not get to vote. A punishment perhaps for picking Truss over Sunak in the last round. Never mind giving the grubby masses in the UK electorate any say in the matter. Perhaps because they prefer the Labour party by a margin of 36% in the latest polls. FYI: the rules were made up by the 1922 Committee which has 18 members. Ah, democracy at work!
Who's next? The world has already moved on to avidly speculating about her replacement. The front runner is, of course, hamara Rishi Sunak—whom the bookies and Tory MPs favour. Another possibility: Penny Mordaunt who is the current leader of the House of Commons—and hasn't yet done anything embarrassing (a big plus in the Tory party these days). The wild card, of course, is Boris Johnson—who is threatening a comeback. To which we say: pass the popcorn! FYI: the bookies give Mr. Sunak a 58% chance of winning, followed by Ms. Mordaunt at 33% and Mr. Johnson at 12%.
Politico has more on the frontrunners. Reuters offers an overview of the ongoing drama. The Guardian lays out the new election rules—and rounds up what the UK newspapers say about a BoJo sequel.
A big fat fine for Google India
The Competition Commission of India has slapped a $161.9 million fine on the company for anti-competitive practices. The reason: Google requires phone manufacturers to pre-install its entire Google Mobile Suite and insists on prominent placement of these apps—which "amounts to imposition of unfair conditions on the device manufacturers." Why this is a big blow: Google has the largest number of users in India. Its Android operating system powers 97% of the country's 600 million smartphones. TechCrunch has lots more context and details.
Meanwhile, over at Amazon India: The National Commission for Protection of Child Rights has summoned its India head for funding a religious organisation called All India Mission. The commission claims that the NGO is involved in "unlawful practices" by "illegally converting children in India." (Scroll)
Three health studies of note
Pandemic effect: A study of tweets on climate change shows that the pandemic has reduced our capacity to care about other global issues:
"The researchers involved found that the number of climate-related tweets dropped roughly in proportion to rising COVID-19 cases and that the remaining tweets tended to be more optimistic than those in pre-pandemic times. Overall, this suggests that the pandemic taxed what some behavioural scientists call our 'finite pool of worry'."
There was a 45% drop in climate change tweeting the first year of the pandemic—and over 50% in the second. It confirms what we already instinctively know: there's only so much a person can worry about. Related read: NPR on how the survivors of the bubonic plague gave their descendants an edge against Covid. (Ars Technica)
Bird song effect: In better news, listening to bird songs improves your mood—and helps calm anxiety and paranoia. Also interesting: "[A]lthough bird songs did not seem to reduce depressive symptoms, traffic noise—especially a high diversity of traffic noises—worsened depressive symptoms'' A companion study also showed that "going for a walk in nature can calm stress-activated brain regions"—and "even reduce the risk of developing a mental disorder." The big takeaway: cities need more parks! (Forbes)
Cold parent effect: For the first time, researchers have linked parenting styles to the weight of their children. Kids who had an early childhood with authoritarian or neglectful parents were likely to have a higher weight. And here's why:
"The lack of warmth associated with authoritarian and neglectful parenting may mean that a child's ability to self-regulate their food intake—to eat when hungry and stop eating when full—does not develop properly."
Stat to note: "[R]esearchers found that on average a 7-year-old with neglectful or authoritarian parents was on average 1.5 kg heavier than a child with authoritative parents"—who "maintain clear boundaries but are also warm." The Guardian has lots more on this fascinating study.
Kevin Spacey wins #MeToo lawsuit
A jury concluded that the actor did not molest Anthony Rapp. The actor sued Spacey for making sexual advances when he was 14—climbing on top of him at a party in New York City in 1986. When the allegations were first made public, Spacey said he didn't remember the incident—but apologised for "what would have been deeply inappropriate drunken behaviour." In court, however, he claims that it never happened. NBC News has lots more on the trial.
Speaking of lawsuits: Grandmaster Hans Niemann is suing everyone who publicly accused him of cheating. He is seeking $100 million in damages from world champion Magnus Carlsen, his company Play Magnus Group, Danny Rensch of Chess.com, the world's leading online chess platform, and American grandmaster Hikaru Nakamura. (France 24)
Speaking of celebrities: Matthew Perry revealed that he almost died back in 2018 due to an opioid addiction—spending two weeks in a coma, and five months in the hospital when his colon burst. At one point, he was taking 55 Vicodin a day and was down to 128 pounds—and he "didn't know how to stop." But Perry says he is pretty healthy now—and we're all glad for that. Reminder: many commented on his bizarre performance at the big Friends' reunion in May 2021. (People)
Ronaldo has been 'dropped'!
One of the world's best football players has been canned from his Manchester United team for throwing a tantrum. He warmed the bench as an unused substitute in Wednesday's 2-0 win over Tottenham Hotspur. And showed his displeasure by walking off a couple of minutes before the match ended. As a result, he will not be playing in Saturday's Premier League game against Chelsea. (The Telegraph)
Discovery of a Neanderthal family
For the very first time, scientists have found remains of an entire clan—including a family. These include a father and daughter—plus two "second-degree relatives" such as an aunt or uncle. Researchers think they died together—perhaps from starvation or a big storm—in a Siberian cave around 54,000 years ago. The discovery offers a rare opportunity to understand how Neanderthals lived. And also this:
"If we could just reproduce [the study] in a couple of other places, then we'd really have a grasp on how Neanderthals ran their lives, maybe some indication as to why they went extinct and we didn't. We're so similar. So why are we the only ones left around on the planet?"
FYI: One of the team members is Nobel prize winner Svante Pääbo. (Washington Post)
Five things to see
One: A cartoon of newly elected Congress president Mallikarjun Kharge published by The Hindu has sparked outrage among Congress leaders. The likes of Jairam Ramesh called it "unjust and unacceptable." The reason: he is portrayed as a puppet. See it below. (NewsLaundry)
Two: The body of the biggest bony fish ever seen was found floating in the waters off the coast of Portugal's Azores archipelago. The 20-year-old southern sunfish is over 10 feet long and weighs over 2,700 kg. That's about as heavy as a Chevrolet Suburban. Most fish are 'bony' except sharks and whales—which have skeletons made of cartilage. Point to note: this is "not an abnormal individual whose extreme size is due to a genetic mutation"—as this species can get to this size. (New York Times)
Three: We have a new James Webb Telescope treat for you: images of the iconic 'Pillars of Creation'. This is a part of space set within the vast Eagle Nebula—where new stars are forming within dense clouds of gas and dust 6,500 light-years away. NASA has lots more on these beauties
Four: The trailer for The Crown's controversial fifth season just dropped. It is expected to make waves as it spans the 90s—a time when the extramarital affairs of both Charles and Diana became public. There is also criticism of how it will portray the new king and his relationship with the recently deceased queen.
Five: The Prime Minister will be the chief guest today at a Ram Leela performed by 12 Russian artists—who are part of the only European troupe to perform the epic. You can see clips from their performance here. (The Hindu)