In May, 2020, during the first big lockdown in the UK, Prime Minister Boris Johnson's staff sent out a party invite to 100 people—for "socially distanced drinks in the No 10 garden this evening."
The problem: At the time, ordinary citizens were banned from leaving their homes—except to get food or medicine etc. Employees who had to go to work were told "to minimise all meetings and other gatherings in the workplace." In other words, schmoozing over cocktails was definitely not on the list of essential activities.
The bigger problem: Johnson himself attended this party—a fact he finally admitted in Parliament yesterday. He apologised but insists it was a work event and "technically" broke no rules. As one lawyer points out:
"If you were doing something which wasn't necessary for work then you weren't outside of your house [with] a reasonable excuse and you were potentially committing a criminal offence."
The fallout: Johnson was ripped apart by Labour party leader Keir Starmer, who said: "The only question is: will the British public kick him out, will his party kick him out, or will he do the decent thing and resign?" But it's not just the opposition leaders who want his head. Senior Tory leaders are now saying that Johnson must resign.
Why this matters: If 54 backbench Conservative MPs send letters to the party committee expressing their lack of confidence in Johnson, it will trigger a leadership challenge.
This BBC News analysis explains why Johnson's future looks precarious. Meanwhile, BoJo is being trolled by the airline RyanAir which put out this drinks menu: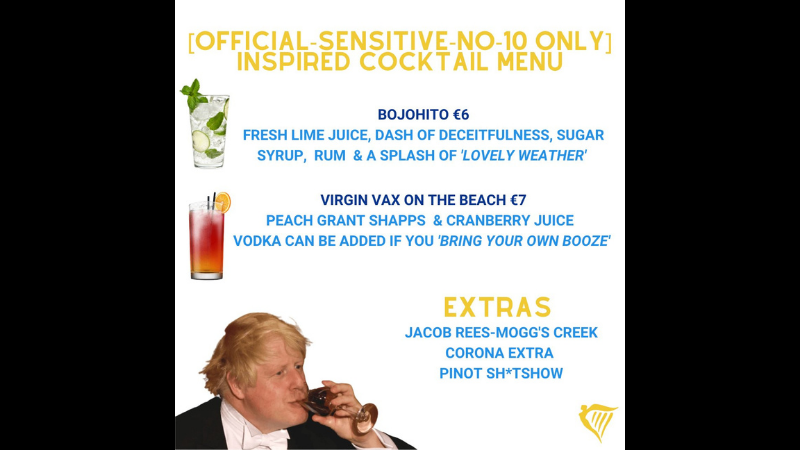 Two animal things
One: A hungry badger has uncovered a trove of Roman coins in a Spanish cave. The coins date back to the 3rd-5th century AD—and are being described as "largest treasure trove of Roman coins found." They were forged in places as far as Constantinople, London and Thessaloniki. (The Guardian)

Two: In every depiction of battles from the medieval period, the warhorses are huge beasts. New research shows that they were actually "surprisingly small" ponies—standing at an average of 14.2 hands or 4 feet and 10 inches. (The Guardian)